Wii U Can Now Play HTML5 Games Thanks To PlayBoxie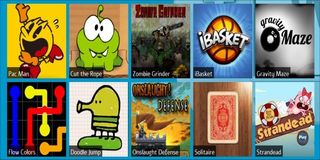 Games. Games are the things that fuel the success of a game console. TV on your TV and "share" buttons are nice in theory, but in actuality your game console is only going to be as successful as the games made available for it. Nintendo learned this the hard way with the early goings of the Wii U.
Well, things are starting to pick up for the Wii U and not just with mainstream games. A new PlayBoxie app has become available for the console, enabling owners to tap into a fairly large cache of HTML5 games.
My Nintendo News caught wind of the update courtesy of an announcement by PlayBoxie.
As noted in the short post...
The app service is also available for the Xbox One and PlayStation 4, however, you'll need Xbox Live Gold if you want to play the HTML5 games on your Xbox One. Paying to play games that aren't worth it? Would you expect anything less from Microsoft?
PlayBoxie's games aren't the sort of thing that you might find via the Unity 3D plug-in or whatnot, but they're simple enough games for kids or those looking to pass some time without investing anything serious into a real title.
The upside, though, is that many of the games are free to access and it offers users a cool opportunity to see how well the HTML5 model works for gaming.
I doubt this bit of news will help with any of the Nintendoom that the company has been suffering from the media lately, but it does help flesh out the functionality of the Wii U beyond its initial retail and digital offerings.
Some of the games available via PlayBoxie includes 1899 Steam N Spirit, Gravity Maze, Solitaire, Doodle Jump, Flow Colors and Zombie Grinder. That's just to name a few out of a great many.
If you want to learn more about the PlayBoxie service you can pay a kind visit to the official website. Alternatively, if you want to make use of this for your console of choice, including the Wii U, simply boot up the console and head to the website so they can automatically detect your settings and set you up so you can hop right into the game.
Staff Writer at CinemaBlend.
Your Daily Blend of Entertainment News
Thank you for signing up to CinemaBlend. You will receive a verification email shortly.
There was a problem. Please refresh the page and try again.