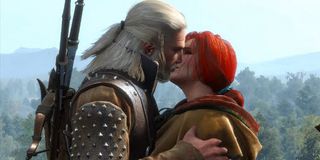 If dating sorceresses is your favorite part of The Witcher 3, you'll be happy with the next patch. CD Projekt RED says that they're going to add more romance to the game in the update.
Warning: Some spoilers for Witcher 3's romance options ahead
The developers aren't adding a new love interest or even a new love scene. Instead, they're introducing new dialogue for Triss Merigold and Yennefer of Vengerberg. Geralt is able to choose between Triss (his old flame) or Yennefer (his current lady) during the campaign. They're both pretty great characters so I imagine players were evenly divided between the two options.
However, as Kotaku notes, there are fewer conversation options if you choose Triss over Yennefer rather than the reverse. This disappointed the player who picked Triss because it made them feel like their decision was "wrong" in some way.
CD Projekt admitted earlier this summer that "the consequences of choosing Triss are not adequately represented" and that this is contrary to the game's emphasis on player choice. On Thursday, they sent a statement to Kotaku saying that they plan to fix this issue:
The change is meaningless to me. I actually tried to romance both Triss and Yennefer in my Witcher 3 play-through and it backfired horribly. Maybe I'll go about things differently if I ever try New Game Plus mode, though.
Nonetheless, it's great to see the developers addressing feedback like this. Plenty of studios will fix bugs or add new gameplay features after launch but it's rare that a game's story is revised at all. There's no reason developers can't or shouldn't tweak plot if there are shortcomings, though.
The Witcher 3's story will become even larger in the months ahead. CD Projekt RED is currently developing two expansion packs for The Witcher 3 called Hearts of Stone and Blood and Wine. Hearts, due in October, will add several new quests through Velen and Oxenfurt. Blood will then add a new region called Toussaint in early 2016. I'm very curious as to whether these DLC packs will also extend the romance subplots of the game.
Your Daily Blend of Entertainment News
Staff Writer at CinemaBlend.