Witcher 3 Patch 1.08 Arrives With These Big Fixes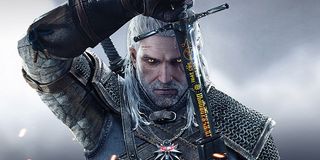 CD Projekt Red's post-launch support of The Witcher 3: Wild Hunt continues with Patch 1.08, which is bringing some much-needed bug fixes and a few other tweaks to make sure everyone's monster killing experience is as smooth as can be.
CD Projekt Red's Marcin Momot put out the word on Twitter heading into the weekend, letting everyone know that The Witcher was ready to roll with a heaping helping of additional fixes. The announcement led to the Witcher forums, where Momot had laid out the full details for recently released Patch 1.08.
"The patch is now available and can be downloaded across all platforms," Momot explained. "The update introduces many quest fixes, as well as improvements in the gameplay mechanics."
One of the biggest changes actually won't affect The Witcher 3 just yet. According to Momot, this latest patch includes some foundation building that's helping pave the way to the New Game + content that will be fully added in with a later update.
As is often the case with a new path, Momot explained that Patch 1.08 included some general performance fixes, including issues that were caused by 1.07. Achievements for PC have also been fixed so you can, you know, get all of them; while the Card Collector achievement should be operating as planned across all platforms.
Along with some graphical adjustments and a long list of tweaks to quests that, in some instances, weren't working properly, additional gameplay fixes have also been implemented that will do stuff like stop items from disappearing from you stash and allow you to properly compare your items with those sold by merchants. These types of issues only popped up in rare instances, so don't be surprised if you've never had to deal with the hassle. For those of you who had a problem with one aspect of The Witcher 3 or another, you should now be good to go.
If I had to pick a favorite fix, though, it would be the following: Heads chopped off during finishers will no longer disappear. There's something truly special about an industry where that can be a problem and, more importantly, it can be fixed. I mean, what good is killing a bunch of animated monsters if I can't laugh over a pile of severed heads when I'm finished?
I hope some other developers are taking notes with how CD Projekt Red is handling The Witcher 3. They weren't afraid to delay the game until it was ready and were very open about that process. Following launch they've rolled out a steady stream of fixes, as well as a large number of free additions to the game to encourage players to keep coming back for more. They've also made it clear that Witcher 3 is their main focus right now, working to expand and improve the game rather than rush off to make the next one.
Staff Writer for CinemaBlend.
Your Daily Blend of Entertainment News
Thank you for signing up to CinemaBlend. You will receive a verification email shortly.
There was a problem. Please refresh the page and try again.