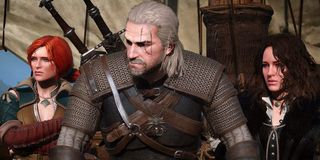 CD Projekt RED has big post-launch plans for their open-world RPG The Witcher 3. They'll be releasing two full-sized expansion packs that collectively add over 30 hours to the game.
"Hearts of Stone will take Geralt on an all-new, 10-hour-plus adventure into the wilds of No Man's Land and the nooks and alleys of Oxenfurt, where he'll try to complete a contract from the mysterious Man of Glass," CD Projekt said of the first expansion. "Caught in a thick tangle of deceit, Geralt will need all his cunning and strength to solve the mystery and emerge unscathed."
"Blood and Wine, a 20-hour-plus tale that will introduce the all-new in-game region of Toussaint, will take Geralt to a land untainted by war, where an atmosphere of carefree indulgence and knightly ritual masks an ancient, bloody secret."
CD Projekt RED says that both expansion packs will include new enemies, characters and gear. Players will also be reunited with some "dearly missed" characters from the series.
The Witcher 3 is supposedly 100 hours long on its own so 30 more hours sounds like overkill. However, I'm sure that more than a few players will have finished the base game by the time the expansions roll around. Hearts of Stone will be released on Xbox One, PC and PS4 in October. Blood and Wine will follow in the first quarter of 2016 for all platforms.
Players can purchase both DLCs at once by getting the $25 Expansion Pass, now on sale through several retailers.
"While we're offering the Expansion Pass now, we want to make one thing clear: don't buy it if you have any doubts," said CD Projekt RED co-founder Marcin Iwinski. "Wait for reviews or play The Witcher and see if you like it first. As always, it's your call."
CD Projekt previously announced that they would release 16 pieces of free DLC for The Witcher 3. This free content includes new equipment, cosmetic options and quests. The studio confirmed over Twitter that they're still planning to offer that bonus content in addition to these paid expansions.
The developer did hint at premium DLC in the past. Two years back, CD Projekt's Konrad Tomaszkiewicz said that they "don't believe" in DLC but that they would consider selling large-scale, paid expansions.
"We believe patches, fixes and additional content should be provided to gamers free of charge. Only something REALLY big, and something that will not make you feel ripped off, justifies a price tag. If we ever decide to charge you for something, we think you will appreciate what you get in return," he said at the time.
If you're opposed to buying premium DLC, you might want to buy the PC version of the game. CD Projekt plans to release a free toolset on that platform so that players can build and share their own mods.
Your Daily Blend of Entertainment News
Staff Writer at CinemaBlend.