Wolfenstein: The New Order Cheat Codes: Find Out How To Unlock Secret Modes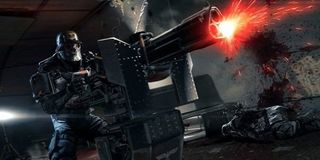 Wolfenstein: The New Order players can find four cheat codes throughout the game's campaign. These codes will enable new modes that put a twist on the game's usual Nazi-killing action.
Developer Machine Games said that The New Order will make players "cry blood".
"We want it to be a real, real challenge for people," said senior gameplay designer Andreas Ojerfors. "This is not an easy game."
The game's secret modes follow through on that promise. They give a considerable bump to the game's difficulty. They'll spice up a second or third play-through of the campaign. Maybe some masochists will use these modes for their first go at the game, though.
The new modes will be unlocked by entering the enigma codes in the game's menu. Here are the codes along with descriptions of the new modes they introduce:
999 Mode
What it does: B.J. Blazkowitz gets unlimited ammo and grenades. His health is also overcharged to 999. However, you're also playing on Uber difficulty.
Enigma Code:
01-02-03-04-05-06-07-08-09
08-07-06-05-04-03-02-01-09
Hardcore Mode
What it does: This code removes all of the health and armor pickups from the game. Also, it sets the difficulty to Uber. Hope you like dying.
Enigma Code:
03-06-09-03-06-09-03-06-09
06-03-09-06-03-09-06-03-09
Ironman Mode
What it does: "Uber difficulty is too damn easy," says no one. However, if you're one of the few people looking for a bigger challenge, Ironman Mode is your jam. It's Uber difficulty with permadeath. In other words, you have only one life to beat the whole campaign.
Enigma Code:
04-08-03-07-02-06-01-05-09
05-01-06-02-07-03-08-04-09
Walk In The Park Mode
What it does: Compared to the other modes on this list, Walk in the Park isn't that bad. It's not easy, though. This mode is set at I Am Death Incarnate difficulty, a notch below Uber. It also removes all the HUD elements from your screen to add some guesswork to your journey.
Enigma Code:
02-04-06-08-01-03-05-07-09
07-05-03-01-08-06-04-02-09
Wolfenstein: The New Order launched May 20th on Xbox One, PS4, PC, Xbox 360 and PS3. Check out how the game looks on PS4 and Xbox One by reading checking out this side-by-side analysis.
Your Daily Blend of Entertainment News
Staff Writer at CinemaBlend.