X-COM Creator: Shooter Revival Is A Great Shame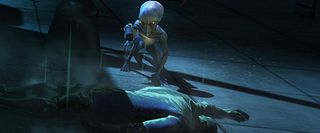 2K Games is currently working to revive the X-COM strategy series with two games: a first-person shooter simply called XCOM and a turn-based strategy called XCOM: Enemy Unknown. In a new interview, the creator of the series offered his thoughts on these new games.
Julian Gollop, now with Ubisoft, told Edge that he was disappointed when the shooter was announced.
"I thought it was a great shame because it was going down the same route as some of the previous X-COM sequels, like Interceptor and Enforcer - in other words, going completely against turn-based combat," said Gollop. "It was a bit disappointing from my point of view and for many fans of X-COM."
Gollop also seems a bit cynical about 2K's motives for creating a remake of X-Com: Enemy Unknown, the game that started the series back in 1994.
"When from out of the blue we heard that Firaxis are doing a turn-based version, it's as if 2K are trying to cover all their bets. As with most publishers, they're convinced that turn-based games are a completely niche market and not worth their attention, which has been the problem since the mid-90s, of course."
Gollop isn't disinterested in Firaxis' remake, though. He shared some of his hopes with Edge but he's not convinced that Firaxis will be implementing those changes.
"I'm guessing it isn't a hugely big-budget title, so I think they'll be sticking to fairly safe ground. I don't think there will be any technical innovations in their game engine. The innovations that would be interesting are the procedurally generated environments, a more sophisticated destruction model for the terrain, and the AI systems. If Firaxis can do all that, it would be great, but I suspect they're probably not going down that route, judging by the screenshots."
XCOM is due in March. XCOM: Enemy Unknown will arrive sometime in the fall.
Staff Writer at CinemaBlend.
Your Daily Blend of Entertainment News
Thank you for signing up to CinemaBlend. You will receive a verification email shortly.
There was a problem. Please refresh the page and try again.