XB1 Can't Use Xbox 360 Headsets; Turtle Beach Announces New XB1 Headsets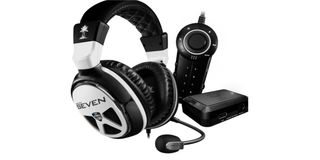 So, it was recently revealed that the Xbox One, the new console announced by Microsoft this past Tuesday, will be incompatible with peripherals from the Xbox 360, including controllers, memory devices and headsets. However, for those of you in the worry, Turtle Beach has a solution.
IGN pried Microsoft about the new peripherals, recognizing that the controller ports for the Xbox One were different, meaning that any plug-n-play accessories from the Xbox 360 would be incompatible with the Xbox One. What's more is that this is all part of a deliberate plan to change the way accessories are handled for Microsoft's new console, with a representative saying...
By the future, they mean today, where Turtle Beach announced that their new proprietary headsets for the Xbox One will be available when the console launches. Meaning, if you want to take charge of the new chat and voice communication services from the Xbox One, you'll need to get rid of all your old Xbox 360 gear to buy some new stuff.
Branden Powell Director of Strategic Alliances Xbox Hardware Group commented about the new deal between Microsoft and Turtle Beach, saying...
Turtle Beach is the first company to sign on as an official licensed partner with Microsoft to provide proprietary peripheral support for the Xbox One. Added to this, not just anyone can make third-party gear for the Xbox One. All accessories for the next-gen console from third-party companies will have to go through a certification licensing phase before being approved as an official third-party supporter for the next-generation media device from Microsoft.
While many gamers expected to shell out money for brand new controllers for the Xbox One, I doubt many gamers expected to have to shell out for all new peripherals, including new headsets and audio gear.
While Sony hasn't said much about third-party accessory support (although we do know that DS3 controllers will have to be replaced for DS4 controllers), Nintendo has actually gone out of their way to ensure that many first and third-party accessories for the original Wii can be carried over and used for the Wii U, ensuring the financial process of going from one gen to the next would be as pain-free as possible.
Unfortunately, there is no way to spin this story positively for Microsoft because it basically means all your current accessories, both first party and third party (even Turtle Beach's gear) for the Xbox 360 will be useless on the Xbox One. I wonder how well this will affect the polls for the Xbox One and PS4?
Staff Writer at CinemaBlend.
Your Daily Blend of Entertainment News
Thank you for signing up to CinemaBlend. You will receive a verification email shortly.
There was a problem. Please refresh the page and try again.