Xbox One Mini-Controllers Arrive October 17th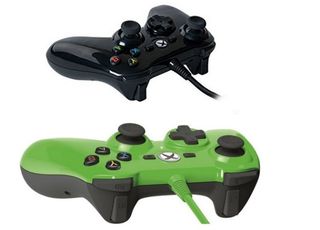 If you like the Xbox One controllers but don't feel they're small enough to fit your tiny hands (or perhaps, the tiny hands of your kids) you're well in luck because there are some officially licensed Xbox One mini-controllers due for release on October 17th in two week's time.
Game Idealist caught wind of the news from Amazon UK, where the controllers are listed for Microsoft's latest home console.
The controllers maintain a three-meter wired connection, so quite naturally that brings the price down quite a bit, by about $20, along with having a smaller design. Funnily enough, the designs of the controllers actually look like PlayStation controllers; they have the elongated handles and that almost twin-circle design of the DualShock. I do admit that the green and black controller actually looks pretty slick and might not be a bad option for someone looking for another controller for their local multiplayer exploits (or if they're tired of buying batteries or battery packs for their controllers).
If you're worried that other ancillary features such as rumble would be taken out, don't fret because the rumble is there. In the early lifespan of the PS3 some of you might remember that the controllers didn't come with rumble due to a patent infringement case. Other times, mini-controllers are known for removing the rumble in order to stay light and small. So it's nice to see here that Microsoft is keeping the rumble, even in the smaller mini-controllers.
The controllers are officially licensed via Power A and are being made available in collaboration with Microsoft. For those of you who don't know, there won't be unlicensed controllers or specific peripherals made for the Xbox One.
Last year Microsoft made it known that only licensed peripheral makers could distribute accessories like headsets, racing wheels and controllers. It was just one of the many policies that made people scratch their heads and fume in frustration.
There's a small list of licensed manufacturers who can actually make and distribute accessories for the Xbox One, which definitely shrinks the potential marketplace competition. Unregistered manufacturers won't be able to make controllers or modded accessories without actually buying and modifying licensed goods from Microsoft or other peripheral makers.
At least Microsoft is using their platform to expand the current availability of accessories for the Xbox One. We all know that the system could use a lot more of... well, everything.
As it stands, there are two color variations for both controllers (black, and the green and black livery) and right now it's priced at £31.06.
I suspect we'll probably get some kind of an official post on this for a North American release at some point. Of course, there's always the option of waiting it out and finding an equally cheap alternative over on eBay.
You can look for the controllers to go live in U.K., starting October 17th. I checked the Amazon page for U.S,. residents but there's nothing showing up as far as the Xbox One Mini-Controllers are concerned.
Your Daily Blend of Entertainment News
Staff Writer at CinemaBlend.