Xbox One Pre-Orders Set Sales Record At Blockbuster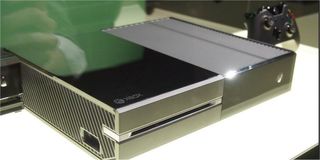 Despite core gamers being disappointed with the unveiling of the Xbox One (more than 76% according to a poll from IGN), there are some people out there who love using media devices to allow them to watch TV on their TV and the pre-order sales at Blockbuster Video are reflecting that.
MCVUK has been keeping a very watchful eye on all things XB1, letting people know what's what and what's going down. They were also part of the group of journalists to break the news about the fees attached to the used game licenses for the Xbox One. The latest bit of news involves brick and mortar chain, Blockbuster. The former prestigious video rental outlet has made it known that in their 24-year operating history, they've never had pre-order sales like the sales they have for the Xbox One.
The UK retailer's head of games, James Morton, had these words to share...
That's some interesting stuff right there.
As some of you know, Microsoft had no words to share because their PR is on official lockdown following the massive fallout after it was revealed that used games would have fees and that there would be 24 hour mandatory check-ins and that Kinect would always be on. Things became so overwhelming that Microsoft had to disable all comments on their official Xbox One videos and Larry "Major Nelson" Hryb had to come off Twitter for a bit.
Nevertheless, Microsoft's main market focus has been on casual gamers and broad audiences who consume media entertainment (and not necessarily games). It appears that tactic has worked and such individuals are excited about the sports packages, the Skyping, the TV and movie streaming, as well as the remote-free voice-activated capabilities of the Xbox One.
One thing is for sure, whether core gamers care about the Xbox One or not, and whether gaming media is defending Microsoft's anti-consumer measures or not, this fall will be very interesting seeing how sales play out between the launch of the PS4 and Xbox One.
Your Daily Blend of Entertainment News
Staff Writer at CinemaBlend.
Your Daily Blend of Entertainment News
Thank you for signing up to CinemaBlend. You will receive a verification email shortly.
There was a problem. Please refresh the page and try again.