inFamous Trophies Earn You inFamous 2 Rewards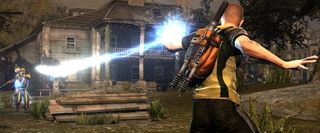 Sucker Punch Productions has seen fit to reward PS3 owners who played through the first inFamous. Your progress in that game will unlock rewards in the sequel.
According to IGN, you'll be prompted to "import Trophy data" when you play inFamous 2 for the first time. The game will then scan your Trophies and give you some of these rewards depending on your progress:
Have good or evil Trophies from inFamous: Start inFamous at level 1 good karma or level 1 evil karma.
Infamous Trophy for 25 percent of the Blast Shards: Free energy core in inFamous.
Infamous Trophy for 50 percent of the Blast Shards: Two free energy cores.
Finished inFamouswith any karma standing on any difficulty: 1,000 bonus XP for inFamous.
Specific Trophies for Specific Infamous decisions: Reflect side missions, Dead Drops and dialog variety in inFamous
You've still got a little bit of time to finish up inFamous if you haven't already. inFamous 2 will debut in North America on June 7th.
Staff Writer at CinemaBlend.
Your Daily Blend of Entertainment News
Thank you for signing up to CinemaBlend. You will receive a verification email shortly.
There was a problem. Please refresh the page and try again.