How The 12th Victim Director's Perception Of Caril Ann Fugate Changed While Making The Showtime Docuseries
Nicola Marsh opens up about changing her perception of Charles Starkweather's girlfriend.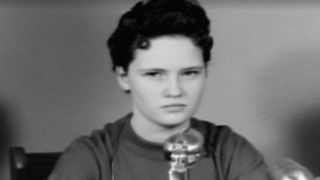 (Image credit: Showtime)
Over the course of the past 65 years, the name Charles Starkweather has been synonymous with the term "spree killer" after the 19-year-old garbage collector went on a reign of terror in Nebraska and Wyoming that claimed the lives of 11 innocent people. And while Starkweather has gone on to inspire movies like Badlands, True Romance, and Oliver Stone's Natural Born Killers, his 14-year-old girlfriend, Caril Ann Fugate, whose family was among the murdered, hasn't been treated as another victim, but rather a willing accomplice.
Nicola Marsh's new true crime documentary series, The 12th Victim, which airs on Showtime, sets out to change how the world's view of Fugate. It does this by telling the story of how she was forced to join her boyfriend in the infamous killing spree, and what came of her life after being convicted of a crime she claims to have never committed.
In a recent interview with CinemaBlend, Marsh opened up about a number of topics surrounding the four-part book-to-screen adaptation of Linda Battisti and John Berry's The Twelfth Victim: The Innocence of Caril Fugate in the Starkweather Murder Rampage (opens in new tab). This included a discussion about how society's perception of Fugate has been built on falsehoods and depictions in media, stating:
Prior to making the new Showtime docuseries, Marsh herself wasn't exempt from having these "pre-existing biases" and "predispositions" surrounding the case. This was especially true when it came to how Fugate spent several days in her family's home while the corpses of her mother, step-father, and sister were in a shack out back:
However, over time, and after reading more into Fugate's story, Marsh started to not only see a different side of the narrative, but also began to feel a real connection to her experience, both during the killing spree and also how she was treated after the fact:
In addition to talking about Caril Ann Fugate's role in the Starkweather Spree Killings, The 12th Victim also sheds a great deal of light on how the young Nebraskan was treated in the subsequent court proceedings and her life afterward. This also includes a great deal of time spent dissecting the various depictions of Fugate and Starkweather in TV shows, songs, and movies based on serial killers.
New episodes of The 12th Victim air Fridays at 8 p.m. ET on Showtime. The entire four-part documentary series is currently available with a Paramount+ subscription with the Showtime add-on as well as on the Showtime website and streaming service. And if you want to know what else is coming to the small screen in the near future, check out our 2023 TV schedule for all the latest.
Stream The 12th Victim on Paramount+ with Showtime. (opens in new tab)
Your Daily Blend of Entertainment News
Philip grew up in Louisiana (not New Orleans) before moving to St. Louis after graduating from Louisiana State University-Shreveport. When he's not writing about movies or television, Philip can be found being chased by his three kids, telling his dogs to stop yelling at the mailman, or yelling about professional wrestling to his wife. If the stars properly align, he will talk about For Love Of The Game being the best baseball movie of all time.