12 Serial Killer Movies And Shows To Watch On Streaming After Finishing The Little Things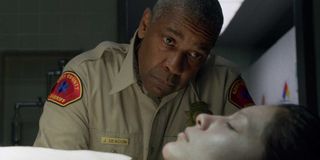 CinemaBlend participates in affiliate programs with various companies. We may earn a commission when you click on or make purchases via links.
The Little Things, the latest in a long line of serial killer movies that not only focus on the crimes but the detectives who sacrifice relationships and their sanity, was released in late January 2021, and by now, a lot of us have blown through the gritty drama and want more from the comprehensive genre. But with so many serial killer thrillers out there ranging from the good, the bad, and the ugly, deciding on one or a few such movies (hello, killer marathon) is no easy task considering there are thousands of over-the-top murder fests for every The Silence of the Lambs.
Below is a list of 12 movies and shows that share one or more similarities with The Little Things. From down-on-their-luck detectives with bruised egos and tarnished reputations to charismatic suspects that seem so guilty you want to send them to the electric chair, each of these titles — movies like Zodiac and shows like Luther — are some of the best cinema and television have to offer.
But before we get started, it should be made abundantly clear that there are some serious spoilers for The Little Things peppered throughout this piece. You have been warned.
The Silence Of The Lambs (Showtime)
Jonathan Demme's 1991 horror thriller The Silence or the Lambs remains in a class of its own 30 years after the film gave the world to Anthony Hopkins' chilling portrayal of psychiatrist-turned-cannibal Dr. Hannibal Lector. But Dr. Lector and his descriptions of his acts of cannibalism aren't the only things that make this such a revered classic; there is Jodie Foster's Clarice Starling (a character now with a show of her own), the FBI's manhunt of Buffalo Bill, and the serial killer and kidnapper played by Ted Levine, whose performance is just as captivating yet menacing decades later.
Stream it on Showtime here.
Seven (HBO Max)
Before Joe "Deke" Deacon (Denzel Washington) and Jim Baxter (Rami Malek) found themselves becoming part of a series of vicious murders we had William Somerset (Morgan Freeman) and David Mills (Brad Pitt) doing something frighteningly similar in David Fincher's Seven (stylized as Se7en) as they searched for a killer who used the seven deadly sins as his calling card. And although both movies end up with a similar outcome, Seven provides some closure (no happy ending, I'm afraid) while not sacrificing all ambiguity, creating an instant classic still talked about today.
Stream it on HBO Max here.
Zodiac (Amazon)
Twelve years after David Fincher released Seven he gave the world his version of one of the most infamous unsolved cases in United States history with Zodiac. As various characters played by Mark Ruffalo, Robert Downey Jr., and Jake Gyllenhaal all try to uncover the identity of the serial killer who used the San Fransisco Bay area as his personal playground, they end up losing a part of themselves in the process as they become obsessed with the case. Throughout the visually striking and emotionally compelling film, the detectives and journalists played by the star-studded cast are convinced they have their man yet can never outright prove his involvement, leaving the case cold and their lives upended.
Stream it on Amazon here.
Luther (HBO Max)
Luther, the British psychological crime drama starring Idris Elba as embattled yet methodical detective John Luther is one of the most fascinating and fulfilling additions to the actor's resumé, which is saying a lot. Throughout the series, when not dealing with Ruth Wilson's Alice Morgan, Luther often finds himself tracking down various serial killers with each having an effect on the detective's mental state while also digging up pieces of his past. And much like Denzel Washington's Joe Deacon in The Little Things, Luther's past isn't the cleanest, nor is his reputation, but this doesn't stop him from solving the case in his unique way.
Stream it on HBO Max here.
Funny Games (HBO Max)
Michael Haneke's 1997 Austrian thriller Funny Games (which he later remade in 2007) is not really a serial killer story following detectives as they hunt for a vicious perp. In fact, this shockingly violent and oftentimes repulsive movie does not feature a legendary cop with a checked past but instead focuses on the seemingly random murder of a wealthy family by two normal-looking, clean cut young men, who as the title implies, want to play some games. Far from funny, this psychological frenzy is filled with just as much fear and tension as the final act of The Little Things but just throughout its entire 109-minute runtime.
Stream it on HBO Max here.
Monster (Tubi)
Patty Jenkins' 2003 biographical crime drama Monster features an Oscar-winning performance by Charlize Theron in her portrayal of American serial killer Aileen Wuornos, who was convicted and executed for murdering six people in the early 1990s. Much like with Jared Leto's portrayal of Albert Sparma in The Little Things, it's impossible to take your eyes off the screen whenever Theron's version of Wuornos is in a scene. The way she transformed herself to not only look like the convicted killer but also become her is a testament to her acting ability.
Stream it on Tubi here.
Mindhunter (Netflix)
The Netflix crime series Mindhunter (which may or may not return for Season 3) from executive producer David Fincher is a masterclass not only in storytelling but in historical representations of some of America's most notable and infamous killers. With unique personalities like Holden Ford (Jonathan Groff), the FBI agent trying to understand the personalities of convicted murderers like Ed Kemper (Cameron Britton), Richard Speck (Jack Erdie), and even Charles Manson (Damon Herriman), this riveting and tasking exploration of the criminal mind is one of the best shows on television.
Stream it on Netflix here.
American Psycho (Hulu)
Okay, American Psycho, Mary Harron's 2000 adaptation of Bret Easton Ellis' book of the same name isn't so much dramatic as it is oddly funny, but don't let the tone of this excessively violent slasher with sharpened teeth let you think this isn't one of the best serial killer movies out there. Christian Bale's performance as Patrick Bateman, an investment banker by day and bloodthirsty killer by night (or at least in his head) remains one of the best of his career for more reasons than just having one hell of a morning routine, business card, or habit of returning videotapes. Plus, American Psycho also has one the top three scenes involving Jared Leto being bludgeoned.
Stream it on Hulu here.
Insomnia (HBO Max)
Another film that's not really about a serial killer (though there is an odd yet charismatic murderer) but is still too good to pass up is Christopher Nolan's Insomnia. This 2002 remake of the 1997 Norwegian thriller of the same name features Al Pacino as a prolific yet troubled detective sent to Alaska to track down Robin Williams' offbeat and demented killer after the body of a teenage girl is found. Like in The Little Things, this tense drama spends a large portion of its runtime touching on the past transgressions of Pacino's Will Dormer and how they continue to impact his reputation and loosening grip on reality.
Stream it on HBO Max here.
Copycat (Starz)
A serial killer movie that doesn't seem to get as much recognition as others in the genre is Jon Amiel's 1995 crime drama Copycat. Featuring Sigourney Weaver as criminal psychologist Helen Hudson, Holly Hunter as Inspector Mary Jane Monahan, and Harry Connick Jr. as convicted killer Daryll Lee Cullum, this intense and oft-forgotten thriller centers on the traumatized doctor and detective as they attempt to solve a series of copycat killings before another victim is claimed.
Stream it on Starz here.
Prisoners (Hulu)
Denis Villeneuve's 2013 tense drama Prisoners doesn't deal with a serial killer and a long list of murdered victims but instead focuses on the way a detective played by Jack Gyllenhaal and enraged father played by Hugh Jackman handle a missing person's case when the latter's daughter is abducted. Watching Jackman's Keller Dover abandon all sense of morality as he hunts down and tortures the man (Paul Dano) he is believes to be responsible. Blinded by his rage and ego, Keller, like certain characters in The Little Things, is so sure of himself he fails to look at other suspects, with near-disastrous results.
Stream it on Hulu here.
True Detective (HBO Max)
And then there is the HBO anthology series True Detective (specifically the show's first season), which follows two Louisiana police detectives played by Matthew McConaughey and Woody Harrelson as they spend decades attempting to solve a case involving the murder of young women, the abduction of children, and some of the most evil and corrupt characters ever written. Over the course of the narrative, the two detectives break the cardinal rule of police work: they become part of the case. Once again focusing less on the crimes and more on their fallout, True Detective remains one of the best examples of television's new golden age.
Stream it on HBO Max here.
Each of the above titles have a least one thing in common with The Little Things and writer/director John Lee Hancock's depiction of detectives obsessed with solving a case. But this is just the beginning of the list of great serial killer (and crime in general) films you can watch streaming. With shows like The Fall and movies like Extremely Wicked, Shockingly Evil and Vile out in the wild, there are dozens more that should be taken in at one point or another.
Philip grew up in Louisiana (not New Orleans) before moving to St. Louis after graduating from Louisiana State University-Shreveport. When he's not writing about movies or television, Philip can be found being chased by his three kids, telling his dogs to stop yelling at the mailman, or yelling about professional wrestling to his wife. If the stars properly align, he will talk about For Love Of The Game being the best baseball movie of all time.
Your Daily Blend of Entertainment News
Thank you for signing up to CinemaBlend. You will receive a verification email shortly.
There was a problem. Please refresh the page and try again.