Superman And Lois Star Sofia Hasmik Discusses Her Initial Reaction To Chrissy And Kyle's Surprising Hook-Up
Did anyone see this coming?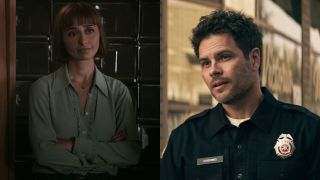 (Image credit: The CW)
Light spoilers for the latest episode of Superman & Lois, "Uncontrollable Forces," lie ahead, so read at your own risk.
The third season of Superman & Lois is finally here and, though we're only two episodes in so far, it's already been an eventful affair. There's plenty of superhero action to make note of but, so far, it's the character drama that's truly heating up early on (and devastating fans in the process). One of the biggest developments on that front, of course, has to be the hook-up between Chrissy Beppo and Kyle Cushing. It was a surprising turn of events, to say the least, especially considering that the two haven't interacted much over the past two seasons. Now, Sofia Hasmik, who plays Chrissy, is opening up about her initial reaction to the storyline.
During the season premiere, Chrissy and Kyle end up in bed together the morning after Jonathan and Jordan Kent's 16th birthday party, where they had a brief heart-to-heart about their personal lives. The hook-up is made even more awkward due to the fact that Chrissy is at Kyle's when his ex-wife, Lana Lang, arrives to deliver signed divorce papers. (Lang never sees Beppo, though). I had the pleasure of speaking with Sofia Hasmik about her work on Superman & Lois and, during our chat, we discussed her beloved character's most recent personal escapade. The actress got honest when recalling how she reacted and, yes, she was originally taken aback like many of the fans were:
It's true that both Smallville residents have rarely crossed paths up to this point, so one can totally understand why the star would be surprised at the onset. However, based on further comments she made, it sounds like it didn't take long for her to shake off those initial jitters. She also weighed in on why the two probably got intimate so quickly:
Chrissy Beppo has had an interesting journey on The CW's hit drama series. She was initially a recurring character, but Sofia Hasmik reached series regular status in Season 2 of Superman & Lois. With that, Chrissy became a larger part of the narrative, as she got in over her head while investigating the shady Ally Allston. Of course, this is the first time that Chrissy has ever had a true love interest. Hasmik is eager to jump into this new arc, and what excites her most is the chance to work more with Kyle Cushing actor Erik Valdez:
The second episode of this season, "Uncontrollable Forces," doesn't move this particular story forward too much, as Chrissy and Kyle only share one scene, in which they're discussing a major murder in town. This story will probably become more prominent as the season progresses, and I'm incredibly curious to find out how others – specifically Lana Lang – react to it. Despite the tension that could arise there, though, I'm sure that amid Superman's conflict with Bruno Mannheim or the rise of our new Lex Luthor, this romantic subplot should bring some levity and heart to an already entertaining show.
Catch Sofia Hasmik and her co-stars on Superman & Lois when it airs Tuesdays at 8 p.m. ET on The CW as part of the 2023 TV schedule. You can also watch recent episodes for free on the network's website and stream previous seasons using an HBO Max subscription.
Your Daily Blend of Entertainment News
Covering superheroes, sci-fi, comedy, and almost anything else in film and TV. I eat more pizza than the Teenage Mutant Ninja Turtles.