A League Of Their Own: Every Major Rockford Peach, Ranked By Baseball Skill
There's no crying in baseball!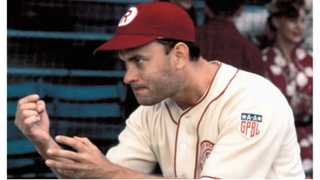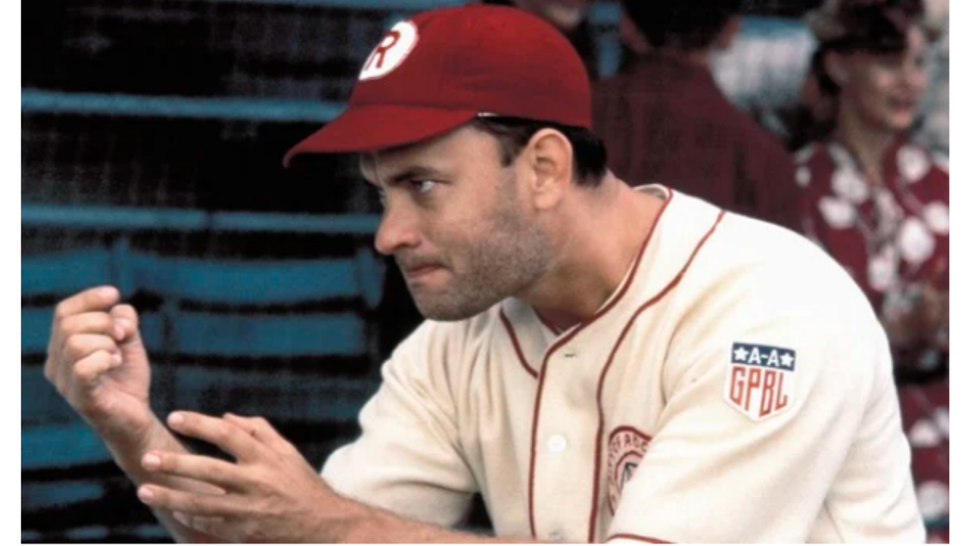 (Image credit: Sony Pictures Entertainment (SPE))
Tom Hanks' Jimmy Dugan may not have recognized their potential immediately, but the roster for the Rockford Peaches is, in fact, comprised of ballplayers. It features some great hitters, some great fielders and even a few good arms. Of course, it's also filled with criers, beauty school rejects and women who can't hit the cut-off man, but it's hard to find a roster, even among professional baseball teams, that isn't filled with at least a few holes and few players with glaring weaknesses. And A League Of Their Own does a great job of presenting that.

You see, avid sports fan Penny Marshall didn't simply cast the best actresses. She made every single Hollywood starlet who wanted a role in the film spend a few days actually playing baseball. Among those who were actually athletes, she then whittled down the group to find the right women. That really comes through in the final product too. Every single woman cast in the film is a believeable baseball player, but each contributes to both her character's strengths and weaknesses.

So, let's have an honest conversation about who the best Rockford Peach really is. Leaving off the girls who don't have more than a line or two, let's rank every major player by her actual baseball skills.
11) Alice "Skeeter" Gaspers
Number: 18

Position: All Outfield Positions, Catcher

Pros: Can play catcher, has good Canadian flair, is go with the flow

Cons: Doesn't change her socks, has really aggressive eyebrows, thinks it's bad luck to be yelled at.

Analysis: Every team has to have a back-up catcher. It's like having a second dude who can play goalie in hockey. There's just no way to form a real team without one, but Alice adds serious value in that she can play the outfield positions, as well. In fact, she seems to be an outfielder who can catch in case the regular girl gets injured or decides to drive home with her husband with a jacked up foot, rather than the other way around.

Alice is the butt of more than a few jokes in A League Of Their Own. At one point, she literally has flies buzzing around her on account of the not changing her socks thing, but she's actually a valuable contributor on defense, and her swing is not the worst thing in the world I've ever seen.
10) Betty Spaghetti Horn
Number: 7

Position: Left Field, Relief Pitcher

Pros: Good fastball, very mobile in left field, champion knitter, makes good spaghetti, knows the bus driver's name.

Cons: Not a regular starter, doesn't have a ton of pop in her bat, emotional over her dead husband.

Analysis: Betty Spaghetti has good fundamentals and moves around well out in left field. She's also got a nice little bit of snark to her that keeps the room light. All of that makes her a very effective back-up/ role player, but more often than not, she starts games on the bench. She just doesn't have enough pop to her bat, and she doesn't play a ton of different positions.

Still, if your first woman off the bench is Betty Spaghetti, you're in great shape. Not only because she can run. Not only because she can catch and hit but also because she can rock your world with a badass spaghetti following home games.
9) Shirley Baker
Number: 11

Position: Mostly Left Field, Other Outfield Positions Too

Pros: Good speed, really happy to be on the team, can play multiple positions, good contact hitter.

Cons: Addicted to cigarettes, below average reader, serious lack of power.

Analysis: Shirley doesn't have a ton of power, but she's got a nice little punchy swing. In fact, while not generally thought of as one of the Rockford Peaches' best players, she's slotted fifth in the batting order during the team's first game. That tells us she's an effective hitter, and coupled with her abilities to play multiple positions, that makes her a valuable piece.

Unfortunately, she offers a serious lack of power, and her reading skills, while improving, are still only at a fourth or fifth grade level. That makes both home runs and written communication a serious problem.
8) Evelyn Gardner
Number: 17

Position: Right Field

Pros: Great arm, good contact hitter, means very well, is an accomplished songwriter.

Cons: Can't hit the cutoff man, throws home with a two-run lead, cries in baseball, has a demon child

Analysis: No one on the Rockford Peaches is in the middle of more drama at any given moment than Evelyn Gardner. She has a lowlife husband, a miserable, spawn of Satan son and a penchant for missing the cut-off man or throwing home with a two-run lead, all of which drives Jimmy Dugan absolutely crazy. She's, of course, the woman who famously cried, but it should be noted that, behind all the problems, she's a pretty decent ballplayer. She's got a cannon of a right arm. She's got a nice little swing, and during her biggest moment in Game 7 of the World Series, she fired a rope to the cut-off man.

In addition, Evelyn has quite a few personality traits that make her a good teammate and an important presence in the clubhouse. She's very optimistic. She's an accomplished songwriter, and she's really, really nice, which is a worthy counterbalance to some of the other ladies who area little more gruff.
7) Helen Haley
Number: 15

Position: First Base

Pros: Accomplished coffeemaker, great defensively, picks the ball out of the dirt well, has very refined manners, is easily the smartest woman on the team.

Cons: Gets easily offended, doesn't have a ton of power, can't find her new red hat.

Analysis: Defense is always important in baseball, but in the women's game, it's especially important because batters put the ball in play a lot. There are typically a ton of infield groundballs, and a good team needs a first basement who stretches for the ball, fields her position and can pick the ball out of the dirt. Helen Haley does all of that, and she adds a refined, lady-like personality to the room, as well.

Typically, your first baseman is going to be someone who has a ton of power, bats about fourth and has defensive lapses. Haley doesn't fit that stereotype at all. She's got the speed and the defensive awareness of a center fielder, and the Peaches will gladly trade that lack of power considering they have heavy bats at some other positions.
6) Kit Keller
Number: 23

Position: Pitcher

Pros: One of the best pitchers in the league, good power, knows how to milk a cow, plays really hard.

Cons: Can't lay off the high ones, has serious issues with her sister, can't control her emotions, swings way too hard.

Analysis: Kit really doesn't do anything other than pitch. Nowadays, that's not such an issue, but back in the day, especially in the women's game, managers were looking for players who could fill a lot of different holes. Kit can't really do that. She's there specifically for her arm. In fact, she bats last for the Peaches whenever she's in the game.

For someone who bats last, however, her bat has a ton of pop to it, probably because she swings harder than any human being in the history of baseball. She takes a big step and just hacks with every ounce of force she can produce. Most of the time, that involves whiffing. Now and again, it involves making contact and pounding a soaring fly ball.
5) Ellen Sue Gotlander
Number: 1

Position: Shortstop And Relief Pitcher

Pros: Cannon of a right arm, takes the ball to the opposite field, won Miss Georgia, good speed, average relief pitcher.

Cons: Isn't a great offensive player, doesn't have much power.

Analysis: Ellen Sue Gotlander is the best fielder on the Rockford Peaches. She holds down the Shortstop position, and there's never any thought of playing anyone else there. She turns double plays quickly and efficiently, and she has good range in the hole. She also boasts nice speed on the bases, and if she were to sit out, which she rarely does, she could always be used as a pinch runner or late inning defensive replacement. She's also a passable relief pitcher, which sounds like a bit of an insult, but since that's just a bonus, it's a damn fine bonus.

She's also pretty easy on the eyes, which is sorely needed for a league that has attendance problems. In fact, it should shock no one that she's the one who doles out the kisses when people catch foul balls.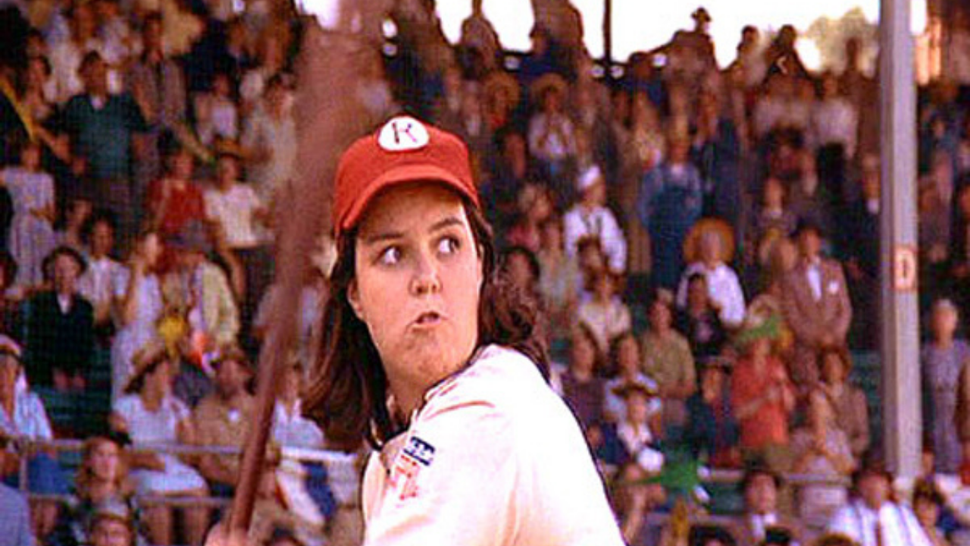 4) Doris Murphy
Number: 22

Position: Third Base

Pros: Sneaky good defensively, well above average power, well-liked by her teammates.

Cons: Lacks confidence, lacks speed, lets her boyfriend mistreat her.

Analysis: Every team needs a loudmouth with a ton of power. For some reason, these players tend to be third basemen. Doris Murphy fills the role for the Rockford Peaches, and she does so admirably. She screams at opposing players. She makes snarky comments to her teammates. She makes aggressive contact most of the time she's at the plate, and she keeps the room light. Most of all, she's invested. She's the type of woman who would come running hundreds of yards to jump into a shoving match.

Doris also has really good reflexes, which is important for a third basemen. Look no further than the catch she made during Game 7 of the World Series. There's nothing tougher for a third basement than catching a line drive down the line, and she does it with ease.
3) Mae Mordabito
Number: 5

Position: Centerfield

Pros: Great speed, good on the bases, willing to get naked to help ticket sales, offers Gold Glove level defense, has impressive dancing abilities, once caught a flyball with her hat.

Cons: Has a shady past, is addicted to cigarettes, poisons people.

Analysis: All The Way Mae might be best known for her colorful, off the field exploits, but she's a huge asset on the field. She's a great lead-off man with good speed and the ability to make contact with a lot of pitches. She also plays an excellent center field and is a good teammate. She helps Shirley to learn how to read, and she organizes an outing to let all of her teammates cut loose and go dancing.

Mae's one big problem is she's a little impulsive and has some demons in her past. Those impair her decision-making ability a little bit, but those are more reasons why she shouldn't ever be a manager or an assistant manager or a team leader or anyone put in charge of showing the new girls the ropes.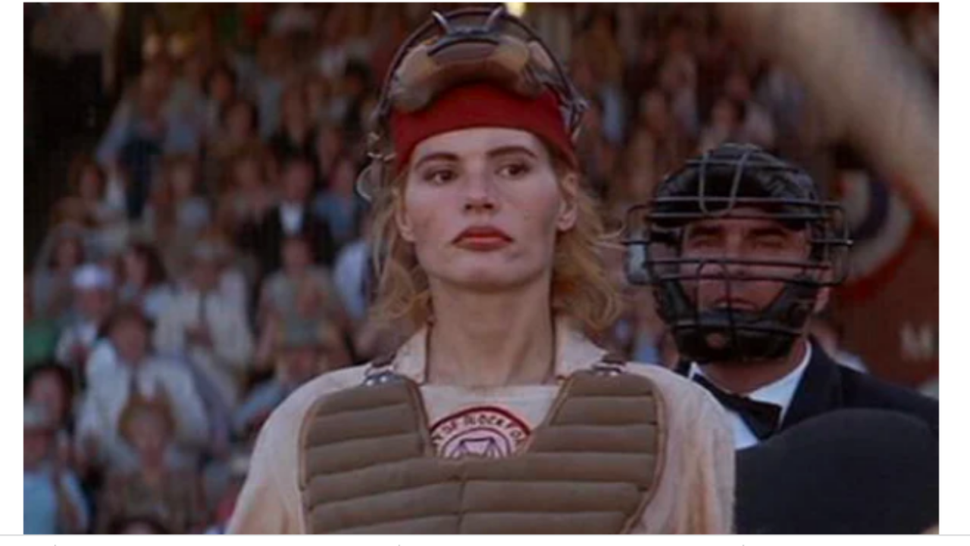 2) Dottie Hinson
Number: 8

Position: Catcher

Pros: Great defensively, great offensively, can catch a ball with her bare hands, can catch a ball while doing the splits, is probably the best player in the league.

Cons: Can't get along with her sister, bails on the team for her husband, can't hold onto the ball during home plate collisions, likes baseball less than everyone else, may have intentionally lost Game 7 of the World Series.

Analysis: Dottie is a beast. She's the one player Jimmy Dugan considers a ball player. He turns her onto dip and seems to genuinely care about her opinions related to how the pitchers are throwing. That's a huge compliment coming from a drunk chauvinist. It's totally earned though. Behind the plate, Dottie is in complete control. She calls a good game, fields her position and inspires her teammates.

She's also a great situational hitter behind the plate. She has a good sense of when her team needs a big hit and when it just needs to get someone on base. She's capable of doing all of that. Unfortunately, she just doesn't seem to like baseball that much, and there's at least a 50% chance she intentionally lost Game 7 of the World Series which is shocking on every single level and a clear explanation for why she's not #1 on this list.
1) Marla Hooch
Number: 32

Position: Second Base

Pros: Has an eye like Joe Dimaggio, can switch hit, is easily the best hitter in the league, can field her position better than people remember.

Cons: Willing to bail on the team for a man, has some appearance problems, is an etiquette class failure.

Analysis: Marla is probably only the second most talented player on the Peaches, and she looses points for leaving early for her honeymoon. But at the end of the day, baseball is still her life. It's not Dotties. And she's a damn good player too. In fact, just the thought of her being forced to squeeze bunt is the one thing that wakes Jimmy Dugan up out of his stupor and forces him to actually manage. He openly calls her the best hitter on the team, and as a second baseman, she's not exactly being hidden in the field either.

She's also one of the few switch hitters in the league, and she smartly doesn't swing for the fences every time. Obviously, the power is there, but her big hits typically come from well-hit line drives, not home run cuts that thankfully don't turn into fly balls.
Your Daily Blend of Entertainment News