Ashton Kutcher Recalls The 'Bananas' Story About The Time He Didn't Realize He Was Watching Harry Styles Do Karaoke
Ashton Kutcher got a Watermelon Sugar high watching Harry Styles karaoke.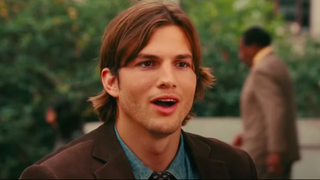 (Image credit: 20th Century Fox)
Ashton Kutcher sure is living a happy life right now. After recovering from a "life-threatening" health scare, he's living his best life with his wife Mila Kunis, and their two children. When he's not on-screen making us laugh, the That '70s Show actor has got some funny real-life stories to tell like the "bananas" story of watching Harry Styles do karaoke without realizing that was the famed singer.
Karaoke singing is all in good fun whether you can truly carry a tune or blame the couple of drinks you just had for any off-key singing you display. In a TikTok video from Esquire, Ashton Kutcher recalls the time he was completely in awe of one karaoke singer he was watching at a neighbor's party.
Or as Gwen Stefani would say, it was "B-A-N-A-N-A-S!" ABBA songs are definitely karaoke-worthy and a great way to show off those "Super Trouper" moves like the film cast of Mamma Mia! did. The Butterfly Effect actor continued to share that he just had to approach this amazing singer and give him his props.
Little did Ashton Kutcher know who he was complimenting. I'll give you a little hint- he auditioned for X Factor, was a member of one of the biggest British boy bands of this generation, and after Dunkirk landed the male lead of Olivia Wilde's Don't Worry Darling. Allow the Jobs actor to tell you who he discovered was the impressionable karaoke singer.
With two Brit Awards, a Grammy, and three American Music Awards, you better believe Harry Styles' got singing talent. Even Texas State University announced they have a course dedicated to the British singer. But Ashton Kutcher has got plenty going on for himself. He returned for the Netflix spinoff That '90s Show with Mila Kunis revealing their characters got back together much to Kunis' chagrin when learning of their characters' fates. The Dude, Where's My Car? actor will also be set to star with Reese Witherspoon in the Netflix rom-com Your Place or Mine about two best friends who swap houses for a week without realizing what a life-changing decision that would be.
Ashton Kutcher's "bananas" story shows a karaoke singer stepping up to the mic could either be an everyday local showing off their singing chops or a renowned Grammy singer. Either way, it makes for an entertaining time. Celebrate your Valentine's Week by watching this Kutcher-Witherspoon rom-com flick premiering February 10th on your Netflix subscription.
Your Daily Blend of Entertainment News
Just your average South Floridian cinephile who believes the pen is mightier than the sword.