Bruce Willis' Family Issues Statement Following An Updated Dementia Diagnosis For The Beloved Actor
Bruce Willis receives an updated dementia diagnosis.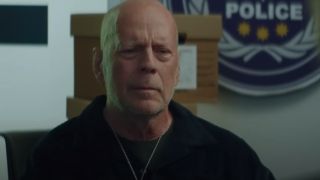 (Image credit: Lionsgate)
Bruce Willis entertained audiences for over 40 years, with his best movies including box office hits like Die Hard, The Sixth Sense, The Fifth Element, Unbreakable and more. Sadly, in March 2022, Willis was forced to retire from his successful movie career due to his initial diagnosis of aphasia, which is a language disorder that affects your ability to communicate and comprehend language. However, it's been revealed that there's going on with the actor's health, as his family issued a statement that reveals the retired actor's updated dementia diagnosis.
It was recently discovered by Bruce Willis' family that enduring the loss of communication would only be the start of his tragic health condition. A statement issued by the 67-year-old's family that was posted on AFTD revealed that Willis' prognosis has worsened to frontotemporal dementia. In their words:
According to the Alzheimer's Association, frontotemporal dementia is when nerve cell loss in either the brain's frontal lobes or its temporal lobes "cause deterioration in behavior, personality, and/or difficulty with producing or comprehending language." The Mayo Clinic says these behavioral changes can affect judgment, empathy, how you are socially, compulsivity, change in eating habits and more. Speech and language problems also occur, like lacking the understanding of written or verbal language, trouble naming things, not knowing word meanings, mistakes in sentence reconstruction, the list goes on. Unfortunately, there is no cure for this disease, but there are antidepressants and antipsychotics to help treat behavioral problems.
This new diagnosis of frontotemporal dementia may be shattering to discover, but with a full diagnosis and understanding of Bruce Willis' new condition, his family will be able to watch out for any symptoms he exhibits. His wife, Emma Heming Willis, continued to express in her statement the importance for all of us to take the time to learn about this rare disease to grasp a better understanding of what the Red actor is going through.
Bruce Willis's deteriorating health has had a profound effect on his family. His wife has spoken about the struggles of taking care of her family and finding a balance between taking care of others, as well as herself. Months after Willis' diagnosis was announced, Heming Willis declared that she wants to try to be her best self for the people she loves and her own well-being. Despite the hardships she's gone through, she's also made sure to express the happy times she's recently had with her husband, like the loving glance the two of them shared in new photos taken days after his retirement. There was also the time she shared a sweet Father's Day photo of Willis at the bottom of a family dogpile. This proves in the wake of tragedy, there is plenty of room for love and compassion.
This Golden Globe winner and his family have a long road ahead, but the love they have for each other is strong and will shine through it all. If you'd like to see Willis' final movie, Assassins, it has a 2023 movie release in select theaters and video on demand on March 31st.
Your Daily Blend of Entertainment News
Just your average South Floridian cinephile who believes the pen is mightier than the sword.