Donnie Yen Shares Behind-The-Scenes Moments Including Goodbye With Keanu Reeves As He Wraps On John Wick 4
That's a wrap on John Wick 4 for Donnie Yen.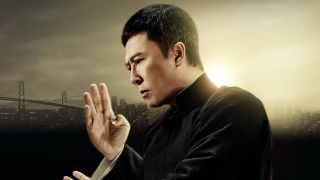 (Image credit: Mandarin Motion Pictures)
The John Wick series has easily become one of the premier action franchises in Hollywood. Keanu Reeves and the team behind the films have succeeded in making every new installment bigger and better than the last. The seres keeps things fresh and exciting by adding even more talent to the mix, like kung fu movie legend Donnie Yen. Fans see him alongside Reeves on the big screen. Just recently Yen has shared some behind-the-scenes moments, including his goodbye to his co-star as he wrapped his work on Chapter 4.
The actor took to his Instagram to announce that he'd finished his work on the movie and showed off some fantastic behind-the-scenes footage in the process. In it, he revealed some of the wrap gifts he received and showed how he parted ways with his collaborators.. Four months away from your family can be challenging, and Yen, excited to go back home, encapsulated his experience with a sweet message, saying:
It seems like Donnie Yen had a great time filming John Wick: Chapter 4 and has respect and admiration for his newfound friends, Keanu Reeves and director Chad Stahelski. There aren't many details about the film or who Yen will be playing, so it's unclear if he'll be an ally to Reeves's Wick or an enemy. (For his sake, let's hope he's an ally.) For months, Yen had been keeping his Instagram up to date with his filming, showing fans what long days and nights look like and how he likes to kick back and unwind. To see his exit from the set, check out his sweet video down below:
The franchise has set the bar for action and martial arts filmmaking. It has skillfully mixed styles and techniques from kung fu and action movies of old and has also taken inspiration from modern classics like The Raid. The ultimate result is something that is truly unique and intense for moviegoers. Bringing in a martial arts icon like Yen, who has starred in countless martial arts masterpieces, is a major pick-up for the John Wick franchise.
He and Keanu Reeves will also be joined by franchise newcomer Bill Skarsgård in the upcoming fourth installment, and it'll be interesting to see what role the It actor plays in the movie. With new additions and the returning stars like Laurence Fishburne, the film is sure to be packed with everything you'd want and expect from the beloved franchise.
It would seem that the cast and crew were quite close on the set. As a matter of fact, Keanu Reeves just celebrated wrapping on John Wick: Chapter 4 by buying some expensive gifts for the crew. So seeing the movie will be that much sweeter knowing that there was great camaraderie among those involved in making it. The action flick is set to hit theaters on May 27, 2022, and it will surely be one of the biggest and most action-packed movies in a year that's already filled with plenty of great blockbusters. You can read up on those through CinemaBlend's 2022 movie release schedule.
Your Daily Blend of Entertainment News
Movie and TV obsessive. A good Heist movie is the way to my heart. Enjoyer of everything from Marvel Movies to Rom-coms.