How Do You Actually Pronounce Fast X? The Director Clears up The Popular Question
How is Fast X pronounced?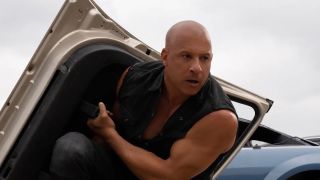 (Image credit: Universal Pictures)
The Fast & Furious franchise has been cranking out movies for over two decades, even spawning the Hobbs & Shaw spinoff movie, as well as the animated series Spy Racers. The upcoming Fast X film is set to be the penultimate in the main series, and will definitely start to close some chapters in the long-running franchise. But before it comes to a close, director Louis Leterrier is clearing the air about a very popular question that has been brought up since Fast X's announcement.
With Fast & Furious spanning across 10 main films, there is only so much that one can do both title-wise and story-wise, but it's been a success every single time. Using only either "Fast" or "Furious" along with the number that the installment is is a pretty simple recipe, and that continued for the tenth film, which just goes by Fast X. However, it seems to have gotten fans confused, not knowing whether to say "10" or "X," given the letter is the Roman Numeral for 10. Luckily we don't have to suffer with saying the wrong thing any longer, as Louis Leterrier revealed the truth behind the title to Empire Magazine (via SyFy), who noted,
Obviously, it makes sense that Fast X is pronounced like "Fast Ten," and it might even be better knowing that beautiful pun is partly the reason for it. Maybe because this is the first movie in the franchise to use Roman Numerals, or perhaps "X" just rolls off the tongue better for some people, but I get where saying the letter instead of the number feels better. Now I just need to hear someone official actually say it, so it's truly validated. Otherwise, I feel that people will still be using "X," which really wouldn't be all that bad if it came with its own car pun.
Coincidentally, as people debate over how to pronounce Fast X's title, Louis Leterrier teased that a "war" is coming in the new Fast movie. Alliances will have to be made, sides will be chosen, and casualties will be insurmountable, so it's definitely something you won't want to miss. And with the Fast X cast looking as great as ever, it shouldn't disappoint. With just one more movie left in the main franchise after Fast X, seeing what stories it sets up to wrap the beloved franchise will be something else to look forward to, as well as just what they name the final film.
Meanwhile, Fast X is bringing in familiar faces and new faces like Jason Momoa on a Harley. It will also include a cameo from Paul Walker's daughter, Meadow Walker, making it yet another emotional installment, but it was a "blessing" to have the young Walker on set, according to Michelle Rodriguez. It will be intriguing to see what brings her to the Fast & Furious world and how she will likely honor her late father, who was a brother to the entire cast.
Fast X is the beginning of the end of a long-running franchise, and seeing how it closes out will be yet another thing to keep an eye out for. So make sure you don't miss the release of Fast X when it hits theaters on May 19 as part of the 2023 movies schedule!
Your Daily Blend of Entertainment News
Passionate writer. Obsessed with anything and everything entertainment, specifically movies and television. Can get easily attached to fictional characters.