I Recently Watched Tár, And It Moved Me To Tears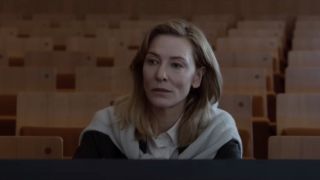 (Image credit: Universal)
There are certain movies that come around that really leave an impact on me. Sometimes it's movies I'll watch once and never want to watch again. Other times, it's movies that I adore so much I'll watch them over and over, like the Harry Potter series. Occasionally, it'll be an animated film such as Guillermo del Toro's Pinocchio and it'll truly touch my soul.
But for the first time in a while, an Oscar-nominated film moved me to tears, and that film was Tár.
Granted, there have been plenty of great movies that have come out over the past year – from Everything Everywhere All At Once to Top Gun: Maverick to Avatar: The Way of Water, but only Tár, starring Cate Blanchett, made me clutch my chest from crying. Out of all the contenders for Best Picture at the 2023 Academy Awards, Tár was the first that truly stuck with me for hours after watching it – and today, I'm going to give you my reasons why.
First Off, Cate Blanchett Is Amazing In Her Role
I mean, everyone always expects Cate Blanchett to be amazing at whatever she does, but in Tár, she's on another level.
I've seen Cate Blanchett in many movies. I believe the first film I ever saw her in was Carol back in 2015, but I've watched her in many films since then. I saw her as an amazing villain in Thor: Ragnarok, I've seen her in my watch through the Lord of the Rings franchise, I saw her in Don't Look Up, Cinderella, I'm Not There, and so many others, and no matter what she's just always phenomenal.
I think that's also just a testament to how good she is at finding the right roles, but let me say that her performance in Tár is so visceral and gut-wrenching that I felt myself captivated by her every move. Tár is the perfect example of how subtle acting can be. Tár at its core, is about a famous composer/conductor who is going through a horrible ordeal and is experiencing mental side-effects because of it, and Blanchett perfectly captures all of it.
The ways in which she acts in the movie is so subtle and perfectly executed that it makes it feel as if the camera isn't even supposed to be there – everything feels so natural. It almost feels too natural because it's as if we are invading Lydia's space by seeing this deep into her mind. And that's from the effectiveness of Blanchett's performance.
While I originally believed that other actresses nominated for Best Actress had it in the bag, I can fully say that I think Blanchett has a reason to win another Academy Award. Her performance in this was out of this world fantastic.
The Cinematography Is Phenomenal
I feel like I say this with most movies, but the cinematography in Tár is just phenomenal.
There are different levels of cinematography that truly get me. One is the otherworldly type that we see in big movies with CGI and crazy landscapes. I'm talking about movies such as Eternals, or Avatar: The Way of Water – scenes that are beautifully shot, but sometimes, there's a lot of visual effects behind it, and that's totally alright.
But the cinematography in Tár is something else entirely, because it doesn't need super flashy visual effects for its storytelling, as it's very grounded. Instead, the cinematography paints how Lydia, the main character, is feeling. Some shots show chaotic movements so the viewer can experience that same fragile state of mind that Lydia is in. Other shots are static and slow to simulate a beat of peace. Few show grand audiences and others are much more intimate.
Every frame of this movie felt so well-thought out, and as someone who really appreciates that kind of stuff, I fully tip my hat to the cinematographer.
And The Music Is Absolutely Stellar
For a movie that surrounds composition and conduction orchestras, you better believe I was expecting great music. And boy, did Tár deliver.
Admittedly, I am a huge movie music nerd. I've watched so many movie musicals, appreciated the scores of famous composers such as Hans Zimmer or John Williams, and just overall enjoy the feeling that music in a movie can bring. The music in Tár, composed by Hildur Guðnadóttir, is expertly done.
Not only does the score accurately reflect the feelings you are supposed to feel during certain moments of the film, it almost feels as if it's an extension of Lydia's character, which is something I don't usually say about movies. It almost feels as if Lydia herself had composed the music.
It's Such A Poignant Story On The Downfall Of A Famous Person
I don't think I've ever seen a movie that is more relatable to people of my generation right now than that of Tár, and I mean that wholeheartedly.
Lydia herself is an incredibly talented composer that is lauded with awards, and often challenges her students (where she teaches a masterclass at Juilliard) to appreciate the music from composers despite their challenged pasts, but she, herself, has also had a challenged past with one of her students.
How To Watch Oscar Nominated Best Picture Movies 2023 Online On Streaming Services Around The World
This one instance of Lydia's past comes back to haunt her when emails with said student are leaked, and edited videos of Lydia's lectures are posted online, sending her career into a spiral. Without spoiling too much, Lydia literally is what she preaches – she is a composer who has a dark past, but wishes for people to appreciate the music more than the person themselves.
But even then, as her life slowly begins to crumble around her, she feels that not even her music is appreciated because she is slowly losing herself and the fame and the respect she had struggled to build up for so long is eradicated.
It's an intense story about the downfall of a famous person, a slow burn of sorts that takes its time, but once it gets going, it doesn't stop. It's a psychological drama about the effects of cancel culture and how even if someone deserves to be reprimanded for what they have done, it can slowly tear them apart from the inside out.
And It Also Informs The Viewer About The Importance Of Staying True To Your Roots
But here we are – at the spot that truly made me cry.
I won't spoil the end of the movie, but it made me appreciate where I came from. There are so many times where people, when they get an ounce of fame or something else that boosts their ego, will forget where they came from. Their minds will become clogged with prestige and believe they are deserving of everything they are given, only to realize that it can all be taken away like that, with the snap of their fingers.
The end of this film had me rethinking about how I've spoken to certain people in my life, how I've treated them, how I've moved past certain situations, so much so that it overwhelmed me and I felt the need to call my mom and tell her "thank you" just for always being there for me.
A movie like Tár only comes around once in a while to really make you think about everything you should be thankful for and to keep striving towards perfection, but never forgetting where you come from. And I have to thank Tár for that.
Tár is what I personally consider the dark horse for Best Picture in the Academy Awards this year, just because there are so many amazing films nominated. But it's always going to hold a special place in my heart during awards season – and if you haven't given it a shot yet, be sure to carve out some time to watch it.
Stream Tár on Peacock. (opens in new tab)
Rent/Buy Tár on YouTube.
Your Daily Blend of Entertainment News
Big nerd and lover of Game of Thrones/A Song of Ice and Fire. Will forever hate season eight. Superhero and horror geek. And please don't debate me on The Last of Us 2, it was amazing!