How To Watch Oscar Nominated Best Picture Movies 2023 Online On Streaming Services Around The World
And the Academy Award goes too...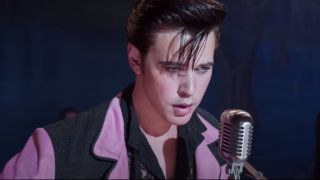 (Image credit: Warner Bros. Pictures)
Award season came to an end with the 95th Academy Awards taking place on Sunday, March 12 in the Dolby Theatre on the Hollywood Boulevard. Of the 2023 Oscar nominations, one of the most exciting awards is that of the Best Picture, which sees some of the most exciting movies of the previous year celebrated.
With plenty of the biggest titles already having found their way onto streaming services around the globe, we've detailed below where you can watch the 2023 Oscar nominated Best Picture movies online, including The Banshees of Inisherin and Elvis. Or you can head straight to our how to watch Everything Everywhere All At Once guide to stream this year's Best Picture winner.
How to watch All Quiet On The Western Front online
Adapted from the 1929 Erich Maria Remarque novel of the same name, All Quiet on the Western Front is set in the final days of the First World War. Following a young German solider, Paul Bäumer (portrayed by Felix Kammerer) as he enlists with grand plans of becoming a war hero. What unfolds is the terrifying realities of war and Bäumer's fight for survival amidst the start of armistice negotiations.
Stream on Netflix everywhere
How to watch Avatar: The Way of Water online
13 years after the release of James Cameron's Avatar - the 13th highest grossing movie of all time - comes its sequel Avatar: The Way of Water. Returning to Pandora following the defeat of the RDA invasion sixteen years ago, Jake Sully (portrayed by Sam Worthington) now leads the Omatikaya clan with Neytiri (Zoe Saldaña) and their brood of children. Once again, though, the Na'vi race must face a familiar threat as the new head of the RDA, General Frances Armore (Edie Falco) attempts to colonize Pandora.
Currently The Way of Water is only available to watch in the theater
How to watch The Banshees of Inisherin online
Starring Colin Farrell and Brandan Gleeson, and directed by Martin McDonagh, The Banshees of Inisherin reunites the two In Bruges stars in a tale of strained friendship, set against the backdrop of an isolated island off of the west coast of Ireland at the end of the 1923 Irish Civil War. Attempting to compose music he'll be remembered for, Colm Doherty (Gleeson) attempts to abruptly cut ties with his lifelong friend, Pádraic Súilleabháin (Farrell).
How to watch Elvis online
Austin Butler lends his own dulcet, husky tones in the biopic of Elvis Presley with the help of some of Baz Luhrmann's razzle dazzle magic. Elvis is told from the point of view of his manager, Colonel Tom Parker (portrayed by Tom Hanks), as the American rock and roll star rises to fame, from his bleak beginnings of Mississippi to the rock and movie star of the 1950s.
How to watch Everything Everywhere All at Once online
A sweeping adventure through alternative universes, Chinese immigrant Evelyn Wang (portrayed by Michelle Yeoh) is at a crossroads with the laundromat she owns barely keeping afloat and her marriage seemingly on the rocks. An encounter with an IRS auditor sends her life (or lives) off kilter though, bursting open a multiverse that sees Evelyn able explore parallel realities that could anchor her to a new course.
How to watch The Fabelmans online
From the enigmatic mind of Steven Spielberg, The Fabelmans takes inspiration from the award-winning directors own life growing up in post-World War II Arizona. Documenting Sammy Fabelman (Mateo Zoryan and then Gabriel LaBelle) from ages seven to 18 as he becomes an aspiring filmmaker. Along the way, though, he discovers an earth-shattering family secret that he learns to come to terms with through film.
Currently The Fablemans is only available to watch in the theater
How to watch Tár online
Tár takes its title from the formidable protagonist in which it centers. Cate Blanchette stars as the fictional Lydia Tár, widely considered to be one of the greatest living composer-conductors and the first major female director of a Berlin Philharmonic orchestra. A trailblazer in a male dominant world, between the soon to be published memoir and taking on a live recording of Gustav Mahler's "Symphony No. 5", Tár's facade begins to crack, revealing a web of dirty secrets and the manipulative person that lives beneath.
How to watch Top Gun: Maverick online
Thirty-six years after the original Top Gun was released, Tom Cruise returns alongside Miles Teller, Jennifer Connelly, Jon Hamm, and more in its sequel, Top Gun: Maverick. Set 30-years later, Pete (Cruise) returns to the Navy Strike Fighter Tactics Instructor program to teach new pilots. In turn, he must face up to the past while taking the next generation of fighter pilots on a mission demanding the ultimate sacrifice.
US: Stream on Paramount Plus

(opens in new tab)

or FuboTV

(opens in new tab)

UK: Stream on Paramount Plus
Canada: Stream on Paramount Plus
Australia: Binge

(opens in new tab)

or Paramount Plus
How to watch Triangle of Sadness online
If you liked The White Lotus, you'll probably enjoy Triangle of Sadness. The premise? Beautiful celebrity couple Carl and Yaya (Harris Dickinson and Charlbi Dean) are invited on a luxurious cruise for the insufferably rich, with the slightly manic boat captain, portrayed by Woody Harrelson, at the helm. Inevitably the trip goes awry, leaving survivors stranded on a desert island.
How to watch Women Talking online
Based on Miriam Toew's 2018 novel and the true events that took place at the Manitoba Colony, Women Talking stars Rooney Mara, Claire Foy, Jessie Buckley, Judith Ivey, Ben Whishaw, and Frances McDormand. The movie follows a group of women isolated in a religious colony, and drugged and raped by its men, and the fallout as the truth is revealed in what proves to be a harrowing yet empowering watch.
Currently Women Talking is only available to watch in the theater
Your Daily Blend of Entertainment News
Alice is eCommerce Editor at Future with a focus on streaming services and VPN across CinemaBlend and TechRadar. This includes writing and delivering the best buying advice on Disney Plus, HBO Max, Hulu, and other popular providers, as well as How to Watch articles so you know exactly where to stream the hottest new TV shows and movies where you are around the world. With over 5 years experience in the commercial writing space, Alice has been writing about consumer tech for the last 3 years, previously writing for Trusted Reviews before joining Future.