Kingdom Of The Planet Of The Apes: What We Know About The Upcoming Movie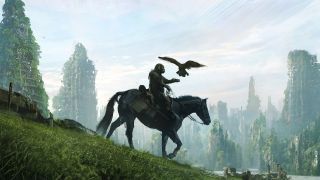 (Image credit: 20th Century Studios)
There are certain trilogies that come around and truly change the game when it comes to moviemaking. I think of trilogies such as The Lord of the Rings franchise, or maybe even movies like the Tobey Maguire Spider-Man films, or even the Back to the Future franchise. However, there was one sorta recent trilogy that blew my mind away, and that was the Apes trilogy that was released from 2011-2017.
The films signified a reboot of the classic Apes franchise, with the releases of Rise of the Planet of the Apes, Dawn of the Planet of the Apes, and War for the Planet of the Apes. Now, years later, we are going to be getting Kingdom of the Planet of the Apes. But, who is going to be in this film? And what is it going to be about? If you're as curious as we are, here is what we know so far about the upcoming film.
What Is The Kingdom Of The Planet Of The Apes Release Date?
For all who want to know, it's been confirmed that Kingdom of the Planet of the Apes is set to come out on May 24, 2024, according to The Hollywood Reporter.
It's unfortunate that the movie isn't going to be appearing on any 2023 movie release schedule, but if you think about it, that's really not that far away from the time of this writing, in February 2023, as it's just a little over a year from now. As long as everything stays on track, we'll be getting a new movie very soon.
Owen Teague Is Set To Star
With every new movie, there is always a star that is set to take the stage, and according to Deadline, Owen Teague is going to be the star of Kingdom of the Planet of the Apes.
Teague's character right now is unconfirmed, but there have been rumors swirling around that he might end up playing Caesar's son from the other films, Cornelius, just all grown up. However, since nothing is set in stone just yet, that's just my personal theory on who he might be playing.
The actor has appeared in a variety of movies and shows before. He was in films like It Chapter Two, To Leslie, The Empty Man, and more. He's also had an appearance in an episode of Black Mirror, and had a main role on both Mrs. Fletcher and The Stand. He's certainly going to be getting an awesome leading role with something like this.
Freya Allen, Eka Darville, William H. Macy And More Are Set To Costar
There's also plenty of other casting news that has come out about the movie, and many stars that we all know and love, from major TV shows on Netflix and elsewhere, are starring. The Kingdom of the Planet of the Apes cast is stacked.
First off, Freya Allen was confirmed to have a big part, as confirmed by Deadline. The actress has been making strides due to her role as Ciri in the popular fantasy series, The Witcher, and now she's going to have a role in the next entry of this franchise.
Also cast is Eka Darville, according to The Hollywood Reporter. Darville is primarily known for his role in the Netflix Marvel series, Jessica Jones, but he's also appeared in other shows such as The Originals, Power Rangers RPM and Empire. Most recently, he was in the Paramount+ original television show, Tell Me A Story.
Another big actor that was confirmed, according to Deadline, is William H. Macy. While Macy has appeared in many big movies and television shows, I primarily know him as Frank Gallagher from the hit Showtime series, Shameless, which garnered him several award nominations, and it's so exciting to see him in something as big as this.
Kevin Durand (Locke & Key) is also set to join Kingdom of the Planet of the Apes, according to Deadline. The actor's role in the film is still unconfirmed, but according to the outlet, many sources have told them that he will be playing an ape that might be a new villain.
Another casting member that is joining is Dichen Lachman (Severance), which was confirmed by The Hollywood Reporter, in another undisclosed role.
Several other actors were confirmed for the cast of Kingdom of the Planet of the Apes as well. According to Deadline, Travis Jeffery, Neil Sandilands, Sara Wiseman, Ras-Samuel Welda'abzgi, and Lydia Peckham are all confirmed to have roles in the upcoming film. With a cast such as this, it's surely going to be an intense film.
The Movie Will Take Place Many Years After The Last Trilogy
The trilogy for the original film followed the story of apes slowly taking over the planet, from Caesar's dawn of learning how to speak to him building a entire empire towards the end. So, what could this new movie be about? As you would expect, not much is known just yet.
The first real synopsis that we got is from the Deadline article that confirmed Freya Allen's casting, saying that this film will be taking place several years after the last one (War for the Planet of the Apes).
The 10 Best Andy Serkis Movies, Ranked
For those who don't remember what happened at the end of that movie, the apes have reached an oasis to keep themselves safe, but Caesar dies, leaving his son and family behind.
Later on, when the casting news about Dichen Lachman was revealed, it was confirmed that the movie is taking place many years later and that ape societies have flourished in that time. Now, it's going to be a story about apes against apes in a world that was once run by humans.
Wes Ball Is Directing
If you're wondering who is going to be helming this new movie, The Hollywood Reporter confirmed that Wes Ball is directing. Ball has worked as a director in the film franchise, The Maze Runner, and this will be his first directing credit since those films were released.
The directors of the last trilogy for the Planet of the Apes franchise were Rupert Wyatt, who directed Rise, and Matt Reeves, who directed Dawn and War, and has been on a kick lately with some awesome releases such as The Batman.
While a part of me would love to see them come back to the franchise, I have a lot of faith in Ball because I've seen the Maze Runner movies and I know just how much fun they are.
Filming Has Concluded
With a release date in May 2024, you can probably expect that filming for this would be done, and thankfully, we can confirm it has wrapped! On February 15, 2023, Wes Ball posted to Twitter and said it was "a wrap" on filming the movie.
This means that we are heading into post-production, and hopefully the release date won't shift from what it is now. I am so excited to see a trailer for this movie.
What are you eager for with Kingdom of the Planet of the Apes? Do you think it's going to be just as good as the last three films? Are you excited for this fresh start? I'm practically waiting on the edge of my seat to find out more.
Your Daily Blend of Entertainment News
Big nerd and lover of Game of Thrones/A Song of Ice and Fire. Will forever hate season eight. Superhero and horror geek. And please don't debate me on The Last of Us 2, it was amazing!