Let's-a Go! 5 Reasons I'm Actually Getting Really Excited For The Super Mario Bros. Movie
Nintendo's cinematic future looks pretty hopeful from where I'm standing.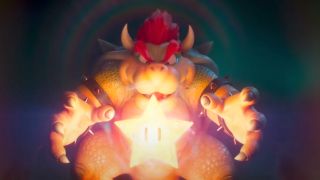 (Image credit: Illumination/Nintendo)
The "video game adaptations are good now" bandwagon isn't hard to climb aboard these days. Pokémon: Detective Pikachu and Sonic The Hedgehog kicked it all off, and The Last Of Us has continued that pattern through becoming a blockbuster HBO series. Maybe all of that good fortune has painted my thinking in a certain way, but the more I see from 2023's new movie release The Super Mario Bros. Movie, the more I've become super excited to see the finished product.
Going into the whole project as a skeptic, I now find myself at a point where I'm actually getting really excited for Universal and Illumination's new bite at the mushroom. It didn't happen all at once, but rather over the course of the gradual campaign that the studio has been putting into the open. As we'll be starting with a discussion of the first trailer to The Super Mario Bros. Movie, I'd like to share that teaser before getting started:
Now that we have that refresher on the table, it's time to plunge into what makes this project so exciting. Let's-a go, starting with a good case of evil that's made everything a bit brighter since day one.
Jack Black's Bowser Has Stolen The Show From Day One
As you could see in that first trailer provided above, The Super Mario Bros. Movie quickly established Jack Black's Bowser as the first big reveal. While the casting of Chris Pratt's Mario had been controversial from day one, the rest of the Super Mario Bros. Movie cast has been top notch. What better way to establish that than through Mario's arch-nemesis?
This was the right move to make, as establishing the world that Mario will be exploring is a more important step than revealing how Chris Pratt will sound in his incarnation. Though that first teaser did include a snippet of Pratt at the end, The Super Mario Bros. Movie established Bowser as a breakout star. Which, when you think about it, shows that Universal/Illumination has a really smart plan to sell this movie.
A Lot Of Care Has Gone Into The Super Mario Bros. Movie Marketing
Building up a firm head of buzz for The Super Mario Bros. Movie is a job that the marketing team behind its promotion have been working hard to achieve. Building the greater world of the Mushroom Kingdom, in addition to Nintendo's extensive gallery of characters, is an investment that could pay off in the long run. For now though, it's laying down the groundwork for one exciting looking movie.
The most recent ad is the best example, as Super Bowl weekend saw a Super Mario Bros. Movie promo that advertised Luigi and Mario's actual plumbing business. Using the theme to the cult classic The Super Mario Bros. Super Show, it's a deep cut that's already pleasing fans to no end.
There's even a special message from Luigi (Charlie Day) that you can hear when calling the phone number listed in that trailer. Should you actually contact this mailbox, it has a message that sees Luigi going on about various locations that he and his brother can service, mansions included. This digs a little deeper into more of what's been building the anticipation for The Super Mario Bros. Movie.
Clever Mario Bros. References Are Hiding All Over The Place
Through every piece of marketing, references large and small to Super Mario history have been presented. Doing "The Mario" backs that statement with yet another wonderful warp pipe to the past, but it's not like the nostalgia machine has only just been turned on.
Clips of The Super Mario Bros. Movie have a lot of special touches and callbacks lovingly included throughout the contents displayed. Here's another example, with a scene that introduces Mario to the wild world that is the Mushroom Kingdom:
Brief as this moment may be, there's tons to see and hear from Super Mario Bros. history. Composer Brian Tyler's musical score is even in on the gag, as familiar themes are as easy to pick out as the "antiques" being sold in this world's shops. Detail is king, and audiences are going to have a lot to keep their eyes and ears open to catch it all throughout The Super Mario Bros. Movie.
The Super Mario Bros. Movie Has Shown Some Mind-Blowing 3D Trailers
There's a term I've recently become acquainted with when it comes to the spectacle of movies that seem built for 3D. "3D-NA" is phenomenon when you can watch a movie like The Super Mario Bros. Movie in 2D and tell what was built to look fantastic in a potential 3D conversion.
As it happens, I don't have to rely on that instinct alone to know what this project is supposed to look like in the third dimension. Both trailers for the film have been run in 3D before other films, like the current 3D conversion of Ant-Man and the Wasp: Quantumania, and so far the trailers have been absolutely mind-blowing in 3D. While I know this could be a case of the trailer being specially tooled to impress, The Super Mario Bros. Movie does happen to be a CG-animated movie.
That makes for a more natural conversion effort, as it can be done with all of the source files. It's not a guarantee of quality, but so far, it looks like the uber-colorful world of Mario and his friends is going to be visually pleasing on top of everything else. And you can bet that we'll be covering that version of the movie as a future To 3D or Not To 3D, so put a pin in that conversation for the beginning of April.
So Many Other Nintendo Games Are Ready For Potential Spinoffs
"Cinematic universe" is a term that can't be divorced from what we're seeing from The Super Mario Bros. Movie. Super Smash Bros., Mario Kart and even Luigi's Mansion all get some time to shine, and if this initial project works, you know the plan will be to adapt some of those games into full films. The thing is, if the promise of Universal's animated adventure pays off in the actual movie, that's even better news.
Picture a proper Donkey Kong Country spinoff with Seth Rogen's DK, giving the world a jungle adventure/comedy. What if Mario Kart becomes the Wacky Races movie we were supposed to get with Scoob!, but never got? A lot of things will have to happen in order for such hypotheticals to start to take form, but if the love and care shown in these early stages is the real deal, it could be more of a good thing heading our way.
The world of The Super Mario Bros. Movie is one that the world has played through time and again, with hopes that when an eventual film adaptation came around, it'd be done right. It won't be much longer before we all get to see whether this hype is just well-packaged, or if Mario and Luigi can unclog the drain of cinematic Nintendo wonder once and for all.
For the moment, I remain optimistic that this is going to be one hell of a show, and I can't wait to see if I'm right when the picture hits theaters on April 7th. If HBO can make the world fear video game mushrooms, then surely Universal and Illumination can make us all fall in love with them again, right?
Your Daily Blend of Entertainment News
Senior Movies Contributor
CinemaBlend's James Bond (expert). Also versed in Large Scale Aggressors, time travel, and Guillermo del Toro. He fights for The User.