Oscars Fans Are Getting Heated Over All-Time Snubs Including Saving Private Ryan Losing And Green Book Winning Best Picture
And the Oscar didn't go to...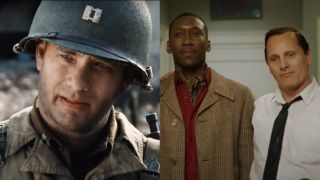 (Image credit: DreamWorks Pictures/Universal Pictures)
The Oscars are finally here, and movie fans are getting ready to tune in to see who will take home trophies among the nominees for the 2023 Academy Award ceremony. Some are preparing for the event by reflecting on the past and the winners that took home the big prizes – and this has also ignited some less than fond memories, including famous snubs and surprises that ended up going down in Oscars history. This includes Saving Private Ryan losing the Best Picture race, Green Book coming out on top, and many other infamous Academy choices.
Oscars fans have taken to Twitter to have heated debates over Oscars' past and recall some incredibly odd winners and losers. Hindsight hasn't always been kind, and some of the movies the show has awarded don't hold up. On the flip side, some fan favorite films were left in the shadows and have gone on to become some of the most celebrated films of all time.
Several people recalled the 2019 Oscars, which saw unpopular wins across the board, including a Green Book Best Picture win, and Bohemian Rhapsody scoring in many categories.
2018 gave us Green Book and Bohemian Rhapsody wins? That was a bad year.March 12, 2023
Twitter users also mentioned the famous 1999 Saving Private Ryan snub. The film lost the Best Picture award to Shakespeare in Love, which was a much less beloved film. Many believe that an aggressive campaign run by Harvey Weinstein was to blame for this baffling choice.
I was laying on my couch watching and fell off in shock. I was so sure Saving Private Ryan was going to win. pic.twitter.com/zTn7RZsGL9March 11, 2023
Some are still upset about films that were shut out of major Academy races completely – one title being Spike Lee's Do The Right Thing. While nominated in acting and writing categories, the film was absent from the Best Picture race in 1990. That year, the controversial film Driving Miss Daisy won the award.
DO THE RIGHT THING not being nominated for Best Picture still sends me into a rage spiral.March 11, 2023
Cinephiles are still upset over Pulp Fiction and The Shawshank Redemption both losing to Forrest Gump in the 1995 Best Picture race. Forrest Gump was seen as the more sentimental choice while the other two films, which have gone on to become much beloved for their narrative strengths. Pulp Fiction won for Best Original Screenplay instead that year, and The Shawshank Redemption failed to take home any awards despite seven nominations.
Forrest Gump beating not one but three better films (Pulp Fiction, Shawshank Redemption, Quiz Show) for Best Picture. And I know it's cliché, but Titanic over LA Confidential is a close second.March 11, 2023
Film fans also named The King's Speech's Best Picture recognition at the 2011 Oscars to also be an unfavorable choice that hasn't aged very well . The film won over the critically acclaimed David Fincher film The Social Network, which has developed a cult following. Many have named it one of the most important movies of the 2010s.
The list would be incomplete without mentioning Crash, which won Best Picture over Ang Lee's devastating Brokeback Mountain in 2005. The choice was unpopular even at the time, and Crash is considered by many to be one of the weakest Best Picture winners to date. Even the director of the film thought the choice was bogus.
Crash over Brokeback Mountain. Never watched an awards show after that.March 11, 2023
There are many more examples to choose from. Fan favorites don't always get the Academy recognition they deserve, but go on to live long lives within pop culture. There will be many snubs and surprises at the 2023 Oscars tonight, so make sure you tune in to see who wins and who loses. In addition, check out or feature on where to watch this year's Best Picture nominees ahead of the ceremony. For more information on other headline-making films hitting theaters in the near future, you can consult CinemaBlend's 2023 movie release schedule.
Your Daily Blend of Entertainment News
Writer, podcaster, CinemaBlend contributor, film and television nerd, enthusiastic person. Hoping to bring undying passion for storytelling to CinemaBlend.