Scream VI Ending Explained: Who's The New Ghostface?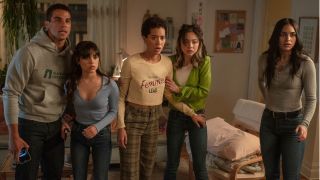 (Image credit: Paramount/Spyglass Media Group)
Warning: spoilers for Scream VI are in play. If you haven't seen Ghostface slay Manhattan just yet, you've been warned.
Scream VI has arrived to deliver yet another twisted entry in the canon of the Ghostface mythos. So of course, with this 2023 new movie release set to cut up the competition this weekend, there are a lot of questions that are about to be asked and answered by time Scream VI's ending plays out. The most important of which being, "who's the new Ghostface?"
The answer to that question is, of course, the skeleton key to a bunch of other answers that follow closely behind it. We're about to unravel the mystery of Scream VI's killer finale, so if you haven't seen the movie yet, consider this your final warning. The knives are out, and the guns are loaded, so let's unmask the latest perpetrator to wear the face of Woodsboro's infamous killer.
Scream VI's Ghostface Unmasked
In yet another mind bending third act reveal, Paramount's Scream VI has proven that this franchise is still all about family. This time, it's not one, not two, but three Ghostfaces that are roaming around, and all of them are from the same bloodline! Detective Wayne Bailey (Dermot Mulroney), his daughter Quinn (Liana Liberato), and his son Ethan Landry (Jack Champion) were all Ghostface killers this time out, inspired by vengeance over the death of another family member.
As it turns out, Samantha Carpenter (Melissa Barrera) killed Wayne's other son last year: previous Ghostface Ritchie Kirsch (Jack Quaid), who was revealed in the ending of Scream (2022). Revenge was only part of the game though, as this trio of terror were hoping to finish Ritchie's movie, by driving Samantha to embrace her own killer lineage.
Through a showdown that takes place in a shrine to the collective Ghostface legacy, Scream VI sees the Bailey family square off against the Carpenter sisters. Samantha and Tara (Jenna Ortega) wipe out their latest foes, surviving alongside fellow Core Four members Mindy Meeks-Martin (Jasmin Savoy Brown) and her twin brother Chad (Mason Gooding), as well as legacy characters Special Agent Kirby Reed (Hayden Panettiere) and journalist Gale Weathers (Courteney Cox).
The Clues That Revealed Detective Wayne Bailey, And How He Died
While the Bailey family was pretty well concealed, partially because Wayne was a detective with police access, there was a trail of clues that hinted towards Scream VI's killers. Which, amazingly, started off with Detective Wayne admitting that he was given the case by a friend when questioned by Samantha as to whether he'd asked to be assigned or not.
By putting himself at the head of the investigation into Scream VI's Ghostface killings, Wayne Bailey is able to help coordinate and control the frame job on Samantha Carpenter. Also, with his police connections, Ritchie Kirsch was able to collect the Ghostface artifacts from throughout the franchise's killings thanks to his dad.
The final finishing touch was, of course, the final act misdirect that suggested Kirby Reed was suspended from the FBI, due to her past traumas from the events of Scream 4 allegedly being stirred up.
Detective Wayne Bailey was careful with his killings, but Scream VI saw him killed by Samantha, who not only plunged a knife into his head through his eye, and finished him off by slitting his throat.
How Quinn Bailey's Involvement Was Hinted, And Her Death
Quinn Bailey's connection to the Ghostface killings had possibly one of the best Scream misdirects. Towards the middle of the movie we're meant to think that she's been killed, along with a gentleman caller. Quinn's "death" is atypical of what you'd expect in something like Scream VI, as it happens mostly off screen and we only see her body very briefly after the fact.
Thanks to having a stalker cop dad in Detective Wayne Bailey, Quinn's body is subbed for a fresh corpse, allowing her to walk free. Speaking of her dad, the Bailey daughter lays her cards on the table when she tells Samantha that he transferred to New York after the death of her brother. It's all true, save for the omission of the fact that Ritchie Kirsch was her brother.
Ms. Quinn Bailey eventually did die, as she faced off against Samantha Carpenter in the mezzanine of the Ghostface shrine. Stalking her prey inch by inch, Samantha puts an end to her menace through a single headshot; which is one of the only methods to ensure your would-be killer is no more.

The Clues That Connected Ethan Landry As Ghostface
Ethan Landry is the most concealed threat in Scream VI, especially when he deftly defies the deduction powers of Mindy Meeks-Martin. She correctly predicted that Ethan rigged the roommate lottery to room with Chad, thus putting him in close proximity to the Core Four. Which explains another major scene in hindsight.
Mindy's hunch that Ethan was Ghostface was absolutely correct! Hanging back to take care of Mindy, who was separated from the rest of the group in the subway, Ethan Landry even lends a helping hand in getting Mindy help. We don't see too many other threads poking out, except Ms. Meeks-Martin's detective work, and her arrival after the final fight to inform the group of her findings.
Getting the "superhuman" jump scare of Scream VI, Ethan survives through Tara literally gets the drop on him, eventually stabbing him through his mouth. Ethan rises, only to be ultimately crushed by the TV that killed Stu Macher, courtesy of the similarly superhuman Kirby Reed. Turns out, Detective Wayne Bailey's aim wasn't as deadly as he'd hoped when he tried to exterminate the woman he was trying to incriminate.
Could Samantha Carpenter Become The Next Ghostface?
The very end of Scream VI could be a discussion piece in itself. Throughout the scenes where Samantha Carpenter visits the Ghostface shrine, she's yet again visited by the mental force ghost of her father Billy Loomis (Skeet Ulrich). Coming face to face with his mask, cloak, and knife from the killings in Scream, she's intrigued and urged by her father to make the Bailey family history.
After all is said and done, we actually see Samantha holding Billy's mask in her purse, intrigued by it for a brief moment. She ditches it in the street, and that seems to be a sign that she's chosen a path different from that of her father, making Scream VI's ending a happy one. But is it really?
Is Samantha Carpenter really giving up her mantle, or will daddy pop up in her head again and finally make her crack? Could Scream VII see Samantha become the next Ghostface, and act as the only threat that could truly kill the Core Four? This is all speculation at this point, but it'd be foolish not to keep in mind one of the key rules to survival in the Scream franchise? Trust no one.
Should you have read this rundown of the ending to Scream VI without seeing the movie, you can always head to a theater near you and see all the bloody details unfold. Or, if you have seen this chapter already, you can read our To 3D or Not To 3D review of Scream VI, to see if you should consider revisiting this case in the third dimension. Last, but not least, if you've got the urge to relive all of the Scream franchise's crazy twists and turns, each of the previous movies are currently available for streaming through a Paramount+ subscription.
Your Daily Blend of Entertainment News
Senior Movies Contributor
CinemaBlend's James Bond (expert). Also versed in Large Scale Aggressors, time travel, and Guillermo del Toro. He fights for The User.