Sharper Ending Explained: Which Con Artist Won In The End, And How
Here's how all the cons fared in the end.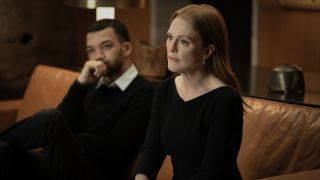 (Image credit: Apple TV+)
Warning: Spoilers ahead for Sharper. Back away from the big con unless you want to know the major details of the story!
Movie fans don't seem to be treated to taught, sexy crime thrillers that much anymore, but those with and Apple TV+ subscription can now watch Sharper, a film that definitely fits the genre and makes for an intriguing watch as viewers try to keep up with who's who, what information that we hear from the characters is real and what isn't, and all the ways that the big cons we watch go down could go very wrong for some, if not all, of those involved.
The Sharper cast, which includes Oscar winner Julianne Moore, Briana Middleton, versatile actor Sebastian Stan, and Jurassic World: Fallen Kingdom cast member Justice Smith, focuses on con artists embroiled in a plot to fleece a billionaire, and how their own emotions get tied up in the situation and cause way more trouble than they were ever thinking they'd have. If you've watched the drama but need some help piecing all the twisty parts together, you're in luck, because we're going to lay everything out for you right now!
How Sharper Ended
After viewers have already been treated to some cool turns, we get down to the nitty gritty when the investigators Tom hired to track down Sandra, and hopefully the $350,000 she stole from him, manage to come back with a lead, even after Madeline had convinced him to call them off. Tom and his step-mother head back to the apartment, where the investigators have taken Sandra, and her heart-broken ex-boyfriend speaks to her first, alone, eventually returning to the others and declaring that he wants her to stay with them until she detoxes from the drugs in her system and can tell them more about who she worked with to con him.
Obviously, this is bad news for Madeline, because she knows it was Max, her former partner-in-crime/lover, so she goes to speak with Sandra herself. After the recovering addict reveals both that, yes, this was Max's plan, and he also told her everything about his and Madeline's whole operation to swindle Tom's billionaire dad (2021 Emmy nominee John Lithgow), Madeline also agrees to let her stay. She also agrees to do as the young woman wishes, and locate Max (who took the money from Sandra and abandoned her) so she can confront him for using her, in the hope that she doesn't blow Madeline's cover to Tom and the cops.
After a few days, Sandra is better and Madeline, who has found Max, takes her to see him at a semi-abandoned location near the water. Once Max has confirmed that he felt nothing for Sandra and refuses to give her the apology she wants, two large SUVs race up to them, and Tom and his investigators are revealed to be inside.
Now, it's his turn to confront the three main con artists of the story (Madeline, Max, and Sandra) about stealing not just the $350K he gave to the woman he was falling for, but the $9.2 billion that his dad left to his new wife, Madeline, before his death. When she tries to keep control of the situation (so that she can hang on to at least some of her newly stolen cash), Tom becomes angrier, and swipes a gun off of one of the investigators, pointing it at Madeline.
A struggle ensues, leaving Madeline with the weapon as she points it at Tom, who tells her to shoot him. When she doesn't, he steps right up to the gun, points it at his chest, puts his hand over hers and pulls the trigger. Tom is now dead in a pool of his own blood, and the investigators call the police, telling Madeline to turn all of the money over, which she does by calling her husband's estate lawyer and soon signing papers to give all the money to his charitable organization.
The investigators then lead our theft-happy trio to a commercial flight headed for Oklahoma City, where they will at least be able to get away with their freedom. Sandra appears so shaken by Tom's death that she has to get up as the plane is taking off to go to the bathroom and vomit, but when Madeline realizes that her shirt cuff isn't actually stained with blood and goes to check on her, Sandra is gone.
We then see how Sandra turned the tables on Max and Madeline, and helped Tom get his inheritance back, with him being free to do with it as he pleases once he pays off their own team of con artists who helped them win. At the very end, Tom and Sandra (who will probably finally tell him that she goes by Sandy) close up his bookstore and head to the Japanese restaurant they frequented while they were dating.
Which Con Artist Won
OK, the title of this section is a little bit of a misnomer, because while Sandy has conned the cons by getting revenge on Max, and helping Tom get his own revenge by getting all of his dad's money back from Madeline, she is, technically, no longer a con artist herself by the end of the movie. After Tom has distributed payment to everyone who helped him and Sandy con Max and Madeline, one of the men asks Sandy if she's sure she doesn't want to join his team of grifters, and she confirms that she's out of the game now.
How Sandra Got The Upper Hand
So, how did Sandy/Sandra do it? As you'll remember, after she passed the money she'd stolen from Tom to Max, he took it and left her with nothing. Flashbacks reveal that, after she waited for him to return for a few days, she eventually got a job at a bar to support herself. As she was cleaning up, she noticed a newspaper report on the death of Tom's dad, cluing her in to the fact that Madeline then had Tom's inheritance.
Feeling bad about her part in everything, she went to Tom's bookstore and explained the con to him, and helped him get his money back by introducing him to Tipsy (Phillip Johnson Richardson), another conman who'd helped Max and Madeline, but who they'd not paid as promised when his part in the job was over.
Tipsy then introduces them to a different con crew, who took on the roles of "old family friends" and the investigators that Tom used to "find" Sandy. Additional flashbacks show how they then planned and trained for everything, even working out how they could fake Tom's death during that fateful meeting.
Sharper was quite a fun watch that was briskly paced and kept you guessing at how everyone got involved in the con, and who the ultimate victor would be. If you want to revisit the film you can catch it right now (opens in new tab) on Apple TV+.
Your Daily Blend of Entertainment News
Yennefer's apprentice, Gilmore Girl; will Vulcan nerve pinch pretty much anyone if prompted with cheese...Yes, even Jamie Fraser.