Transformers: Rise Of The Beasts Has Screened, And Pete Davidson Might Be The MVP Of This Latest Sequel
Sounds like Mirage has Big Autobot Energon.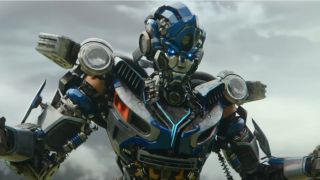 (Image credit: Paramount)
Blockbuster season is coming back to theaters, as the schedule of 2023 new movie releases is about to see some big and loud action headed our way. Which means it's the perfect time for a movie like Transformers: Rise of the Beasts to come storming into the movies, ready to entertain. Not only do the reactions to the first screening of director Steven Caple Jr.'s seem to indicate that the film does exactly that, but they also highlight that Pete Davidson might be the MVP of this latest sequel.
On behalf of CinemaBlend, I was on hand for one of those first Transformers screenings last night. In my own opinion, I can definitely see the hype surrounding Davidson's Mirage, as he's quite possibly my new favorite Autobot. Here's the rest of my reaction after last night's screening:
#Transformers #RiseOfTheBeasts was a blast! The Beast Wars crew finally shows up in what's arguably the BEST Transformers movie in the run. There's a lot of heart, humor, and Brooklyn pride in here; and it all makes for throwback popcorn fun. #TilAllAreOne #BrooklynBaby pic.twitter.com/GPnjs5KSOrMay 25, 2023
Pete Davidson is a pretty common thread throughout these Transformers: Rise of the Beasts reactions, so get used to reading his name being praised. However, that's not the only fun to be had in the seventh entry to Paramount's big ticket franchise. Check out what Brandon Davis of ComicBook.com has to say, and why theaters may want to start selling cereal at future screenings:
#Transformers: Rise of the Beasts plays like the ultimate Saturday morning cartoon.Some dope Transformers action. Anthony Ramos & Pete Davidson are great, even if some of the dialogue is a little clunky. It's a lean, fun movie and a promising start to something exciting. pic.twitter.com/8Z75rnlgjSMay 25, 2023
"The ultimate Saturday morning cartoon" is probably the best endorsement Transformers: Rise of the Beasts could get; even if there's some caveats like the sum total being "a little clunky." Fun is still a part of the picture, and that's a good thing when remembering that we haven't seen a Transformers movie in theaters since 2018's Bumblebee.
Seeing as the whole saga is based off of a classic '80s toy line that was made to be sold through such cartoons, it's like the series has come home. To a deep cut fan like Karama Horne, "The Blerd Gurl" herself, that led to this reaction that signals even the most die hard of fans will dig this latest spin:
Just saw a screening of #Transformers #RiseOfTheBeasts in NY @ipictheaters and had a BLAST. @stevencapleJR gave me everything I love about Gen 1, Beast Wars, 90's hip-hop and Brooklyn all rolled into a fun summer movie. LET'S GO! pic.twitter.com/1k0WoqXdksMay 25, 2023
Part of Pete Davidson's impressive turn as Mirage, one of the new Autobots introduced in Transformers: Rise of the Beasts, is his friendship with Anthony Ramos's Noah Diaz. It's a bond that's similar to what made Shia LaBeouf's interactions with Bumblebee work in the Michael Bay films that started the saga. The Illluminerdi's Joe Deckelheimer picked up on that aspect of this new sequel, and highlighted it with this reaction:
#Transformers #RiseOfTheBeasts is a lot of fun! Anthony Ramos carries the movie and Pete Davidson steals every scene as Mirage. The ending blew my mind and the music in the film is 🔥 pic.twitter.com/IMZxN8J2RPMay 25, 2023
Rounding off this initial wave of reactions is Dorian Parks, from Geeks of Color. Digging into the wonder of Mirage, and the notion that the Transformers saga has found its way, there's more praise for the humans in Rise of the Beasts' cast. Here's what he had to say, which should provide fans with even more motivation to show up on opening weekend:
#Transformers #RiseOfTheBeasts took everything that worked from 'Bumblebee' and amplified it! Anthony Ramos and Dominique Fishback delivered great performances, and Pete Davidson's Mirage stole every scene he had. As a fan of the cartoon and franchise, I really enjoyed this film! pic.twitter.com/OdziQziKA9May 25, 2023
If these results translate into box office success, the future of upcoming Transformers movies could be pretty bright. Naturally, we'll have to wait until more critical reactions come into play in order to see a clearer picture of the reaction to Rise of the Beasts. However, it definitely looks hopeful that this will be another winner in the corner of Paramount and Hasbro's gargantuan franchise.
At the moment, the next entry to look out for is the recently named Transformers One, which stars Chris Hemsworth and Scarlett Johansson, among others in its star studded cast. That movie is set to debut on July 19th, 2024; but you can catch Transformers: Rise of the Beasts much sooner, as it opens on June 8th.
Your Daily Blend of Entertainment News
Senior Movies Contributor
CinemaBlend's James Bond (expert). Also versed in Large Scale Aggressors, time travel, and Guillermo del Toro. He fights for The User.