Turns Out We Can Thank Teenagers For Why M3GAN Wasn't 'Way Gorier'
There's an R-rated cut somewhere.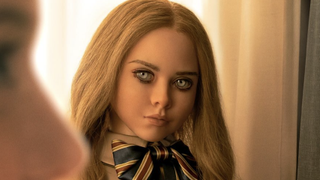 (Image credit: Universal Pictures)
M3GAN has been a surprise January hit at the box office, as the horror movie has quickly become incredibly popular amongst audiences after a strong social media campaign. The horror movie especially gained traction after the release of its first trailer, which included a tease of that wild dance sequence. What seems to have really attracted viewers to the film is the campy tone, which is very reminiscent of classic, spooky flicks. However, the finished product was meant to be "way gorier" and, apparently, you can blame teenagers for the changes that were made to it.
Akela Cooper, who penned the script for M3GAN, recently revealed to the LA Times that the film wasn't going to pull punches when it came to its gore. Cooper claims this is due to Universal wanting to maximize its potential audience after their marketing campaign -- which even let fans talk to the killer doll -- became popular amongst teenagers online. The screenwriter detailed:
When it comes to some modern horror fare, a number of studios have been seeking to find ways to widen the net for a potential audience. And to be honest, it makes sense from a business perspective. However, many probably prefer the gory route, and the success of horror films like Barbarian and X help to prove that notion. At this point, some are likely rooting for an R-rated cut of M3GAN. And while the film we received was entertaining, you can't help but wonder what the film would've been like with a few additional bloody kills.
Of course, even if Akela Cooper didn't get the terrifying cut she originally intended, this is another win for her, following the success of 2021's Malignant. M3GAN earned double what was predicted in its opening weekend, making $30 million out the gate against a $12 million-dollar budget. Worldwide, the film has made $134.5 million in the weeks following its premiere. 2023's first horror film has also been a critical success, earning praise for its tone, writing, and performances. Get Out's Allison Williams makes her return to the horror genre with this production as well, and she turns in a great performance.
There are plenty of upcoming horror movies that are sure to provide plenty of the blood and gore that some may be looking for. Still, it's hard not to think about what could've been when it comes to Blumhouse's new killer doll movie. Then again, we should be grateful that what we got only further contributes to this incredible streak of scary films we've been living through.
M3GAN is currently playing in theaters nationwide, so make sure you see it on the big screen while you still can. Chances are that Akela Cooper's film will be available to stream using a Peacock subscription at some point (and let's hope an R-rated cut finds its way to the streamer as well). For more information on other films headed to cinemas this year, consult our 2023 movie release schedule.
Your Daily Blend of Entertainment News
Writer, podcaster, CinemaBlend contributor, film and television nerd, enthusiastic person. Hoping to bring undying passion for storytelling to CinemaBlend.