Watch Marlon Wayans' Stand-Up About The Will Smith Slap, Days Before Chris Rock's Special Drops
Marlon Wayans' stand-up of Will Smith slap.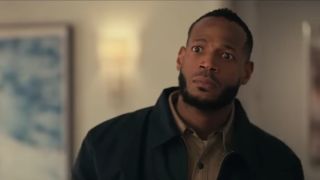 (Image credit: Peacock)
It's getting close to a year since one of the biggest Oscars scandals occurred, namely Will Smith slapping Chris Rock on stage after joking about his wife's appearance. With all of the discourse still going about this controversial moment, there's also jokes about the scandal from comedians like Marlon Wayans and Chris Rock himself. Days before Rock's Netflix special drops, a clip surfaced of Wayans' stand-up routine about the slap.
Marlon Wayans has an HBO Max comedy special coming up called God Must Love Me, where he uses out his talent at impressions and physical comedy to address the Will Smith slap that's now synonymous with the 94th Academy Awards. The White Girls actor posted on Instagram a clip that offers us a glimpse of his comedy routine with his perspective on what he saw that night.
In the clip, the Scary Movie actor jokes that Will Smith was seemingly laughing during the joke that presenter Chris Rock said when he called his wife "G.I. Jane." This was followed by an imitation of Smith's exaggerated leg movements and doing the running man dance, as Wayans continued to joke that Jada Pinkett Smith rolled her eyes at the joke and put a "voodoo" spell on her husband to defend her honor. He even went as far as to say that the ghost of rapper Tupac Shakur must have taken over the Men in Black actor's body during this moment. As Wayans had a good friendship with Shakur, maybe the late rapper would find humor in using him in his comedy routine.
This American comedian clearly has a lot to say about Will Smith's slap that he presented on the Oscars stage. He, Dave Chapelle, and others can't seem to stop joking about the incident as he's apparently got enough material to make audiences laugh for an hour about it. Wayans has said he loves the power comedy has in being able to bring light to what was first seen as a dark moment. He's also friends with last year's Best Actor winner, to the point where he gave him advice after the Oscars to speak to a therapist. He reportedly felt his behavior was out of character. Wayans also reportedly made sure that Chris Rock was okay after the whole ordeal, as he didn't like to see his two friends fight. If his job as a mediator involves invoking laughter in an audience that brings everyone together, then he'll likely be very proud of himself for his new comedy special.
While Marlon Wayans has jokes of his own about the Will Smith slap moment, the man we have a strong urge to hear from about the incident would be Chris Rock himself. Sure, he's dropped some jokes here and there referencing the moment when he was slapped by the I Am Legend star, but we'd like to hear how he's making light of the issue. Well, we may get our chance after all as Rock is teaming up with Netflix for its new comedy special Chris Rock: Selective Outrage. Something to know about the Netflix special is that it will be the streaming network's first global live-streaming event that is sure to draw high ratings to see the comedian's unedited, unfiltered performance. But, you better believe audiences will hang onto Rock's every word to make sure he finally shares his thoughts on a certain Oscars situation once and for all.
Marlon Wayans has got some jokes of his own on the Will Smith slap situation and apparently, so does Chris Rock. If you're ready to have a laugh about this Oscars moment too, you can watch Marlon Wayans: God Loves Me on your HBO Max subscription on March 2nd and Chris Rock: Selective Outrage on March 4th on your Netflix subscription.
Your Daily Blend of Entertainment News
Just your average South Floridian cinephile who believes the pen is mightier than the sword.