Will Smith's Oscar Never Got Engraved, Can It Still Happen After Being Banned?
Will an Oscar-banned Will Smith ever get his Oscar engraved?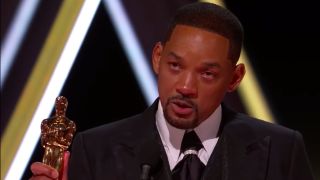 (Image credit: Oscars)
The 95th Academy Awards was Will Smith's first year that he was not allowed to attend. After being banned for slapping Chris Rock onstage at last year's Oscars, he still left that night with an Oscar that was without his name engraved. Despite not being allowed to attend the Oscars for the next nine years, will the Best Actor winner ever get an Oscar trophy with his name engraved on it?
It's been one year since one the biggest Oscar scandals occurred, where Will Smith slapping Chris Rock after being offended by one of his jokes about his wife. This led to The Academy revealing their punishment to ban him from the ceremony for ten years. So while Smith can continue to be nominated and win Oscars, he is not allowed to physically attend the ceremony for the next decade. According to the New York Post, President of the Academy of Motion Picture Arts and Sciences Janet Yang told The Hollywood Reporter's "Awards Chatter" podcast that Smith is still welcome to get his nameplate engraved, despite being prohibited from the star-studded event for earning the Oscar.
You may not have known this, but Oscar winners are not presented with a name-engraved trophy when their names are called out onstage. A blank trophy is handed to them when they are presented with their award with their trophies engraved at the Governor's Party ball right after the ceremony. However, Will Smith did not attend that event last year amidst the brouhaha. He still got "jiggy" with a blank trophy in hand at the Vanity Fair afterparty though. It's up in the air as of now if the King Richard star will ever request to get his name engraved on his trophy.
Will Smith may not have been present at the 95th Academy Awards last weekend, but as expected, the slapping incident was absolutely mentioned. This year's host, Jimmy Kimmel, made a joke about his slap in his monologue saying anyone committing an act of violence that night would be awarded the Best Actor Oscar and "permitted to give a 19-minute long speech" while everyone else sits around and does "nothing." Even talking about The Banshees of Inisherin inspired him to joke that Irish actors being nominated meant "the odds of another fight on stage just went way up." Because the slapping incident was one of the most talked about moments all year, you saw it coming that it wouldn't be ignored at this year's ceremony. To think the jokes originally "went harder" and that awards producers had to pull back to prevent the whole night from being about the incident.
The Pursuit of Happyness star may be living out his punishment by being without Oscar appearances, but he allegedly has a plan for how to re-establish his career. The recently confirmed Bad Boys 4 and his return to the Netflix thriller Fast and Loose are said to be shooting back to back. While Smith gave us award-worthy performances in King Richard and the Apple TV+ subscribed movie Emancipation, his upcoming two movies would be his return to big-budget movies that escalated his career during the '90s and early 2000s. This controversial Oscar moment may have been a setback in this Oscar winner's career, but Smith is not leaving the entertainment industry anytime soon.
Only time will tell if Will Smith will get his Best Actor trophy engraved with his name on it. Maybe once this scandalous moment receives less buzz, he'll find the time to do so.
Your Daily Blend of Entertainment News
Just your average South Floridian cinephile who believes the pen is mightier than the sword.