You've Got Mail: 7 Thoughts I Still Have After Watching The Movie Too Many Times To Count
I just can't get enough of this movie.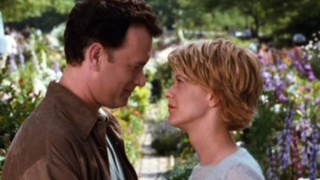 (Image credit: Warner Bros.)
Is You've Got Mail the best romantic comedy of all time? No. Is it my personal favorite? Again, no. But the Nora Ephron movie starring Tom Hanks and Meg Ryan as two business rivals who despise one another in the real world, only to fall in love on AOL is one I return to time and time again and never really get tired of it. Seriously, since it came out in 1998, I have watched the movie (either parts of it or all the way through) too many times to count, and I'm not all that embarrassed to admit that.
The movie came out when I was in the fifth grade, and since then I've watched it just about any way possible in just about any situation, and so I naturally have some things that I just have to share. All that being said, here are a few thoughts I had while watching You've Got Mail for like the 100th time.
The 'New York In The Fall' Montage Is Perfection
Once we get through the incredibly dated opening title sequence and introduction to the characters that Kathleen Kelly (a character in one of Meg Ryan's best movies) and Joe Fox (Tom Hanks) will break up with before everything is said and done, we get our first back-and-forth email conversation between the two leads. Just when it looks like it can't get any better, Kathleen goes on her spiel about the joys of signing onto AOL and being greeted with those three little words: "You've got mail."
But, the magic is just getting started. Just as Kathleen opens her door and steps out into the world, "Dreams" by The Cranberries picks up and we're whisked away onto a stroll of Manhattan's Upper West Side. We see the two strangers (who are only steps away from one another) go through their morning routines on the way to work with some lovely shots of New York City in fall. It's splendid, it's enchanting, it's everything to me.
Was There Anyone In The '90s More Fun To Watch On Screen Than Tom Hanks?
I don't know if we'll ever see another actor go on a run like the one Tom Hanks had in the 1990s. I mean, over the course of a single decade Hanks starred in movies like A League of Their Own, Philadelphia, Sleepless in Seattle, Forrest Gump, Apollo 13, Saving Private Ryan, two Toy Story movies, and You've Got Mail. And in all but the two more serious pictures listed, he was incredibly fun to watch on screen and had more personality than any of his contemporaries.
Throughout You've Got Mail Tom Hanks is just on fire and extremely lovable, even when Joe Fox is being an unabashed jerk to Kathleen Kelly or anyone else who crosses his path. Although we don't get one of Hanks' iconic freak-outs in this beloved romantic comedy, the way he balances nuance with the over-the-top expressions is incredible. Whenever I watch him trade barbs with someone or get all excited to talk about The Godfather, I remember how lucky I was to be able to experience his '90s prime as it happened.
Kathleen Finally Realizing Joe Is NY152 Never Gets Old
One scene in You've Got Mail that never gets old no matter how many times I watch it is the moment when Kathleen finally figures out that Joe is "NY152", the man she has been speaking with online for months. The look on her face when she hears Joe's voice in the park that spring afternoon just melts me like a stick of butter that is barely being held together by a wrapper. Her eyes are full of confusion, excitement, and joy as she realizes that the two men she has fallen for are one in the same.
But the real icing on the cake that makes me choke up each time comes a few moments later, when they're standing inches apart from one another and Kathleen says, "I wanted it to be you. I wanted it to be you so badly."
You've Got Mail Is An Incredibly Dated Movie, But That Honestly Gives It More Charm
You've Got Mail is an incredibly dated movie, and I mean this with the utmost sincerity. Unlike Sleepless in Seattle or even When Harry Met Sally…, it doesn't have a timeless quality to it, but instead feels like a time capsule to the final years of the 20th century when the world was still growing used to computers, the internet, and all the trouble that could come with them.
Whenever I put on You've Got Mail I forget my modern problems and escape back to the world as it was in 1998, when there was no Facebook, no Twitter, or other places where you're flooded with everyone's opinions (wanted or unwanted) 24 hours a day. This datedness to the movie actually works in its favor, and gives it another layer of charm.

Nora Ephron Loved Including Self-Indulgent Writer Supporting Characters
In her life, Nora Ephron was married to three successful writers, and sometimes it feels like she channeled her experiences with each of those men when writing supporting characters in her various movies. Two of the best examples of this are Jess (Bruno Kirby) in When Harry Met Sally… and Frank Navasky (Greg Kinnear) in You've Got Mail, who are both talented, yet extremely self-indulgent writers who just don't know what to do with themselves whenever they come across someone who likes their writing.
We see this with Frank a couple of times throughout the movie, first when Joe's then-girlfriend Patricia Eden (Parker Posey) compliments him at a party, and then later on when he's being interviewed by Sydney Anne (Jane Adams). It doesn't make him a bad guy, but it's a funny character trait.

Nora Ephron's Movies, Like You've Got Mail, Were Full Of Cozy Places
Another thing I can't help but think about whenever watching You've Got Mail (or any movie by the late Nora Ephron) is how cozy and lived-in all the houses, apartments, and even boats look. Let's just look at Kathleen's bedroom (in the picture above).
Does it not look like a place you would like to sit back and relax for a few hours or days? Her bed looks the same way your parents' bed looked when you were a kid. Warm, soft, comforting, and welcoming. And, it's not just bedrooms, as pretty much every location in the movie looks like a good place to read a book, especially The Little Shop Around the Corner.

You've Got Mail Is My Favorite 'Sick Day' Movie
And, lastly, You've Got Mail is my favorite "sick day" movie, meaning that I can put it on, doze off around the time Kathleen causes a stir in the checkout lane at Thanksgiving, and then wake up in the spring portion of the movie for the final stretch. This actually happened when I caught COVID-19 a couple years back, and just wanted a nice, familiar movie to cheer me up as I wallowed in my misery.
Other Random Thoughts
There are also a ton of random thoughts about You've Got Mail living rent-free in my brain pretty much all the time. Here are just a few:

Frank hit the nail on the head with his comments about the computer (and internet) not being your friend.
Nora Ephron could write a breakup scene better than just about anyone.
How did The Shop Around the Corner survive on $350,000 in annual sales?
Joe has a picture of Brinkley on his bedside table and I just can't get over it.
I could un-ironically listen to the You've Got Mail soundtrack.
I didn't realize I modeled my typing habits off of Joe's until now.

You've Got Mail is currently one of the best movies on Netflix and is also available to rent or buy on Amazon.
Your Daily Blend of Entertainment News
Philip grew up in Louisiana (not New Orleans) before moving to St. Louis after graduating from Louisiana State University-Shreveport. When he's not writing about movies or television, Philip can be found being chased by his three kids, telling his dogs to stop barking at the mailman, or yelling about professional wrestling to his wife. If the stars properly align, he will talk about For Love Of The Game being the best baseball movie of all time.