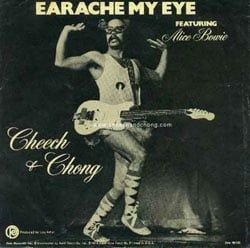 Oh wow…far out, man. Seventies stoner comedy duo Cheech & Chong – who once famously fashioned their album jacket for Big Bambu like a giant pack of rolling papers – have set aside their differences in a decades long feud, and announced plans to reunite for a standup comedy tour.
The Light Up America (or "What's That Smell" depending on who you ask)tour kicks off on September 12 in Philadelphia, and will run at least through December, with stops scheduled in some twenty cities including Detroit, Atlanta, Dallas, Seattle, Los Angeles, and Boston. It is Cheech and Chong's first such tour in 25 years. Tickets will go on sale beginning August 8 through Livenation.com. Chong's wife, Shelby Chong will be the opening act for the tour.
During the sixties and seventies, Cheech & Chong (a.k.a Cheech Marin & Tommy Chong) were best known for pioneering the sort of stoner humor – often centered on the duo's exploits while smoking, or trying to "score some weed, man" – that has since been used in films ranging from Fast Times at Ridgemont High (Sean Penn's stoner dude Spicoli) to this summer's Pineapple Express. The pair also had their own string of hit movies such as Up In Smoke, and won a best comedy album Grammy for Los Cochinos in 1973. And since this is the music section, I'd be remiss if I didn't mention their one hit single, a glam-rock sendup called "Earache My Eye," which they recorded under the pseudonym of Alice Bowie.
Since breaking up the act, Cheech Marin has achieved some success as an actor. Tommy Chong meanwhile briefly had a small role in the Fox TV comedy series That 70s Show, and also served some jail time for allegedly selling bongs made by his own company. The reunion comes after many previously failed attempts to revive the Cheech & Chong act over the years. Hopefully this tour wont likewise go "Up In Smoke" (sorry, couldn't resist). Besides, nothing says "green" quite like Cheech & Chong.
Here are Cheech & Chong's U.S. tour dates:
Sept. 12: Philadelphia (Tower Theatre)
Sept. 13: Washington, D.C. (Warner Theatre)
Sept. 19: Indianapolis (Murat Center)
Sept. 20: Detroit (Fillmore State)
Sept. 26: Atlanta (Tabernacle)
Sept. 27: Miami (Fillmore Jackie Gleason)
Oct. 24: Westbury, N.Y. (Westbury Theatre)
Oct. 25: Minneapolis (Orpheum Theatre)
Oct. 31: Houston (Verizon Wireless)
Nov. 1: Dallas (Majestic Theatre)
Nov. 8: Rosemont, Ill. (Rosemont Theatre)
Nov. 14: Phoenix (Dodge Theatre)
Nov. 15: Austin, Texas (Austin Music Hall)
Nov. 21: Sacramento, Calif. (Memorial Auditorium)
Nov. 22: Berkley, Calif. (Berkeley Community Theatre)
Nov. 28: San Diego (Copley Symphony Hall)
Nov. 29: Seattle (Paramount Theatre)
Nov. 30: San Jose, Calif. (San Jose PAC)
Dec. 6: Los Angeles (Gibson Amphitheater)
Dec. 12: Boston (Orpheum Theatre)
Dec. 13: Atlantic City, N.J. (Borgata Music Box)
Dec. 19: Reno, Nev. (Silver Legacy Casino)
Dec. 20: Denver (Paramount Theatre)
Your Daily Blend of Entertainment News