10 Amazing Things We Spotted In The Final Star Wars Trailer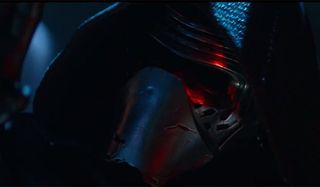 The Star Wars: The Force Awakens trailers that were released before tonight were heavy on flash, but also served more as teases and didn't really provide a ton of content about the movie. The brand new spot that debuted this evening, however, broke that trend. Not only did the footage give us looks at some characters who we haven't actually gotten to see yet, there was also some significant content that gave us a real sense of what to actually expect from the J.J. Abrams-directed blockbuster. There's definitely a lot to take in – but that's exactly why we've broken it all down.
Going back through the trailer frame-by-frame, we've collected 10 very significant moments that tell us a lot about what we can expect in Star Wars: The Force Awakens. Let's start by giving it another watch, shall we?
Now read on for 10 amazing things we spotted in the final Star Wars: The Force Awakens trailer!
Is This How We Wind Up Meeting Finn?
We've known for a while now that John Boyega's Finn starts off Star Wars: The Force Awakens as a Stormtrooper working for the First Order – but exactly how he winds up on the path to becoming a good guy has remained a mystery. This trailer seems to have solved that particular query. Going by the footage, it looks like Finn was riding in a TIE Fighter that got damaged over a desert planet (presumably Jakku, the home world of Daisy Ridley's Rey), and happened to survive when the ship hit the ground.
Kylo Ren's Mission Has Been Defined
We've gotten to see Adam Driver's Kylo Ren from pretty much every angle at this point, but the brand new Star Wars: The Force Awakens trailer delivered two things we didn't have before: dialogue, and a mission statement. Going by the villain's one line of dialogue, it seems that he and the rest of the Knights of Ren work for one sole purpose: "finishing" what Darth Vader started. Exactly what Ren thinks Vader's role in the universe was is unclear, but it probably isn't anything positive.
What Is Kylo Ren Doing To Poe Dameron?
This past summer, director J.J. Abrams cleared up an important misconception about Kylo Ren, revealing that he isn't actually a member of the Sith, and is instead a subordinate to Andy Serkis' Supreme Leader Snoke. If this means that he doesn't actually have access to the force, what exactly is he doing to Oscar Isaac's Poe Dameron here? Whatever it is, it most definitely does not look like the ace X-Wing pilot is enjoying himself.
That's A Lot Of Destruction
The Star Wars franchise is certainly no stranger to epic destruction, as the very first movie in the saga had a space station blowing up an entire planet. It seems that The Force Awakens will follow in this tradition – judging by the shot above. We don't actually see what's causing the explosion, but any weapon that can do that much damage must be insanely powerful. Could this, perhaps, be the work of the First Order's Death Star-looking Starkiller Base?
The Knights Of Ren Convene?
The 'Ren' part of Kylo Ren isn't actually a surname, but instead more of a title (sort of like 'Darth'). The Adam Driver character is actually part of a group that is called the Knights of Ren, and unless I'm mistaken it seems that the new Star Wars: The Force Awakens trailer gives us our first look at the group. We don't really get to see them do anything other than stand around in the rain, but I'm going to take a big swing and guess that this is from the sequence in the movie when they go to get Darth Vader's mask on Endor.
An Odd House And An Odd Droid
The events/adventure in Star Wars: The Force Awakens will surely deliver a whole ton of crazy locations and characters, but this particular frame reveals one of each. There are a bunch of wild flags hanging outside this establishment, as well as a nice lumbering droid to greet you at the gate. If I had to make a guess, I'd say that this is probably the castle that is controlled by Lupita Nyong'o's alien pirate Maz Kanata.
Finn, Chewie and Han Are In Serious Trouble
Around the middle of the trailer, there is a shot of some Stormtroopers maneuvering through a recently destroyed building, as well as one of X-Wings and TIE Fighters battling over what looks like the same area. This same setting returns for a third time in the shot you see above, featuring a surrendering Finn, Chewie and Han. This looks like it may be a low point in the heroes' adventure, but there is a silver lining: the fact that Rey and BB-8 aren't around potentially means that they've avoided capture and will help their friends eventually escape.
BB-8 Fits Perfectly In An X-Wing
Luke Skywalker and R2-D2 were able to form a close bond because the little droid happened to fit snugly inside of the hero's X-Wing and serve as a maintenance tool. Judging from this new Star Wars: The Force Awakens shot, it seems that the cute little BB-8 can also serve that function. We're not sure exactly who the rolling bot is assisting here, but given that Poe Dameron is the only character we've seen fly an X-Wing, he's probably a safe bet.
Rey Is Blasting Away
Han Solo has been regularly quoted over the years because of his fondness for having a blaster by his side, but it seems he isn't the only character in Star Wars: The Force Awakens who is packing heat. To this point, Rey has mostly been shown carrying a large staff that we assume she uses as a weapon, but here we see her getting super pissed while firing off a weapon – at who we do not know.
Han and Leia Embrace
Because we already got to see Finn using a lightsaber to fight Kylo Ren in some earlier footage, the final amazing moment from this brand new trailer belongs entirely to Princess Leia and Han Solo. This is actually the first time that we've gotten to see Carrie Fisher in actual footage from Star Wars: The Force Awakens (the San Diego Comic-Con reel doesn't count), and it's a rather sweet first look – giving us our first look at Han and Leia embracing in more than 30 years.
Assistant Managing Editor
NJ native who calls LA home and lives in a Dreamatorium. A decade-plus CinemaBlend veteran who is endlessly enthusiastic about the career he's dreamt of since seventh grade.
Your Daily Blend of Entertainment News
Thank you for signing up to CinemaBlend. You will receive a verification email shortly.
There was a problem. Please refresh the page and try again.