The 10 Best Movies Of 2015, According To Brent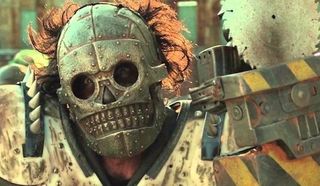 Every year I say I'm not going to make another best-of list, and every year, like clockwork, I cave. Part of the motivation this year is how much shit has been talked that 2015 was a terrible year for film. People who say that haven't watched enough movies, and certainly haven't watched the right ones. Sure, there was a ton of total garbage out there, but there's a ton of total garbage every year. But there were also a slew of amazing, interesting, moving motion pictures available for you to see if you cared to look, the kind of movies that make me realize, over and over again, why I love cinema like I do.
My tastes are varied, and the list of my favorite movies of the year reflects that. There are massive blockbusters, no-budget indies, documentaries, dramas, action spectacles, and blood-spurting horrors to be found. Though I've watched hundreds of movies this year, there are some that I haven't seen yet that could very well make the list. But all things considered, I'm confident in my selections, at least for the moment. I hate ranking things, and I'm terrible at it, so the order will most certainly evolve in the future, but rest assured, if it's on this list in any slot, it blew my hair back in 2015.
10. Brooklyn
Before I watched John Crowley's Brooklyn a friend described it as like a Baz Luhrmann movie without all the fuss and bluster, and while I didn't understand that at first, it's an apt description in retrospect. John Crowley and Nick Hornsby's adaptation of Colm Toibin's novel creates a complete, meticulous, immersive world. The story of a young immigrant traveling from Ireland to New York in the 1950s is lush and gorgeous, and the period design is immaculate and flawless in every scene. Saoirse Ronan quietly delivers a career-best performance as Eilis, a shy, timid young woman, and watching her stunning transformation is one of 2015's greatest pleasures.
9. The Martian
It's official: Ridley Scott should only be allowed make epic science fiction movies from now on. An adaptation of Any Weir's best selling novel, The Martian tells the story of an astronaut (Matt Damon). One of the first people to set foot on Mars, he's about to become the first to die there after his crew is forced to abandon him, presuming he is dead, during a freak storm. Mark's struggle to survive ranks among the director's best. It's a harrowing, moving, way funnier than you expect, story of the steadfast refusal to give up in the face of unprecedented odds, and one of the things that sets this movie apart is a truly hopeful tone. This is a celebration of science, and no movie in recent memory has made being smart look so goddamn cool. People are going to be sciencing the shit out of situations for years to come.
8. Sicario
Almost unbearably tense from end to end, Denis Villenueve's drug cartel drama, Sicario, a south-of-the-border term for hitman, is grim, gritty stuff. Given the subject matter, you probably guessed this isn't going to be particularly uplifting fare. Emily Blunt stars as an eager FBI agent who gets in way over her head when she teams up with an interagency task force to combat the epidemic of drugs and violence along the border between the U.S. and Mexico. Filmed with a stunning, poetic eye by the great Roger Deakins, and featuring a ferocious, esoteric performance from Benicio Del Toro, this will leave you breathless and clenching your jaw until the final frame, and is just as morally messy and grey and uncertain as the real life situation that it reflects.
7. The Duke of Burgundy
For all the talk around 50 Shades of Grey earlier this year, the only erotic thriller you needed to watch in 2015 was Peter Strickland's The Duke of Burgundy. Influenced by Hammer and infused with a giallo sensibility, every syllable uttered, every frame, is sexually charged and full of meaning. This is a movie without a single male character, that is never graphic or exploitative, but that plays like an artistic rendering of a soft core flick exploring power dynamics, both sexual and emotional, in a relationship between two women, one older, one younger. Hypnotically gorgeous and deliberately paced, Burgundy is a small story of extremes and unlike anything you're going to encounter elsewhere. Strickland crafts a wholly unique film that is both strange and pedestrian, foreign and relatable.
6. Tangerine
Shot on an iPhone, telling the story of two transgender prostitutes stalking the Los Angeles streets on a quest to find a cheating pimp on Christmas Eve, Tangerine sounds like something many will dismiss immediately, which is a damn shame. Sean Baker's film simply crackles with life and electricity. The story of fucked up, broken people is a moving meditation on friendship, unexpectedly funny, and tender. Add to that the fact that Baker somehow took a goddamn iPhone and made a gorgeous film, and this achievement is even more monumental. His cinematography captures both the beauty and grime of LA, the splendor and the ugliness of the place, and though the movie seems like a dicey idea in almost every way, like it could have spun out of control in numerous directions, it comes together into something spectacular and unique. It's also has the makings of one hell of a left-of-center Christmas movie.
5. The Look of Silence
While watching the Act of Killing is like being punched in the stomach, Joshua Oppenheimer's follow-up documentary, The Look of Silence, is like having your still-beating heart ripped out of your chest and shown to you while you watch. The first film follows those responsible for the vicious, government-sanctioned mass murders in Indonesia in the 1960s, perpetrated by men who are generally still alive, in power, and have never faced any repercussions. On the other hand, Silence tells a much more personal tale of the same atrocities, following one man, an optometrist, who's brother was a victim of this violence as he relentlessly searches for answers, from the men responsible. Moving and devastating, The Look of Silence is a true illustration of the power of movies; you walk out of the theater and never look at the world in quite the same way ever again. Heartbreaking, haunting, human stuff.
4. The Revenant
Vicious, punishing, an endurance test, and the most stunning, jaw-droppingly gorgeous movie you'll see all year, Alejandro Gonzalez Inarritu's Birdman follow-up, The Revenant, is a visceral ride through the depths of humanity, a father's quest for justice, and a poetic, technical marvel to behold. As star Leonardo DiCaprio—in a physical, feral performance that many seem to think will finally win him an Oscar—is thrashed by a massive grizzly bear, it's such a raw, animal moment that it's easy to overlook the sheer artistry, which stands for the entire film at large. This is such an intricately choreographed and executed film, which Inarritu and cinematographer Emmanuel Lubezki make look so simple, that it's easy to get lost in the ruthless story on screen. The Revenant is a savage frontier Apocalypse Now.
3. Deathgasm
There is no single movie that came out in 2015 that is even a fraction as fun as the New Zealand produced horror joint Deathgasm. If someone asked me exactly what I wanted out of a movie, took extensive notes, and then followed that roadmap to the letter, this would very likely be the end result. When a small-town heavy metal band made up of slacker outcasts and nerds plays a song so dark, so evil, that it calls forth the King of the Demons, all hell literally and figuratively breaks loose in their backwater burg. Gore-soaked, profane, and gleefully heretical, Deathgasm is also sweeter and more well rounded than you initially expect. Still, at the end of the day, it's all about loud-ass music, geysers spraying streams of blood, bros battling demons, and getting awesome, which it most certainly does.
2. Star Wars: The Force Awakens
Star Wars: The Force Awakens has been the hardest movie to place on this list. I've had it as low as ten, as high as one, and everywhere in between. Is it the best movie of the year? No, not by a long shot. There are big issues with the script, a mess of plot holes, and other gaffs. Still, for all the flaws, it might be my favorite. I've seen it multiple times, and this is one that I'll be watching many, many times over the years. With the build up and massive response, this has been a singular cultural experience, and no movie this year had as much of an effect on me. J.J. Abrams and company did something the prequels failed to do, they made a Star Wars movie that feels like a Star Wars movie. There's high adventure, swashbuckling action, and legitimate emotional investment; multiple moments gave me goosebumps or moved me nearly to tears; and the sensation of watching The Force Awakens for the first time is similar to when I experienced the original trilogy as a kid.
But as long as I've been waiting for a good Star Wars movie, I've been waiting for my number one choice even longer…
1. Mad Max: Fury Road
George Miller's latest Mad Max movie has been in the works so long that it's been on my most-anticipated movies list every year since 2012. And as long as we waited, and as troubled as the production was—at one point it looked like God himself was trying to wipe the production from existence—Fury Road was worth every damn second. It took stones to recast such an iconic role as Max Rockatansky, but once Tom Hardy showed up on screen in a nearly mute, borderline feral performance, I never once thought about Mel Gibson. Throw in Charlize Theron as one of the biggest badasses, male or female, we've seen in a long, long while; add a more thoughtful, critical look at the modern world through the guise of the post-apocalyptic wastes; and top it off with the most insane practical stunts you've ever seen rendered on screen, and you've got something. A full-frontal blast of fire from end to end, this is the best action movie in I can't tell you how long, and the rest of the genre is on notice that the master is back and still has a few tricks to show the youngsters.
The Also Rans
Todd Haynes' romantic period drama Carol should probably be on this list, and was in fact at various stages. It's sumptuous, meticulous, and I could watch Cate Blanchett smoke cigarettes all day. It Follows is a creepy, inventive horror joint that shows the potential of what you can still do with the genre. Kingsman: The Secret Service is more fun than it has any right to be. The crazy action of Mission: Impossible—Rogue Nation came close to making the cut, and once again proved Tom Cruise is still a viable action headliner. Creed was an unexpected reinvigoration of one of my all-time favorite franchises from an exciting young filmmaking talent (Ryan Coogler) and shows that Sylvester Stallone can still act his ass off. Cartel Land is a grim, ambiguous documentary about people trying to combat cartel violence along the U.S./Mexico border that makes a strong companion piece to Sicario. Post-apocalyptic send up Turbo Kid is a loving homage to the cheap international Mad Max that proliferated in the early 1980s, one that is also an absolute blast. Neither Pitch Perfect 2 nor Magic Mike XXL is as good a movie at their respective predecessors, but they both might be more fun than the originals, and I'll likely watch them both more than most other movies on this list.
Your Daily Blend of Entertainment News