Captain America: Civil War Just Shattered A Fandango Record, Get The Details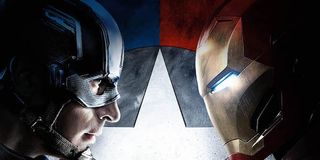 After premiering ahead of time for critics, special fan screenings and even some international areas, Captain America: Civil War is only a few days away from finally being released to the public in the United States. As with almost every blockbuster movie, that means anticipation for it is at an all-time high, and not just with fans simply commenting about it online. It's also represented in ticket sales, as Fandango has announced that Captain America: Civil War has become the site's #1 pre-selling superhero movie of all time.
The online ticket service reported that the third Captain America installment accounted for more than 90% of its weekend ticket sales, earning it a 100/100 points on Fandango's Fanticipation movie buzz indicator. By shattering this record, it surpassed movies like Batman v Superman: Dawn of Justice, Avengers: Age of Ultron and The Avengers. Fandango (opens in new tab) also included some statistics from a survey of 1,000 Captain America: Civil War fans, like how 87% were "intrigued" by Spider-Man joining the Marvel Cinematic Universe, 85% were excited to see Chadwick Boseman play Black Panther and 48% wanted Black Widow to get her own movie.
Whether you're a Marvel fan or a regular moviegoer, Marvel Studios has made it clear in their promotions that there's plenty to look forward to in Captain America: Civil War. Although at its core it's still a adventure centering around Steve Rogers, the adaption of the 2006 storyline features Marvel's biggest lineup of heroes of heroes yet, thus earning it the nickname Avengers 2.5. Of course, such a large cast is necessary, as the story will follow two sides, led by Steve Rogers and Tony Stark respectively, as they clash over the new legislation passed by the worlds governments requiring official regulation of enhanced beings. Captain America: Civil War is also kicking off the Phase Three slate of movies, which will eventually culminate in the two-part Avengers: Infinity War superhero epic in 2018 and 2019.
With almost a month of pre-release buzz from critics and fans who were able to see it early, Captain America: Civil War has already received many positive reviews, with it currently ranking at 93% among critics on Rotten Tomatoes based on 120 reviews. It's already earned over $200 million overseas, and once it opens the U.S., that number is going to skyrocket even further. Ever since making his MCU debut in 2011, Captain America has ranked among the franchise's most popular heroes, and with the help of his fellow heroes this year, it looks like his third movie will be one of their most well-received entries, both critically and commercially.
Captain America: Civil War finally charges into theaters this Friday, though in some areas, you'll likely be able to catch it on Thursday evening.
Your Daily Blend of Entertainment News
Connoisseur of Marvel, DC, Star Wars, John Wick, MonsterVerse and Doctor Who lore. He's aware he looks like Harry Potter and Clark Kent.