The 10 Cloverfield Lane Cast Was On The Same Page About Spoilers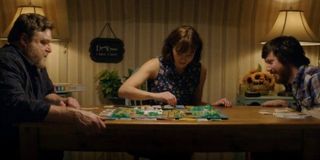 10 Cloverfield Lane is now finally in cinemas, which means we can finally find out what the hell is going on inside and outside of that bunker. It's no secret that 10 Cloverfield Lane's release has been shrouded in secrecy, so much so in fact that we didn't even know the film existed until its trailer was connected to 13 Hours: The Secret Soldiers Of Benghazi. But two of 10 Cloverfield Lane's stars have now admitted that while they were never being hounded by Bad Robot's team to keep the film a complete secret, there was an agreement that it would be best for the film if that was the case.
John Gallagher Jr., who plays Emmet, the bunker companion to Mary Elizabeth Winstead's Michelle in 10 Cloverfield Lane, explained to me recently that he was very much aware that if he said too much while filming the movie, he might put the audience's enjoyment of the contained sci-fi thriller in jeopardy.
John Gallagher Jr's co-star in 10 Cloverfield Lane, the always sensational John Goodman, insisted to me that while he was never told to keep the details of the film a secret, he wasn't going to speak about it to friends and family, anyway. In fact, he even compared revealing his preparation as an actor to that of a magician revealing how he does a card trick.
It's been a long road from script to screen for 10 Cloverfield Lane. Originally, J.J. Abrams' Bad Robot bought the spec script The Cellar back in 2012, having noticed similarities in its tone and style to 2008's Cloverfield. Whiplash's Damien Chazelle was then brought on to re-write it, under the fake production name of Valencia, before Dan Trachtenberg was hired to direct. These details were only revealed to the movie-going public when 10 Cloverfield Lane's trailer premiered at the beginning of January, though.
Obviously, that increased intrigued and excitement over the project. And so far, having scored 90% on Rotten Tomatoes, 10 Cloverfield Lane has done enough to not just match, but even exceed these expectations. You can now see 10 Cloverfield Lane for yourself, as it was released into cinemas on Thursday night.
Your Daily Blend of Entertainment News