One Key Die Hard Character Wants To Come Back For The Next Movie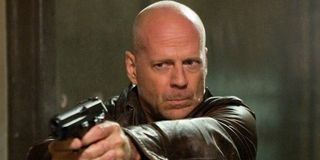 The Die Hard franchise is currently undergoing a pretty big transformation. Following the underwhelming release of 2013's A Good To Day To Die Hard, which was critically savaged, the most recent speculation regarding the next installment to the series is that it will be a prequel and sequel hybrid. But while Bruce Willis' participation in a Die Hard film is always obligatory, where does this leave Jai Courtney and Mary Elizabeth Winstead, who played John McClane's offspring in later sequels? Well, Mary Elizabeth Winstead has now insisted that she's dying to return as Lucy Gennero-McClane in Die Hard 6.
I had the opportunity to speak to Mary Elizabeth Winstead about 10 Cloverfield Lane over the weekend, and while we were chatting, I decided to ask her about the chances of her returning for Die Hard 6. And the 31-year-old actress admitted that she'd jump at the opportunity, however she's yet to hear anything.
Mary Elizabeth Winstead portrayed John McClane's daughter in both Live Free Or Die Hard and A Good Day To Die Hard. And while they've both been relatively small appearances, she was, arguably, one of the only bright sparks in the two films, which have left the franchise in a bit of a dire place.
The poor reaction to A Good Day To Die Hard provoked Bruce Willis and the team in control of the Die Hard label to develop a prequel and sequel hybrid to try and rejuvenate the franchise. The most recent news we've had regarding Die Hard 6 is that one part will be set on New Years' Eve 1979, while the rumor that Bruce Willis will be present in just two scenes, at the start and end of the film, has been dismissed, with director Len Wiseman (Live Free Or Die Hard) insisting that the legendary action star "will be more present than that."
The prequel section of Die Hard 6 will focus on John McClane's early life as an NYPD officer and his early marriage to Holly Gennero. So there's every chance that Mary Elizabeth Winstead will be asked to return, as a scene involving Holly and John's son and daughter would be a nice way to bookend the movie. You can check out a brief snippet of my discussion with Mary Elizabeth Winstead below.
Before then, though, Mary Elizabeth Winstead has the small matter of the release of 10 Cloverfield Lane to contend with. A "spirited" sequel to 2008's Cloverfield, 10 Cloverfield Lane will be in cinemas this coming Friday, while we'll have further tidbits from my discussions with John Goodman, John Gallagher Jr., director Dan Trachtenberg, as well as more from Mary Elizabeth Winstead over the next few days for you to peruse.
If you'd like to try your hand at some CB trivia, scroll down below...
Or you can head here for an update on what we know about Die Hard 6.
Your Daily Blend of Entertainment News
Thank you for signing up to CinemaBlend. You will receive a verification email shortly.
There was a problem. Please refresh the page and try again.