The 10 Funniest Lines From Reviews Of Human Centipede 3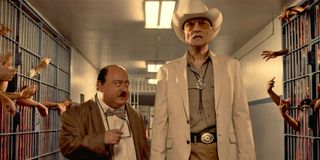 The Human Centipede 3 reviews are in and…they're bad. In fact, they are, as Jack MacFarlane on Will & Grace might say, Mariah-Carey-in-Glitter bad. Not so much in the way of, if one more word is uttered my heart won't go on, but more in the "if you hate movies, and you find sexual assault funny," sort of way. To give you some context, that quote was an actual line from a review by LA Times critic Robert Abele.
It's a shocker that something as deplorable and hard-to-stomach as Human Centipede could get a sequel, let alone a trilogy. But it happened, and now the third installment is bearing the brunt of the critics. The title currently sits at a lackluster 10% on Rotten Tomatoes, and the top critics widget is just slathered with green. What did some of the best critics in town have to pick apart? And more entertaining still, how did they do it? Here are 10 of the funniest one-liner takedowns from the Human Centipede 3 reviews.
"Perhaps even more egregious than its inherently repulsive premise is the fact that The Human Centipede 3: The Final Sequence is cinematically constipated... nothing happens for a long, long time; and when it does, it's just crap." -- Staci Layne Wilson, Dread Central.
"Because what Shawshank Redemption really needed was more human centipeding." -- Fred Topel, Nerd Report
"Rarely has the word 'final' been so welcome in a title as it is in The Human Centipede III (Final Sequence)." -- Dennis Harvey, Variety.
"Tom Six has achieved the seemingly impossible: He's made a film even less watchable than The Human Centipede II." -- Chuck Bowen, Slant Magazine.
"About halfway through the film, I realized I would be way more interested in a film about the making of Human Centipede 3 than I was in Human Centipede 3. But I don't want to give Six any ideas." -- Bilge Ebiri, New York Magazine/Vulture.
"If he has accomplished nothing else-and Lord knows, he hasn't-Dutch filmmaker Tom Six has managed to give political incorrectness a bad name." -- Kurt Loder, Reason Online.
"The direction is bad, the acting is worse, and it's lit to mimic the soap-opera effect on a poorly calibrated HDTV." -- Katie Rife, A.V. Club
"Welcome to the America of The Human Centipede 3 (Final Sequence): One nation under God, indivisible, populated by an endless line of wretched souls stitched together ass-to-mouth." -- Jen Yamato, The Daily Beast
"No one should be forced to endure such garbage-not Six's actors or his crew and certainly not moviegoers (or even critics, for that matter)." -- Edward Douglas, ComingSoon.net
"A descent into a dank, rank hole of meta depravity (and doo-doo), The Human Centipede 3 (Final Sequence) follows in its 2011 predecessor's footsteps by turning inward on itself." -- Nick Schager, The Village Voice
So, yeah...not good.
The Human Centipede franchise gets its wow factor from the grotesque act of stitching one person's mouth to another's rectum, that person's mouth to another's rectum, and so on and so forth until there's a creature no one ever needed or wanted that pleads to be put out of its misery. The first film began with three people tragically sewn together in this manner, the second saw a "doctor" attempt the procedure with 12, and the third (and hopefully final) installment imagines what happens when there's a 500-person Human Centipede.
The film is currently in theaters, but by the sound of these reviews, no one should have to suffer through a screening.
Your Daily Blend of Entertainment News