Will And Grace Will Reunite On Mysteries Of Laura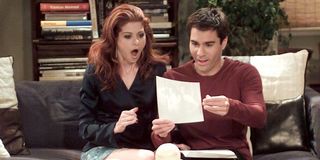 Almost a decade ago we saw NBC's Will & Grace sadly come to an end. There's good news on the horizon for fans of the show, however, as the Emmy-winning comedy's beloved lead stars Eric McCormack and Debra Messing are set to reunite onscreen in Messing's new detective comedy-drama series The Mysteries of Laura.
Eric McCormack is set to guest-star on the show as a self-important cardiologist named Dr. Andrew Devlin. Making things a bit more interesting, he also happens to be the former fiancé of Laura (Messing). This is where things get a little bit darker. As reported by Deadline, when Devlin's wife is found dead, Laura leads the investigation into her murder and as the details unfold all signs begin to point toward Devlin as the prime suspect.
Seeing McCormack and Messing come together onscreen after all these years will certainly be exciting. Their chemistry on Will & Grace provided for some of the best comedic moments in sitcom history, setting the stage for a sure-to-be fantastic reunion. With Messing's character sharing a romantic past with her upcoming co-star on The Mysteries of Laura, they will also get to explore the relationship angle, a dynamic (with Will being gay) that was only really explored in dream sequences of Will & Grace.
On May 18, 2006 the world said goodnight to Will & Grace. The series' final episode, aptly titled "The Finale" marked the end of an eight season run. In "The Finale," Will and Grace got into a relationship-ending fight, prompting each to go their separate ways. They end up having children (not with each other) and as fate would have it their kids Laila and Ben end up becoming friends in college, bringing their folks back into one another's lives. Their children end up getting married and the show comes to a close with Will and Grace watching ER, followed by the couple meeting up with Jack (Sean Hayes) and Karen (Megan Mullally) for a drink.
Upon reminiscing, I have to admit I would be more interested if this were an actual Will & Grace reunion, but I'm confident that even though the two are not reprising their iconic roles, they will still captivate us with their amazing charm and comedic timing. I'm also itching to see if they do any callbacks. "Das Boob," anyone?
The Mysteries of Laura premiered back in September of 2014. The show follows New York homicide detective Laura Diamond, a single mother of twins who's trying to find the balance between her home life and the duties of her line of work, all the while dealing with her spiteful ex-husband/boss on the force, Jake Broderick (Josh Lucas). You can catch new episodes over at NBC on Wednesday nights at 8 p.m. ET.
Your Daily Blend of Entertainment News
Thank you for signing up to CinemaBlend. You will receive a verification email shortly.
There was a problem. Please refresh the page and try again.