Mariah Carey Wants To Give Us The Next Great Christmas Movie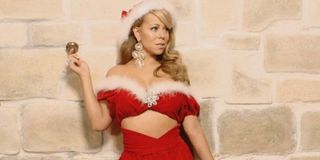 It may be April, but evidently that's not stopping New Line Cinemas from getting into the Christmas spirit. We know this because they have reportedly bought a pitch for an untitled Mariah Carey holiday movie. If the festive film isn't entitled "All I Want For Christmas" then someone has made a huge mistake.
Deadline was the first to report that the studio has purchased the idea from RatPac Entertainment – the production company created by Brett Ratner – and it's believed that Mariah Carey will play a huge part in the film. But who is responsible? Well, it turns out that the hugely successful singer is behind the plan herself. Mariah Carey, who obviously has a thing for the Yuletide season, took her idea to Ratner herself.
Clearly intrigued by the idea, Ratner got into contact with screenwriters David Diamond and David Weissman, as well as producer Jon Shestack. Between them they devised their untitled Mariah Carey Christmas film, and they obviously did a rather good job of packaging it up nicely, because it's been sold.
Currently, we don't know anything about the plot for the Mariah Carey-led film, other than the fact that it allegedly revolves around how the power of music can help take you back to your truest and most authentic feelings. Seriously, that's what the film is actually about. Naturally, it's been teased that there will be songs will be performed by Carey, who will also be joined by numerous other artists on the film. And it's probably safe to assume that it will be set at Christmas too.
Unfortunately, the video for Mariah Carey's All I Want For Christmas Is You, the monstrously successful Christmas song that was released in 1994 and ultimately went on to sell over 14 million copies, doesn't provide us with any further clues, but it may give you flashbacks to the holiday season in the 90s.
This is the second time that Brett Ratner and the film's writers have collaborated on a project. The duo previously wrote the script for the Ratner directed The Family Man, which was released back in 2000. The feel-good Christmas family flick was met with mixed reviews but still managed to gross a relatively impressive $124.7 million.
Brett Ratner hasn't been confirmed as the film's director. And considering her distinct lack of success as an actress on the silver screen (I'm looking at you Glitter, even if her stunning turn in 2009's Precious redeems her ever so slightly), and how preposterously cheesy her impending effort sounds, it might be a struggle to find one.
Your Daily Blend of Entertainment News
Your Daily Blend of Entertainment News
Thank you for signing up to CinemaBlend. You will receive a verification email shortly.
There was a problem. Please refresh the page and try again.