10 Things Movie Fans Should Be Really Thankful For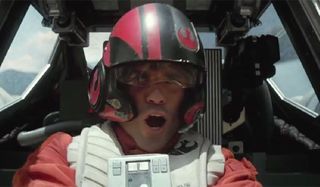 Thanksgiving is a time to look back at the year and be thankful for the things you have. If you're a movie fan then this has been a great year (so far), loaded with several things to be very thankful for.
On Thanksgiving Day, we wanted to help you celebrate the day and the year by singling out 10 of the reasons why movie fans should be thankful. In the comments section, tell us why you are thankful this year. And have a wonderful Thanksgiving Day!
Star Wars Is Back (And We're Actually Looking Forward To It)
If you had told me 10 years ago that there would be more Star Wars movies, I likely would have called you names and then hidden under the bed. Those of us who saw the original trilogy as young malleable children have been tormented by the prequels since the early 2000's. And if Disney had purchased Lucasfilm back, then we'd really be scared. Today Disney has proven themselves to be worthy stewards of other properties like The Muppets and Marvel and everything about The Force Awakens feels right. We can't believe how excited we are.
The MCU Is Still Going Strong
It's been eight years since the crazy experiment that is the Marvel Cinematic Universe began. Five years later, Phase One culminated in the first Avengers film. If everybody had packed up and gone home after that most fans would have been happy. Yet, here we are, an additional three years past that and they've made a second big team up movie and then followed that with Ant-Man, probably just because they knew they could make Ant-Man a success. It's the cinematic equivalent of an end zone dance.. Finally, we've finished off the year with the trailer to Captain America: Civil War which shows us the MCU has no intention of slowing down. This may literally never end.
Two Pixar Movies In One Year
The newest feature from those mad geniuses at Pixar is usually the highlight of the year (Cars 2 notwithstanding). 2015 brought us two movies in the same year, a first for the studio. First, this past summer, we had the emotional and introspective Inside Out, which caused unexplained eye leakage in theaters across the country. And now we have The Good Dinosaur to enjoy with our families for Thanksgiving. Nobody does what Pixar does nearly as well, and this year they really proved that.
Mad Max Is Back!
In an era where Hollywood is looking for every possible idea to turn into a new film franchise, there was little doubt that we'd see Mad Max again one day. What we actually got, however, few were truly expecting. George Miller brought his most famous creation back to the screen with (dare I say it) fury. A two-hour long chase scene where the action rarely takes a break and the audience never does. We saw the introduction of the greatest original female hero since Pacific Rim's Mako Mori in Charlize Theron's Furiosa, and the reliance on practical effects gave the action a visceral feeling that most action movies today just don't have.
Dinosaurs!
Dinosaurs are awesome. If you don't believe me, just go ask any eight year old. They'll tell you. In addition to Pixar's Good Dinosaur, this was also the year for Universal's very, very bad dinosaurs. Jurassic World made such an impact, it currently sits as the highest grossing movie ever made that wasn't directed by James Cameron. We'll certainly be in for more of these, considering the level of success for Jurassic World, but that's fine because dinosaurs are always awesome.
No More Middle Earth Movies
We love a good long-running franchise as much as the next folk, but the time comes in every story when it's time for it to end. The Lord of the Rings was a glorious trilogy of films and an example of how to build a franchise for filmmakers going forward. The fact that The Hobbit was going to be made into a film wasn't the problem. The fact that it was turned into three films was. Peter Jackson has even come clean about the near-epic-disaster that making the movies was. This franchise needed to be thrown into Mount Doom, and it looks like it's finally there.
This.
It would be so easy to hate Robert Downey Jr. It really would be. The guy makes so much bloody money every time he speaks a line in a Marvel movie that other movie stars just shake their heads. He could afford to be a complete jerk if that's the guy he was, but he's just not. He's this guy. The guy that invites sick kids to movie premieres and hand delivers "bionic" arms to kids who need them while in character. He's a gift, and he keeps on giving.
Tom Cruise Is Still Tom Cruise
Tom Cruise is 53 years old. Does that need to be said again? Tom Cruise is 53 f'ing years old. How is he still making Mission:Impossible while hanging off of bloody airplanes? We can't explain it, we just know it's true and in a couple years he'll be two years older making another M:I movie and finding some new crazy thing to do. During three decades in which the biggest names in action lost their edge, Cruise is still going... with no plans to slow down.
Serious Oscar Contenders Are Finally In Theaters
The big Oscar contenders usually only hit theaters in the last couple months of the year but the buzz around them builds for the preceding 10. Now we can finally see Brie Larson's captivating performance in Room, and let Spotlight show us that Michael Keaton's trip to the Oscars last year was no accident. Half of the movie business is the entertainment, but the other half is the craft and this is the time of year where we can get lost in a story while still appreciating the artistry that goes into making movies.
The Best Is Yet To Come (We Hope)
All of the above has happened, and there's still more than a month left in the year. Quentin Tarantino isn't just releasing The Hateful Eight, he's taking it on a road show to present the glory that is a 70MM projection. David O. Russell, Bradley Cooper, and Jennifer Lawrence are together again for Joy, and Leonardo DiCaprio's The Revenant promises to deliver an epic battle against the elements. This has already been a year for the record books, it may also be one for the history books.
Your Daily Blend of Entertainment News
Content Producer/Theme Park Beat
CinemaBlend's resident theme park junkie and amateur Disney historian. Armchair Imagineer. Epcot Stan. Future Club 33 Member.
Your Daily Blend of Entertainment News
Thank you for signing up to CinemaBlend. You will receive a verification email shortly.
There was a problem. Please refresh the page and try again.