A 10-Year-Old Kid Just Created The Greatest Tribute To Home Alone, Watch It Now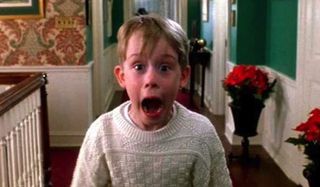 This Christmas marks the 25th anniversary of Home Alone. Most people will probably just celebrate this momentous occasion by re-watching the first two instalments to the glorious franchise (while ignoring the two turgid follow-ups) alongside family and friends. But director David Javier has decided to honor the iconic film with his very own dance-filled homage to the beloved Chris Colombus-directed, John Hughes-penned family film. It's, um, well .... you should probably just watch and decide for yourself.
Weird, right? Kudos to everyone involved, but all that makes me want to do is immediately go and watch Home Alone to see how a kid should really terrorise two potential burglars to within an inch of their lives. Actually, that was probably the point, so congratulations all round.
The video, which has the rather catchy title of Home Alone Dance Tribute – 25th Anniversary – Sugar Plum Fairy Remix, does manage to recreate some of Home Alone's most memorable moments in a sterling fashion. Obviously, they were always going to pay their respects to Macaulay Culkin's famous shaving scene.
The tarantula crawling up Marv's belly sequence still manages to give me the heebie-jeebies, even though I've seen it dozens upon dozens of times. I'm just disappointed that the replicated version didn't finish with Poppin John's Harry Lime smashing Madd Chad's Marv with a crowbar, too.
Unfortunately, despite the above video's best efforts, it's ultimately a little tame in comparison to the original. But that's completely understandable considering that Home Alone is one of the most violent family films ever released. I mean, just check out this snippet.
Despite the violence, Home Alone is still, alongside its sequel Home Alone 2: Lost In New York, a bona-fide family classic and deserves to be watched all year round, not just at the holidays. How do you plan on celebrating Home Alone's 25th anniversary? Luring robbers into your home and then launching a carefully planned, all-out assault on them using nothing but household goods? Thought so.
Your Daily Blend of Entertainment News
Your Daily Blend of Entertainment News
Thank you for signing up to CinemaBlend. You will receive a verification email shortly.
There was a problem. Please refresh the page and try again.