10-Year-Old Morgan Lily Cast As Young Mystique In X-Men: First Class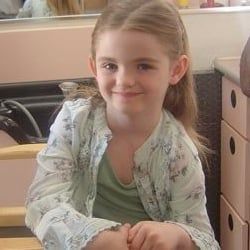 It's unclear exactly how much time X-Men: First Class will span, given that it's a prequel to the X-Men series that Bryan Singer started and therefore has many decades of history it could potentially cover. We know the bulk of time will be spent with Professor X and Magneto in their 30s as they founded their school for mutants, but that's only because James McAvoy and Michael Fassbender are starring-- there's pretty much no information out there on the actual plot.
I'm assuming the story will be fairly straightforward and linear, but just as X-Men started with a flashback to Magneto's childhood, X-Men: First Class may also meet some of the characters in their earlier years. XMenFilms.net is reporting that child actress Morgan Lily, last seen as John Cusack's daughter in 2012, has been cast to play a younger version of Mystique. Winter's Bone star Jennifer Lawrence is already on board to play the older version, and of course Rebecca Romijn did the job in the first trilogy of films.
Lily's casting is just another in a rash of announcements lately, so that we now have Oliver Platt on board as the Man in Black, Jason Flemyng as Nightcrawler's father Azazel, and Rose Byrne as fellow school founder Moira MacTaggert. Filming starts later this month, which means at least one great thing will happen-- no more casting announcements about X-Men: First Class!
Your Daily Blend of Entertainment News
Staff Writer at CinemaBlend