11 Marvel Characters You'll Probably Never See In A Movie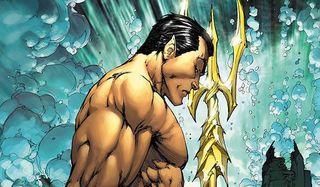 It's been almost eight full years since the Marvel Cinematic Universe began with Iron Man, and since then we've been introduced to a variety of heroes and villains. Whether it's heavy hitters like Thor and Captain America, or less famous characters like Vision or the Guardians of the Galaxy, both comic book fans and regular moviegoers are meeting a unique mix of players, and the roster is only going to keep growing in Phase Three and beyond. Unfortunately, not everyone can partake in the big screen festivities.
Despite Marvel's gigantic library of characters, there's a fairly large number of characters who we're unlikely to see on the big screen in this world. This could be due to rights rights issues (the X-Men and the Fantastic Four are the obvious ones, so no need to cover them), they're limited to TV appearances in the MCU, or they just wouldn't fit in this expansive universe. Admittedly, we could have packed this full of a lot of unknowns and forgettable characters (I'm looking at you, The Whizzer), but here are some of the more recognizable faces that you shouldn't get your hopes up to see in the MCU cinematic offerings.
Doctor Doom
The Fantastic Four not being able to be in the MCU is disappointing, but not having Doctor Doom around is arguably worse. Victor von Doom continually ranks as one of the great comic book super-villains, and it's not just because of his iconic look. From his insane inventions to his massive ego, Doom has been a threat to almost every hero in the Marvel world, and it's even worse when he's leading Latveria. Aside from HYDRA, the MCU doesn't have a grand, overarching human threat affecting all those heroes, but Doom can't be that since he's at Fox.
MODOK
The Mechanized Organism Designed Only for Killing. If you ran into MODOK in the Marvel comics universe, you'd definitely be firghtened, and he's proven himself a unique threat in other media stories. However, for the MCU, you can't adapt him and get people to take him seriously. The giant head in the floating chair shooting energy beams is definitely going overboard, no matter what kind of science experiment transforms him or what plans he's hatching. He's too ridiculous to pull off in live action, even if it was John Hodgman playing him.
Ms. Marvel (Kamala Khan)
Kamala Khan, a.k.a. the new Ms. Marvel, is one of Marvel's most popular new characters, but featuring her in the movies is extremely difficult. For one thing, she has to first be inspired by Carol Danvers, who isn't appearing until 2019. She's also an Inhuman, and aside from the 2019 Inhumans movie (which will surely feature the Royal Family), they've been limited to TV. There are too many obstacles to effectively introducing her in the movies, but that doesn't mean they we couldn't see a TV show based around her eventually.
Namor The Sub-Mariner
For years, Namor the Sub-Mariner's movie rights belonged to Universal, and although the studio tried to make a movie about him, nothing ever surfaced, so to speak. In 2014, it was revealed that Marvel has the rights back to their king of Atlantis, but there are still a number of legal entanglements preventing them from moving forward with their own movie. Until those get sorted out, we won't be seeing Namor exploring the MCU's oceans. If you want to watch an aquatic superhero on the big screen, you'll have make due with Aquaman.
The Punisher
After three movies that received mixed-to-negative reviews overall, The Punisher came home to Marvel in 2013, and three years later, he's making his MCU debut on Daredevil later this month, where he's played by Jon Bernthal. If the rumors are true, then he has a bright future on the Netflix side of things, but that doesn't necessarily translate into a cinematic appearance. The only way to properly show Punisher in live-action is using R-rated violence, and the Marvel execs have made it clear they're staying in PG-13 territory. So that leaves Frank Castle off the big screen.
Deathlok
Deathlok also got his MCU start on TV over at Agents of S.H.I.E.L.D., where he's played by J. August Richards. The cyborg soldier has been a recurring player on the ABC series, but when we last saw him, his cybernetic parts had been removed. Even if he goes back to being a full superhuman, Richards' schedule makes it difficult for him to recur on Agents of S.H.I.E.L.D. Movies would be even more challenging, so fans will just have to get used to seeing him occasionally as one of Phil Coulson's operatives.
Silver Surfer
The Silver Surfer made his comics debut in 1966's The Fantastic Four #48, and he's had many other adventures with Marvel's First Family. That made him part of the package when 20th Century Fox obtained the Fantastic Four movie rights, as seen in 2007's Fantastic Four: Rise of the Silver Surfer. So, despite the studio's troubles adapting these characters into a good movie, the Surfer remains stuck over there until the status quo changes, even if they don't put him in his own adventure. It's a shame, he would be invaluable in the fight against Thanos in Avengers: Infinity War.
Man-Thing
Just look at him. Seriously, I dare you to gaze at him for a bit and not have the adjective "weird" pop into your head. Here's something even weirder: he led his own movie in 2005, though it did receive largely negative reviews. Although Lionsgate originally had the movie rights, Man-Thing is presumably back at Marvel now, but it's still extremely unlikely to include him in the MCU. He's not popular enough to get his own feature in this franchise, it's difficult to include him in these team movies, and most importantly, he's too frightening for younger fans.
Blade
Before X-Men and Spider-Man popularized the superhero movie genre last decade, Wesley Snipes was slicing up vampires as Blade. The Blade series concluded in 2004 with Blade: Trinity, and in 2011, it was announced that he was back home at Marvel. That said, the chances of him getting his own movie again is extremely slim. Like Punisher, it's difficult to adapt Blade without showing the blood and gore that earn R ratings. He already had his own TV series, and the better fit would be to put him on Netflix and delve into his fantastical life on the small screen.
Spider-Woman (Jessica Drew)
Hardcore Marvel fans know that Spider-Woman isn't a mere Spider-Man ripoff. Jessica's powers are different, she's had experience as a spy, and she's built her own supporting cast over four decades. Unfortunately, it will be difficult to distinguish between the "brands" for regular moviegoers. Spider-Man is a pop culture icon, so they'll be expecting a Spider-Woman to connect to him, even if her story is good enough on its own. The best course of action would be to give Jessica her own show, either on ABC or Netflix.
The Watcher
Uatu the Watcher keeps an eye over everything that happens on Earth, and although his people are forbidden from getting directly involved with the activities of other species, occasionally he steps over these boundaries to help out the Marvel heroes. However, he won't be watching what's happening in the MCU, because, like the Fantastic Four and Silver Surfer, The Watcher is under Fox's jurisdiction since he debuted in one of the early Fantastic Four issues. And no, Stan Lee is not playing a version of The Watcher.
Your Daily Blend of Entertainment News
Connoisseur of Marvel, DC, Star Wars, John Wick, MonsterVerse and Doctor Who lore. He's aware he looks like Harry Potter and Clark Kent.