Cryptic X-Men: Apocalypse Video Teases Rain, Lightning, And More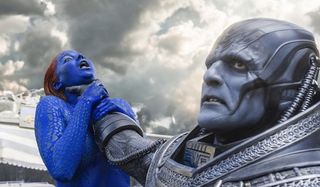 Just because 20th Century Fox's latest mutant adventure, X-Men: Apocalypse, is only a few months away doesn't mean it's entirely finished. Often times you just need something more, and additional filming is necessary. Director Bryan Singer and the Apocalypse crew returned to set to pick up some new footage, and he shared a stormy, cryptic new video with fans.
As he's done on a regular basis over the course of production, Bryan Singer took to social media to give fans a glimpse behind the curtain at production. The footage of the deck of a boat rocking and rolling on the high seas is grim and gloomy indeed, and considering the rain, the wind, the lightning, one obvious conclusion is that this situation is somehow the work of Alexandra Shipp's new incarnation of the powerful mutant Storm. Just scroll through the comments and appears to be the common consensus.
But, as Bryan Singer says, there's also "something else" going on. What exactly this other thing is remains to be seen—it'd be too easy if he just gave it away, wouldn't it? Who knows what surprises lurk in store for us when X-Men: Apocalypse finally hits theaters later this year, but dammit were pretty excited to see what goodies Singer and his new crew of mutants have in line for us.
Over the course of multiple movies, the heroic mutants at the core of the X-Men saga have battled prejudice, giant robots, other mutants, governments, and even travelled through time to rewrite history. But in X-Men: Apocalypse they'll face perhaps their greatest foe yet. Apocalypse (Oscar Isaac) is the first and most powerful mutant in Marvel's universe, worshipped as a god from the dawn of civilization, and he's become near immortal and invincible in the process.
After sleeping for thousands of years, Apocalypse wakes up in the early 1980s, which would be a jarring experience for any of us, and, disillusioned with the world he finds, sets out to recruit new followers and reshape the way things are. His Horsemen include Storm (Alexandra Shipp), Magneto (Michael Fassbender), Psylocke (Olivia Munn), and Angel (Ben Hardy). It will be up to Professor Charles Xavier (James McAvoy) and his young, gifted, inexperienced mutant recruits to stop him and save the world from destruction. The team of good guys includes returning players Mystique (Jennifer Lawrence), Beast (Nicholas Hoult), Quicksilver (Evan Peters), and Havok (Lucas Till), as well as newcomers Jean Grey (Sophie Turner), Cyclops (Tye Sheridan), Jubilee (Lana Condor), and more.
Reportedly the conclusion of the First Class trilogy, X-Men: Apocalypse hits theaters May 27.
Your Daily Blend of Entertainment News
Thank you for signing up to CinemaBlend. You will receive a verification email shortly.
There was a problem. Please refresh the page and try again.