The 15 Most Anticipated Summer Blockbusters, According To Fandango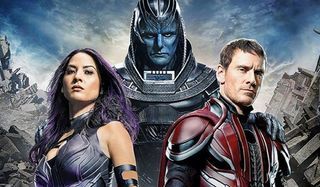 With April coming to a close, the first movies of the summer blockbuster crop are about to drop for all to see. From Captain America: Civil War to Suicide Squad, the four months stretch between May and August is going to be jam packed with sure-fire hits, surprise successes, and die-hard flops! But out of all of the films vying for the attention of you, the moviegoer, which are the ones that seem to have the most buzz?
As always, Fandango (opens in new tab) has taken it upon themselves to poll a sample comprised of "thousands of moviegoers, and they've come back with the 15 most anticipated films of this summer. Breaking the competitors into three genres of film, Action, Family, and Comedy, the online movie ticket outlet has released the results publicly today, and it's a mix of both surprises and shoo-ins. Join us as we run down the 15 most anticipated summer blockbusters, starting with the top 5 in the Action genre.
Action
1. Captain America: Civil War
Release Date: May 6th
It shouldn't surprise anyone that Captain America: Civil War is the top of the Action heap. With Marvel Studios flicks dishing out a healthy amount of explosions and stunt work, the clash between Team Cap and Team Iron Man is too big of a centerpiece to avoid this summer. Though even if this list wasn't separated by genres, we have a feeling that this one would still be at the tip-top of the rankings.
2. Independence Day: Resurgence
Release Date: June 24
Admit it: you like it when they go for the monuments. That's one of the big reasons we think audiences are ready to return to the world of Roland Emmerich's sci-fi classic in Independence Day: Resurgence. With the aliens that tried to exterminate us two decades ago taking another crack at the bat, it's a good thing Jeff Goldblum's David Levinson is still part of the team. We don't know if humanity can survive without his big brain and wise cracks in constant supply.
3. Jason Bourne
Release Date: July 29
Even before the unveiling of the film's first full teaser, Jason Bourne seemed like a film destined for this list. With Paul Greengrass and Matt Damon returning as a sort of informal apology to fans for The Bourne Legacy, the fifth film in the Bourne franchise has been a long time coming. Nine years have stood between David Webb and the day he disappeared into the shadows, and it's time for him to come back with a bang.
4. X-Men: Apocalypse
Release Date: May 27
The Bryan Singer era of X-Men ends with this summer's X-Men: Apocalypse, and judging by the trailer for the third film in the "young X-Men" trilogy, it's the mother of all finales. Jennifer Lawrence takes center stage, Oscar Issac is threatening as hell, and James McAvoy finally loses his hair. This is everything we've been waiting for since X-Men: First Class debuted back in 2011, and there's no way anyone is going to miss it.
5. Suicide Squad
Release Date: August 5
Who would have thought that a DC Comics movie could look this fun? While the rest of the DC Cinematic Universe looks like an uber-serious meditation on absolute power corrupting absolutely, here comes Suicide Squad: the film that promises nothing but a non-stop good time. Between the action and comedy on display in every frame we've seen thus far, the only surprise we see here is the fact that this film wasn't higher up on the list. Then again, August is still pretty far away, and the Joker can only do so much damage. Family
1. Finding Dory
Release Date: June 17th
As we move on to the more family oriented picks of summer 2016, there's one character that nobody forgot to put on the top of their "to do" list. Finding Dory was the obviously dominant family pick, as adults and children alike are intrigued to see where their favorite forgetful fish is going to go on her next adventure. Then again, considering Pixar's last film was The Good Dinosaur, everyone might just be excited to see a character they recognize leading the studio's next film.
2. The Secret Life of Pets
Release Date: July 8
Just as Pixar has carved itself out a niche for family entertainment with heart and high art, Illumination Entertainment and Universal have made their home in the realm of non-stop laughter. When you see the trailer for The Secret Life of Pets, it's easy to see the infectious energy that the studio loves to exhibit in its major franchise, Despicable Me. If all goes well enough, this could be another series that Illumination is keen to keep on revisiting for years to come.
3. Alice Through the Looking Glass
Release Date: May 27
You never forget your first time in Wonderland, but a second time is not always guaranteed. Alice Through The Looking Glass is one of those rare times audiences are being invited back into the world of the Red Queen, the Mad Hatter, and the Cheshire Cat - among others. While some may be drawn back for the comfort of old friends, others are more than likely returning to see the new villain, Time, challenge the strong and independent Alice to a game of wits. Either possibility spells good fortune for Disney.
4. Ice Age: Collision Course
Release Date: July 22
Scrat puts asses in seats. Say what you will about the core cast of the increasingly out there Ice Age franchise, but no matter what the latest story may be, Scrat is going to make people want to see it. Considering both Gravity and The Martian were used in the teaser campaign to lure folks to see Manny, Sid, and Diego continue to traipse about pre-history, it's a fair bet that Scrat's still got the magic touch.
5. Teenage Mutant Ninja Turtles: Out of the Shadows
Release Date: June 3
Nostalgia is a pretty powerful connection between a fan and a property, and a prime example of that theory at work was the 2014 release of Teenage Mutant Ninja Turtles. Since the first round was so successful, the studio has remained obliged to serve up a fresh pie of Turtle mayhem. That, and they've cast Arrow's Stephen Amell to play Casey Jones, which should go over well with all of his fans. Teenage Mutant Ninja Turtles: Out Of The Shadows looks to be an even better Turtles experience for die-hard fans, and that investment could put them on track for a third film. Comedy
1. Ghostbusters
Release Date: July 15th
If the action movies didn't bring you to the theaters, and the cartoons are a little under your age range, then comedy is the bracket you want to look into. And we start with a fresh / controversial pick, depending on who you are: Paul Feig's Ghostbusters. Now we don't have to go into the details of one of the hottest fandom feuds since "Is Star Wars: The Force Awakens a blatant rip off of A New Hope?" However, no matter what side you're on, there's a good chance you'll be sitting in the theater to watch this one, no matter what.
2. Central Intelligence
Release Date: June 17
Dwayne "The Rock" Johnson and Kevin "The Mouth" Hart. It's a team that harkens back to all of the classic comedy duos we've seen in the past, and Central Intelligence is planning to put that goodwill to good use. They're already hot after hosting the MTV Movie Awards together, and now they're planning to take the box office by storm. Central Intelligence looks like the epitome of fluffy, summer action-comedy.
3. Neighbors 2: Sorority Rising
Release Date: May 20
Comedy sequels are fickle beasts, as what was funny two years ago might not still be funny today. Which makes a prospect like Neighbors 2: Sorority Rising all the more nerve-wracking when the trailer ends up looking good. Fingers crossed that Chloe Grace-Moretz and Zac Efron have a fight so wild, it'll make Neighbors look like Ice Age: Collision Course. Of course, if the repeat of Seth Rogen's airbag gag be more glorious than as seen in the trailers, then all is forgiven.
4. The Nice Guys
Release Date: May 20
Apparently 2016 is the year of the comedy team, as this is the fourth out of five entries teaming at least two heavy hitters together for a potential laugh riot. Though it's fourth on the list of Fandango user preferences, we're a little biased towards The Nice Guys, as Russell Crowe and Ryan Gosling are a comedy dream team in and of themselves. But when you add writer/director Shane Black into the mix, that's when you truly have our undivided attention.
5. Mike and Dave Need Wedding Dates
Release Date: July 8
We opened our list with a sure fire, and we close with as big of a wild card as they come. Mike and Dave Need Wedding Dates is the most unknown quantity on this list, despite having an all-star central line-up of Adam Devine, Zac Efron, Aubrey Plaza, and Anna Kendrick. That said, who are we to ignore the powers of the Efron and Kendrick team-up, especially when flanked by Devine and Plaza? This could either go so very right, or so very wrong, but that's what the summer movie season is about!
This poll is no longer available.
Your Daily Blend of Entertainment News
Senior Movies Contributor
CinemaBlend's James Bond (expert). Also versed in Large Scale Aggressors, time travel, and Guillermo del Toro. He fights for The User.
Your Daily Blend of Entertainment News
Thank you for signing up to CinemaBlend. You will receive a verification email shortly.
There was a problem. Please refresh the page and try again.