Teenage Mutant Ninja Turtles: Out Of The Shadows - What We Know So Far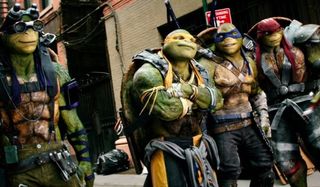 After almost 20 years of cinematic hibernation, 2014's Teenage Mutant Ninja Turtles marked the first live action adaptation of the Kevin Eastman and Peter Laird fan favorite comic since 1993's Teenage Mutant Ninja Turtles III. While some fans may have been a bit iffy on the prospect of a Michael Bay produced revamp for the modern era, Teenage Mutant Ninja Turtles was a sizable hit. Enough of one, in fact, to bring a sequel - Teenage Mutant Ninja Turtles: Out Of The Shadows. This sequel is primed and ready to go for a June 3, 2016 release date, and with only a couple of months standing between us and our heroes on the half shell, it's a good time to start going over what we know about Teenage Mutant Ninja Turtles: Out Of The Shadows, and you can start by watching the film's trailer down below:
And now, let's get down to What We Know So Far…
What Is The Teenage Mutant Ninja Turtles Release Date?
Teenage Mutant Ninja Turtles: Out of the Shadows will be released this summer on June 3. The film is coming out in the prime blockbuster season, and it's a perfect film for keeping youngsters occupied for at least a couple of hours this summer. While there are certainly other potential blockbusters opening in the month of June this year, Teenage Mutant Ninja Turtles: Out of the Shadows' main competition for audiences is sure to come from Warcraft (June 10), Finding Dory (June 17) and Independence Day: Resurgence (June 24).
What Is The Teenage Mutant Ninja Turtles Rating?
The filmmakers behind Teenage Mutant Ninja Turtles: Out of the Shadows, understandably, wanted to get as many people into theaters for the movie as possible, so they shot for a PG-13 rating and got it. The movie is rated for "sci-fi action violence," which sounds about right for the type of movie this will be. Other PG-13 offerings in June include Me Before You, Now You See Me 2 and Hunt for the Wilderpeople.
Who Is The Teenage Mutant Ninja Turtles Director?
After directing 2014's Teenage Mutant Ninja Turtles, Jonathan Liebesman seemed like a shoo-in to direct Teenage Mutant Ninja Turtles: Out Of The Shadows. While Liebesman was optimistic about his plans for a sequel, he ultimately didn't end up boarding the sequel. Instead, taking the directorial reins was David Green, a music video / short film director who made his feature film debut by directing 2014's Earth To Echo. At least one member of the cast vouched for David Green, as returning lead Megan Fox said that his uber-fandom of the Teenage Mutant Ninja Turtles promised a film more faithful to the tone of the original Turtles franchise.
What Is The Teenage Mutant Ninja Turtles Story?
The actual plot to Teenage Mutant Ninja Turtles: Out Of The Shadows seems like geek heaven for those kids that grew up watching the incredible foursome doing battle on their TV screens. The main reason being that most of their fan favorite heroes and villains are making their debut in this second installment, and with perfect timing too, as all Hell is about to break loose. In addition to The Shredder and Eric Sacks returning after their failed attempt at unleashing the TCRI mutagen on New York City, mad scientist Baxter Stockman has been hired to create two new mutant henchmen for The Shredder's personal use: the infamous Bebop and Rocksteady. Oh, and a portal between our world and Dimension X has been opened, apparently setting big bad Krang free on the very Earth that we love. Looks like Casey Jones chose the right time to introduce himself to April and the boys, as they're going to need all the help they can get.
The Turtles
After being saved from a freak lab experiment by April O'Neil, four young turtles were exposed to a mutagen that would transform them for life. Giving them superhuman strength, and growing them out to about the size of a buff human, or a guy in a really built mo-cap suit, their sensei - a rat by the name of Splinter - gave them the names of four famous Renaissance artists. It was then that Leonardo, Michelangelo, Raphael and Donatello became a family, and became the Teenage Mutant Ninja Turtles. Now that they're older and wiser from their first adventure, Teenage Mutant Ninja Turtles: Out Of The Shadows sees our four heroes continuing to learn the ways of the hero. Reprising their roles as both vocal and motion-capture performers from the first film are Alan Ritchson (Raphael), Noel Fisher (Michelangelo), and Jeremy Howard (Donatello). Johnny Knoxville will still voice his role of Leonardo, with his motion-capture counterpart, Pete Ploszek, also returning.
Splinter
Ever since he was mutated in the same incident as the Turtles, Splinter has watched over all four of the rambunctious martial-artists as a sensei / father figure. He was also hidden in the sewers by young April, after the incident in the TCRI labs, and eventually served as the moral compass to Leonardo, Donatello, Michelangelo, and Raphael. Splinter was almost lost after a devastating attack by The Shredder and his Foot Soldiers in Teenage Mutant Ninja Turtles, but thankfully his adopted sons administered the same mutagen that created them as a sort of recovery measure. So Splinter's back for Teenage Mutant Ninja Turtles: Out Of The Shadows, and so are his vocal and motion capture performers: the immensely talented Tony Shaloub and Danny Woodburn, respectively.
April O'Neil
Channel 6 news should be thankful they have a reporter as resourceful as April O'Neil. A professional who's ready to pursue any scoop to its logical conclusion, she's as tenacious as she is curious. A friend and ally to the Turtles, April was also inadvertently responsible for their survival, saving them from a catastrophic incident at TCRI's labs. Her connections to their creation run even deeper, as her father helped develop the lab's mutagenic substance alongside the villainous Eric Sacks. As a friend and ally to the Teenage Mutant Ninja Turtles, April sometimes accompanies the boys on their missions, but still knows how to strike it out on her own. Megan Fox is reprising her role in Teenage Mutant Ninja Turtles: Out of the Shadows, marking her second franchise sequel under producer Michael Bay's watch.
Vern Fenwick
Any good TV reporter needs a camera operator that's on the same level as their reporting skills. While Vern Fenwick can lay a claim to being the perfect professional partner for April, he's always thought that he'd be perfect for her outside of working hours. Though, after the events of Teenage Mutant Ninja Turtles, something may have changed in his social status. While out and about New York, Vern's been spotted with a girlfriend, played by Alessandra Ambrosio. The two share a scene at a basketball game, meaning returning cast member Will Arnett is a lucky guy, as he not only gets to kick some more bad guy ass, but he also gets to pal around with a Victoria's Secret model.
Shredder
Heroes and villains: two forces always in battle, opposing each other's ideologies to their personal cores. For the Teenage Mutant Ninja Turtles, that arch-nemesis took the form of Oroku Saki - a martial arts sensei that goes by the name of "The Shredder." The master to scientist Eric Sacks during his childhood, Splinter not only taught Sacks the ways of ninjutsu, he also became a party of interest when it came to the mutagen that TCRI would develop under his protege's control. While his true identity, or any connection to Splinter and the Turtles have not been revealed just yet in the films, we might just see such revelations come to light in this sequel, seeing as Shredder and Sacks both promise to escape police custody. The role of Shredder in Teenage Mutant Ninja Turtles: Out of the Shadows is yet another subject of recasting, as Tohoru Masamune is out and Brian Tee is in.
Eric Sacks
The Shredder wasn't alone in his attack on New York City, as he had scientist Eric Sacks to assist him. His connection to the scientific baddie goes way back to Sacks' childhood, as he trained him in the art of ninjutsu during his childhood in Okinawa, Japan. Sacks was also a collaborator with April O'Neil's father, who helped him formulate the infamous mutagen that set the world of Teenage Mutant Ninja Turtles into motion. While Eric and Shredder's plans didn't work out, thanks to their inadvertent creation of the Turtles, there's always a sequel waiting for the careful villain. Teenage Mutant Ninja Turtles 2 sees William Fichtner returning as Eric.
Rebecca Vincent
With every good vigilante or vigilante group, there's always someone in the local police department that squares off with those who would take the law into their own hands. This is exactly what Rebecca Vincent seems primed to do, as our limited introduction to her in the Teenage Mutant Ninja Turtles: Out of the Shadows trailer has her questioning the Turtles' existence. With a new character comes a new member to the potential future of the franchise, and the new Teenage Mutant Ninja Turtles film has Laura Linney joining the ranks of the cast as the new Chief of Police for the NYPD. Should another film be in the offing, you can bet that Linney's Vincent would more than likely be returning, as a sort of Commissioner Gordon to the Teenage Mutant Ninja Turtles' Batmen.
Casey Jones
The Teenage Mutant Ninja Turtles aren't the only vigilante game in New York City, as another protector stalks the streets. If you were to come across Casey Jones, you'd probably think he was looking for a pickup game of Hockey. However, if you're about to mug or harm someone and he's still lurking about, chances are that puck's going where you don't want it. The fan favorite character is finally making his debut in the Teenage Mutant Ninja Turtles franchise, and he's being played by a pretty straight Arrow of a guy. None other than Stephen Amell, who stars on the CW show, is playing the puck-ish crime fighter, and with his new origin story in place, there's still plenty more to discover about the man we thought we knew.
Bebop and Rocksteady
If you're a guy like The Shredder, there is no such thing as too much hired muscle. Though in the case of the felons known as Bebop and Rocksteady, this hired muscle is a little different from the rest. While they start out as typical street toughs, a twist of fate would grant them powers that they never knew they could possess! Unfortunately for them, Baxter Stockman's experiment with the TCRI mutagen has turned them into rather beastly figures, with Bebop becoming a warthog and Rocksteady taking the form of a black rhino. No matter what form they take, Teenage Mutant Ninja Turtles: Out of the Shadows will see comedian Gary Anthony Williams taking the role Bebop, while WWE wrestler Stephen "Sheamus" Farrelly won the role of Rocksteady over fellow wrestler CM Punk.
Baxter Stockman
Behold Baxter Stockman: the mad scientist hired to create Bebop and Rocksteady for The Shredder's nefarious purposes! After being featured in a smaller capacity in Teenage Mutant Ninja Turtles, the traditionally unsuccessful scientist is back to do something he's never done before, seeing as he was more of an engineer in comic and animated portrayals. Stockman was originally played in 2014's Teenage Mutant Ninja Turtles by K. Todd Freeman, but the role was recast with Tyler Perry for Teenage Mutant Ninja Turtles 2. The changes to the character fit the new continuum, as Stockman was one of the scientists assisting Eric Sacks' work at TCRI in the first film, as well as hint at a possible further development for the character. Let's just say we won't be surprised if Baxter Stockman is turned into a rather grotesque creature by the end of the film, as he was changed into a half man/half fly hybrid in the source material.
Krang
Once the portal to Dimension X opens in Teenage Mutant Ninja Turtles: Out of the Shadows, one of its most powerful warlords will come tumbling down from the sky and into our world. Unfortunately for Krang, his powers are a little bit dampened by the fact that he's basically a brain in a robot body. Banished for attempting a coup in his former home, part of Krang's punishment was his forced physical transformation - which required an alternate means of transport. Lucky for Krang, The Shredder is looking for a partner to help him conquer the world, and he's more than willing to take on the inter-dimensional villain as his cohort. After sitting out Teenage Mutant Ninja Turtles, Krang is finally making his live action debut with a brand new, less tentacled look that producer Michael Bay has personally signed off on.
Your Daily Blend of Entertainment News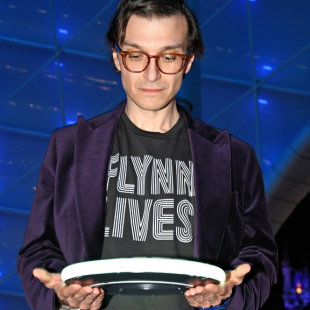 Senior Movies Contributor
CinemaBlend's James Bond (expert). Also versed in Large Scale Aggressors, time travel, and Guillermo del Toro. He fights for The User.