2011 Movie Preview: All The Upcoming Films We're Most Excited For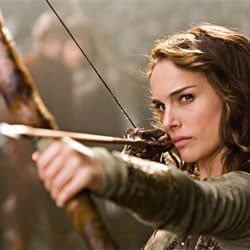 We're ready to tie a bow on 2010 and start looking forward to the new year, a new year full of movies which are bound to be better than The Bounty Hunter, even if it's only by accident. With that positive outlook on what another year of movie watching can bring, we got together and took marksman-like aim at the future, to create the definitive list of the new releases we're most looking forward to in 2011.
You're about to encounter that upcoming movies list with our brief attempts to explain why we hope the film might be worth our time, along with a lesser listing of movies you might be interested in, but that we don't care enough about to bother writing anything for you. That's alright, you don't need us. For more detailed information on any of the upcoming movies below, including release dates full casts lists and even trailers, simply click on the movie title. Flex your movie watching muscles and start picking out what you'll want to watch in 2011 right now.
Season of the Witch
There's a chance Season Of The Witch might be terrible. It all depends on whether everyone involved knew it looked terrible before it was too late. If this film takes itself seriously, it'll be unwatchable, but if it realizes the inherent ridiculousness and pushes further and further, Season Of The Witch will go down as a brilliant and campy classic. It's fifty-fifty. With a rogue spirit on the loose and only Nicholas Cage to stop her, I'll take those odds in cauldron.
The Green Hornet
The notion of Seth Rogen as superhero is pretty strange but mix in the fact that The Green Hornet is a superhero movie directed by Michel Gondry it's an idea so weird it absolutely has to be seen. It'll either change the superhero genre altogether, or herald the end of it.
Gnomeo & Juliet
Remember that scene in Almost Famous where they get on the tour bus and sing "Tiny Dancer" to bring the band back together? Who says that wouldn't work for the Montague's and Capulet's, as played by blue and red gnomes? It seems like the next logical step to me, and with Elton John recently becoming a father, Gnomeo And Juliet seems like the only proper way to celebrate. Plus, you can never have enough gnomes in your yard. Any redneck will tell you that.
Drive Angry 3D
Both Dante and Hercules proved breaking out of hell could be entertaining. Now Nicholas Cage is ready to show it's at least 50% more kickass when you add a third dimension. Throw in the always sexy Amber Heard and the bank teller from The Dark Knight as Satan's pissed-off second in command, and the result should be a highly entertaining pit stop filled with hell, fire, brimstone and lots of road rage. To quote Ludacris, "Move, bitch. Get out the way. Get out the way, bitch. Get out the way."
Rango
Gore Verbinski and Johnny Depp team up for their Pirates of the Caribbean follow-up, an irreverent and surreal-looking animated Western about a chameleon figuring out who he is. Instead of reading their lines into a microphone the actors acted out the entire movie on a soundstage, with props and everything, adding an extra wrinkle of interest to a movie that already looks like way more than your average animated kid's movie.
Battle: Los Angeles
While we will be seeing many alien invasion films in the next few years, director Jonathan Liebesman appears to at least be trying to do something different, crafting a war film instead of a disaster flick. If it stays away from tropes and the typical, it has the potential to be an early-in-the-year hit.
Sucker Punch
It has only taken four films for Zack Snyder to establish himself as a visual force, but Sucker Punch will be his first time working with original material. Thanks to the Comic Con footage and two trailers, we already know that the movie will be an ocular banquet, but the big question is if the story holds up. If it does, Snyder will be responsible for the coolest and ballsiest movie of 2011.
Source Code
Following his immensely successful first effort, Moon director Duncan Jones has quickly become one of the most promising young directors working today, and his sophomore effort, Source Code, could cement him as one of the Hollywood's most sought after filmmakers. The film looks like a science-fiction take on Groundhog Day with less laughs and more explosions, and who doesn't want to see that?
The Beaver
Before it was the Mel Gibson movie that Summit couldn't figure out how to release, The Beaver topped the Black List of the best unproduced screenplays, and would be the first film Jodie Foster would direct in over 10 years. If Gibson's performance is as good as she's promising, it still might be a must-see, even if you have to hold your nose to get through it.
Your Highness
The last time Danny McBride and James Franco smoked out and went on an epic journey, we ended up with Pineapple Express. Now, they've traded Seth Rogen for Natalie Portman, and weight loss or not, she's still a lot hotter. If the redband is any indication, Your Highness should be filthy, and that's good because the Middle Ages were notoriously debaucherous. I think I speak for everyone when I say we've been getting pretty damn sick of Black Knight being the only historically accurate film about the period.
Meek's Cutoff
One of the most distinct voices in American independent film, Kelly Reichardt takes a bit of a left turn in making a Western about a wagon train lost in the Oregon wilds. Michelle Williams-- who manages to top even her searing work in Blue Valentine-- leads a cast that includes Paul Dano, Shirley Henderson, Zoe Kazan and an unrecgonizable Bruce Greenwood, lost in a forest of beard.
Water for Elephants
Every old person I've ever met has a cookie jar full of stories, but that doesn't mean some of them aren't worth telling. Based on the New York Times Best Seller, Water For Elephants is the story of the greatest circus disaster ever told, and with that steamy vampire for Twilight and Reese Witherspoon bringing the hotness, there certainly won't be anything grainy or dated about the tall tale. There's something about the trailer that's captivating, even if it's not very forward. How could something so beautiful lead to the destruction the old man promises? I have no idea, but I'll be there to find out.
Other Winter/Spring 2011 Movies We're Less Excited About But You Might Be Interested In:
The Mechanic
Unknown
Hall Pass
The Adjustment Bureau
The Lincoln Lawyer
Hanna
Born to be a Star
Fast Five
What's Your Number?
Thor
The first of two Marvel films that will invade summer 2011, the Kenneth Branagh-directed Thor promises to break away from the hyper-real universes we've seen in the studio's previous films and deliver some epic Norse God action. Boasting some rising stars (Chris Hemsworth, Tom Hiddleston), experienced veterans (Anthony Hopkins, Natalie Portman), and a director who understands the material, the film has the promise of a fun, action-filled ride.
Bridesmaids
For years there's been an unwritten rule in Hollywood that female-led comedies must be small scale and be driven by relationships, but Paul Feig's Bridesmaids aims to change all of that. Garnering massive amounts of buzz and being described as The Hangover with women, the project has some serious talent involved, including Kristin Wiig, one of the funniest comediennes working today, who also wrote the script.
The Hangover 2
Speaking of The Hangover, there's a really good reason why Todd Phillips' film was one of the biggest box office smashes in 2009: it was absolutely hysterical. Making stars out of its three leads, audiences can't wait to see what Alan, Stu, Phil and Doug will get up while in Thailand and neither can we.
Kung Fu Panda 2
The original Kung Fu Panda was DreamWorks Animation's first movie done on a Pixar level. Will the sequel go the route of Shrek and send the franchise marching down a road to irrelevance or will it live up to the quality of the first film? Be there to find out.
The Tree of Life
The wait has been long, but 2011 will finally bring Terrence Mallick's beautiful epic to the big screen. If you saw the trailer we posted a few weeks ago, you already know that the film will be breathtakingly beautiful (that shot of the baby's foot is tear-inducing) and with a filmmaker like Mallick behind the film, you know that the story isn't going to suffer.
X-Men: First Class
X-Men: The Last Stand was so bad it basically killed the entire franchise, but before Brett Ranter got his hands on it, Marvel's mutant world was one of the best superhero properties in existence. They're starting over with the man who made the first two X-Men movies so good, Bryan Singer, involved as a producer and Matthew Vaughn, director of Kick-Ass, at the helm.
Super 8
Director J.J. Abrams + producer Steven Spielberg + a top-secret original plot + Elle Fanning and Kyle Chandler playing lead roles + a movie that seems to be inspired by Spielberg's early work = an easy summer slam-dunk. We're dying to see it and we don't know a single thing about it.
Bad Teacher
We still haven't gotten any footage of the Cameron Diaz/ Justin Timberlake comedy, but the premise alone is enough to get me into the theater. Diaz plays a profane middle school teacher attempting to seduce Timberlake who's about to inherit some money. The always wonderful Jason Segel is also involved as the gym teacher and John Michael Higgins shows up at some point. Bad Teacher is being directed by Jake Kasdan who co-wrote and helmed Walk Hard. If this one is half as foul-mouthed and hilarious as that, viewers should be in for a classic more along the lines of Bad Santa than your typical Rom-Com.
Green Lantern
The trailer and the CGI suit have left some a little bit cold on this project, but, when you break it down, there's still a great deal to look forward to. Martin Campbell is still the director of the best modern Bond films, Ryan Reynolds is disgustingly likeable in every role he plays and it's still the story of a superhero fighting galactic evil forces in space. Green Lantern still has a lot going for it.
Cars 2
It's a Pixar movie and even Pixar at its worst is better than almost anyone else at their best. The premise looks fun, sending Mater and Lightning McQueen to Tokyo where they'll somehow be mistaken as spies and they've added Michael Caine to the voice cast. Michael Caine is always a good decision.
Rise of the Apes
Though no one is saying it, it's really a remake of one of the classic Planet of the Apes sequels from the seventies. While this is the second attempt in the modern era to resurrect the franchise, it was good enough once to deserve another shot. This time James Franco, John Lithgow, and Andy Serkis are involved.
Larry Crowne
There's a very fine line between heartwarming and sappy, but somehow Tom Hanks always ends up on the right side. In less capable hands, Larry Crowe, the story of a bumbling old dude that returns to college after being fired, would be the stuff of Hallmark Movie of the Week, but most of us are well past the point of doubting Hanks. Like a wise old sage, he imparts moral lessons, but not before making us smile. We'll take it from him, and with Julia Roberts as the main love interest, it's hard to imagine this will be anything but great.
Harry Potter and the Deathly Hallows: Part 2
The first installment was a high water mark for the franchise, and in the second half things really start getting intense tons of action, tons of character deaths, and hugely emotional payoffs for stories we've been following for a decade. If they can pull it off, it's an adventurous and thrilling story that should be worthwhile even for non-Potter fans, though they might not understand why everyone around them is sobbing through the whole thing.
The Sitter
We're getting two David Gordon Green movies in 2011 thanks to the delayed spring release of Your Highness, and this one seems like another ideal return to for him to the goofball adventure comedy stylings of Pineapple Express, about a babysitter (Jonah Hill) caught up in one hellish night along with his charges. If nothing else, it will be hilarious to see Sam Rockwell playing the film's major villain, a drug dealer hunting down Hill's character.
Captain America: The First Avenger
The final film before Marvel embarks on its massive Avengers adventure, there's a lot of pressure hanging over the head of Joe Johnston's Captain America, but the film may actually survive under it. Though we had our hesitations at first, Chris Evans has surprised a lot of people by not only getting in tremendous shape for the part, but also looking like a perfect Steve Rogers.
Cowboys & Aliens
If what we saw during our visit to the set is any indication, Jon Favreau's western/sci-fi hybrid should be an absolute blast. Taking neither genre lightly and looking to both John Ford and Steven Spielberg for inspiration, the film looks absolutely badass by all accounts.
The Help
Based on Kathryn Stockett's best-selling novel, packed with a stellar cast that includes Emma Stone, Viola Davis, Allison Janney and Bryce Dallas Howard, The Help is a summer chick flick with an extra dose of historical relevance thanks to its civil rights era setting. Rising star Stone should have a lot to work with here, and look out for Octavia Spencer playing the colorful and brash Minny-- we'll be seeing a lot more from her if the movie turns into a hit.
30 Minutes or Less
With Jesse Eisenberg likely about to receive his first Oscar nomination and Danny McBride seemingly everywhere, there's a lot more riding on 30 Minutes Or Less for Nick Swardson than anyone else. I think he's funny, but after The Benchwarmers and Malibu's Most Wanted it remains to be seen whether America will every truly get behind the eccentic madman. A summer comedy about kidnapping and bank robbery that doesn't involve Patty Hearst seems like his best chance.
Conan the Barbarian
I'm not sure I really believe that it's possible to make a good Conan the Barbarian movie in the modern era. The demands of modern political correctness and special interest protest groups won't make it easy, but it's worth showing up at the theater to see if they pull it off.
Other Summer 2011 Movies We're Less Excited About But You Might Be Interested In:
Pirates of the Caribbean: On Stranger Tides
Transformers: Dark of the Moon
Friends with Benefits
Crazy, Stupid, Love
The Change-Up
Fright Night
Drive
Every since making Bronson back in 2008, director Nicolas Winding Refn has been turning a lot of heads, and 2011 will bring us his first US-based film. Sporting a ridiculous cast that includes the likes of Ryan Gosling, Carey Mulligan, Bryan Cranston, Albert Brooks and many more and a plot about a stunt driver who gets involved in a heist gone wrong, there are simply too many things working for this movie for it to fail.
Piranha 3DD
Almost nothing is known about Piranha 3DD. Last I heard, Ving Rhames wasn't even sure if his character died, let alone if he'd be in the sequel, but anyone who enjoyed the hell out of Piranha 3D knows little details like lead actors and overall structure are meaningless. Those vicious, hungry bastards couldn't care less whether they're eating the big black guy from Con Air or the other one from The Green Mile. Flesh all tastes the same, especially when there's a wet t-shirt contest going on.
Now
Thanks to her plucky turn in Tron: Legacy we're fairly obsessed with Olivia Wilde, and she co-stars in Now, a sci-fi thriller set in a near future where aging has been eliminated. The rest of the cast is at least as talented, involving Cillian Murphy, Amanda Seyfried, and some guy named Justin Timberlake who used to sing music, but now may get nominated for an Oscar based on his work in The Social Network.
Real Steel
It's set in a future where living boxers have been replaced by robot boxers. Hugh Jackman plays one of the pugilists replaced by animatronic fighters. Boxing robots should be a pretty bad idea, but the trailer was impressive and besides, isn't Hugh Jackman due to make something good?
Wanderlust
David Wain's last movie Role Models was an excellent and hilarious surprise hit, and now he's teaming up with old The State buddies Ken Marino and Paul Rudd for a comedy about a couple taking a trip to a hippie commune. The cast is jammed with almost as many hilarious people as Wet Hot American Summer, but Jennifer Aniston-- always funnier than anyone gives her credit for-- might turn out to be the real surprise.
The Thing
It's a prequel to the classic, 1982 John Carpenter directed sci-fi horror movie of the same name. Carpenter isn't involved in the new version but Scott Pilgrim's Mary Elizabeth Winstead stars. When we visited the set earlier this year we were impressed.
The Muppets
Jason Segel turned a Dracula puppet into a surprisingly tragic hero in the last few minutes of Forgetting Sarah Marshall, and now he's got the entire Muppet crew to work with, revitalizing a franchise that's been sadly absent for over a decade. Segel is treating the job like he's a kid given the keys to Disneyland, and bringing both his excellent writing skills and a huge cast of his celebrity friends for cameos, he's putting together a puppet extravaganza that looks like something Jim Henson would be proud to call his own.
Mission: Impossible Ghost Protocol
Mission: Impossible 3 was easily the best of the series, and that films director JJ Abrams is on board this one as a producer. More importantly though, Brad Bird is at the helm of this one. Bird is the genius mind behind some of the best animated films ever made in The Iron Giant, The Incredibles and Ratatouille. This is his first foray into live action and there's every reason to believe his storytelling skills will translate, even into a Tom Cruise action movie.
The Girl with the Dragon Tattoo
With The Social Network deemed the best film of the year by an incredible number of outlets, everyone in the film world is eager to see what David Fincher has in store for us next, and it happens to be an English-language adaptation of the first book in the massively popular Millennium Trilogy by Stieg Larsson. Though the project is certainly no easy task – the idea of condensing 600 pages into less than three hours isn't exactly a cake walk – the project has a terrific screenwriter in Steven Zaillian and no director in Hollywood is better suited for the material.
We Bought a Zoo
Cameron Crowe's fans have been looking for an excuse to forget Elizabethtown ever happened, and this could be our chance, a bittersweet story about a man getting over the death of his wife while managing a rundown zoo along with his children. Plus it stars Matt Damon-- who can do pretty much anything as far as we're concerned-- along with Scarlett Johansson, so at bare minimum we've at least improved over Orlando Bloom and Kirsten Dunst.
War Horse
December will be a big month for Spielberg, with two Spielberg directed films showing up in theaters at some point. But since we're Americans and really don't understand the weird European appeal of Tintin, this is the one we're most interested in. Early descriptions make it sound sort of like Saving Private Ryan but set in World War I and with a horse.
Other Fall 2011 Movies We're Less Excited About But You Might Be Interested In:
The Apparition
Straw Dogs
Footloose
Tower Heist
Immortals
Happy Feet 2
The Twilight Saga: Breaking Dawn pt 1
Hugo Cabret
Sherlock Holmes 2
The Adventures of Tintin: The Secret of the Unicorn
Now it's your turn! Tell us which 2011 movies you're most looking forward to in the comments section below.
NJ native who calls LA home; lives in a Dreamatorium. A decade-plus CinemaBlend veteran; endlessly enthusiastic about the career he's dreamt of since seventh grade.
Your Daily Blend of Entertainment News
Thank you for signing up to CinemaBlend. You will receive a verification email shortly.
There was a problem. Please refresh the page and try again.