22 Jump Street: Why All Of Channing Tatum's Friends Wanted To Cameo And 7 Other Fascinating Things We Learned On Set

Back in 2012, Jonah Hill, Channing Tatum, and filmmakers Phil Lord and Chris Miller did their part to shock the comedy world. The group of talented actors and filmmakers came together to take what sounded like an absolutely terrible idea – make a feature film based on an outdated, not-very-funny television series – and managed to turn it into a fantastic hit that scored with critics and at the box office. What's more, 21 Jump Street was the kind of success that Hollywood absolutely loves taking advantage of, and later this year they'll be doing exactly that with the release of the new 22 Jump Street. But while the comedy sequel isn't scheduled to arrive in a theater near you for another couple of weeks, late last year I was invited to get a special sneak peek at the movie by going behind the scenes.
Back in November 2013, I was invited with a small group of other film journalists to fly down to New Orleans, LA where we had the chance to not only visit the set of 22 Jump Street, but also talk to the actors and filmmakers involved while also watching the production in action. Talking with the minds behind the new movie we learned a ton of funny, exciting things, so read on to learn all about the hilarious looking comedy sequel.
Jonah Hill's First Sequel
Over the course of his career, Jonah Hill has done a lot of projects with recurring collaborators, be it Seth Rogen in front of the camera or Judd Apatow behind it, but one thing that he has never done is a direct sequel. During our on-set interview – where he was paired with Channing Tatum – Hill not only explained why he has always been hesitant about doing part twos, but also why he was motivated to make 22 Jump Street his first.
"I'd never done a sequel before to any of the movies that I was in and that was because I thought it couldn't be as good or better," Hill explained. "But I thought about the premise of the second one going to college, and there hasn't been a great college movie of our generation yet… I thought when you take all the rules of high school away from these guys and put them in college, that seems a lot more comedically fertile."
From there Hill began to see how 22 Jump Street could end up "as good or better" than the original and began developing the story that would eventually be turned into the film's script.
Everyone Wanted In On 22 Jump Street
Success is a very interesting thing in Hollywood. The moment you do something good or grab somebody's attention, it opens the doors to increased interest and desire for collaboration. So, naturally, when 21 Jump Street was a big box office hit back in 2012, it got people very interested in the idea of being a part of a potential sequel.
Asked if any of his friends had approached him about some kind of role in 22 Jump Street, Channing Tatum enthusiastically confirmed that "pretty much everyone" he knew wanted in on his action… and it wasn't just the actors. Said Tatum, "Even people that aren't in the industry, the acting industry, but in other industries that are well-known, they're just like, 'Man, shit's awesome. We want in."
Of course, Tatum couldn't ultimately say yes to everybody and the movie isn't overloaded with cameos, but you can definitely count on seeing some familiar faces. "we don't wanna have every single person as it kinda takes you out of the movie," Tatum continued. "But there might be some people."
Always Remember The Lameness
While 21 Jump Street wound up being a huge hit - both with critics and at the box office – it remains difficult to ignore how dumb the idea was on paper. As parodied in the movie, the concept sounded like an ode to creative bankruptcy, cashing in on the nostalgia factor of an old TV show. The idea ended up not being so stupid after all, but even while developing 22 Jump Street Jonah Hill and the rest of the creative team worked to constantly remind themselves of just how stupid their original idea was in the first place.
Discussing his writing process and cracking the story for the sequel, Hill revealed that one key element he always kept in his mind while developing the plot was how silly the whole thing was:
It's the exact kind of meta humor that played so well in the first film, and we can only hope it works on the same level in the sequel.
Filming Two Different Versions Of The Same Scene
As is customary on set visits, myself and the small group of other journalists visiting the 22 Jump Street production got to watch some scenes being filmed, but what made this trip different than most I've been on is that the crew filmed two completely different versions of the same scene - one featuring more obscure humor and the other just a bit more normal.
In the scene in question, Jenko (Tatum) and Schmidt (Hill) are out on the football field getting ready to try out for their college's team. While they are talking, the quarterback of the team, Zook (Wyatt Russell), runs into Jenko, causing him to drop the sandwich he is holding. Jenko – who is undercover and introduces himself as Brad McQuaid – quickly leans over to help pick up the food, and he and Zook immediately share a bond over shared sense of humor (leaving Schmidt to be completely ignored.
In the more odd-ball version of the scene (which was shot first), Jenko actually starts off using a Q-tip in his ear, and it winds up falling into Zook's sandwich when they crash into each other – creating what they jokingly refer to as a Meat-Q sandwich. Conversely, in the more normal version Jenko and Zook merely both say "Jinx, buy me a sandwich" at the same time after their accidental encounter. I am as just as curious as you are to see what winds up in the final cut.
Practically Everybody Is A Writer
Michael Bacall, Rodney Rothman and Oren Uziel are all credited with writing the script for 22 Jump Street, but they are far from the only writers who had their say in the direction of the material. In addition to being one of the film's stars, Jonah Hill helped develop the story for the sequel. Directors Phil Lord and Chris Miller have a long history of writing credits, from Clone High to The LEGO Movie. Channing Tatum is working on the script for Magic Mike XXL. Obviously having this much creative energy on a set has its effects, and as a result the production spent a great deal of time working off-script.
"Sometimes we have to remind ourselves to shoot the thing that's on the page at all," Lord told us, discussing the amount of improvisation that went into every scene. "It's definitely a free for all. We're writers, Jonah's a writer, Channing's now a writer. We're all sitting there and we have a writer on set. We're just trying to get the most out of every sequence and every scene. So I would say we pretty quickly diverge from what's on the page."
Imagining how good the script must have been for the project to be greenlit, it's pretty awesome to think that they are only building on it.
The Challenge Of Comedy Sequels, And Why Phil Lord And Chris Miller Almost Didn't Come Back
Let's play a quick game: in the next 30 seconds, try and name as many great comedy sequels as you can. Ready? Go!...
Did you think of Back To The Future Part II and then start desperately clawing for more titles? The truth is that the pool of really great comedy sequels is practically (if not actually) non-existent. It's hard to pinpoint an exact reason for why this is, but it was something that Phil Lord and Chris Miller were thinking about before signing on for 22 Jump Street.
"There have been funny sequels, but I don't know if there have been that many that feel like they're just as great a movie to watch - just as fun an experience but different," Lord told us during our interview. "So that's what we're trying to accomplish."
An important part of doing that, of course, was the ability to work from a script that they felt confident in. The directors told us that they were "not on board" the project for a long time because they didn't see a way to properly follow up the story they had already told. Eventually, however, they discovered a very important angle that made them say yes…
Schmidt And Jenko's Relationship Is The Key To It All
21 Jump Street was packed with individual fantastic performances, but what really created a great deal of the film's humor was the chemistry between Jonah Hill and Channing Tatum. The two stars had fantastic timing together and the energy they brought to their character's polar opposite personalities meshed perfectly on screen. What's more, the film was just as much about their relationship as it was about their drug busting mission. This is something that comes back in a big way in 22 Jump Street, albeit in a very different way.
While 21 Jump Street was about a pair of guys really getting to know each other and create a real bond of friendship and brotherhood, 22 Jump Street will be taking that concept to the next level, and will instead start looking at Schmidt and Jenko more like a long married couple. It was this seed of an idea that that eventually transformed the script for the sequel and got it to a place where Lord and Miller could be confident about signing on.
"We did a bunch of iterations and we finally got to a place that made it about the sequel to their relationship and that got interesting; where it was like it's really more about 'how do you make a marriage work?'" Lord said. "The first one's kind of like how can you express yourself to somebody… to another man. And this is more about like being deeply entrenched in a relationship… with another man."
Phil Lord And Chris Miller Ask That You Please Lower Your Expectations
There's a very good reason why you are excited to see 22 Jump Street. The last movie was an incredibly funny surprise that caught both critics and audiences off guard when it came out in 2012, and with the same creative team behind the sequel you have every right to expect the same quality of work. If it were up to Phil Lord and Chris Miller, however, all of you would be expecting the absolute worst piece of crap that has ever been put on the big screen.
"All of everything we've ever done has been riding on low expectations," Miller told us. "Cloudy With a Chance of Meatballs? A terrible idea. Doing 21 Jump Street as a movie? Terrible idea. The LEGO Movie sounds like a terrible idea. If people think this is a good idea, we're screwed."
We'll have to see how it all turns out when 22 Jump Street arrives in theaters on June 13th.
Your Daily Blend of Entertainment News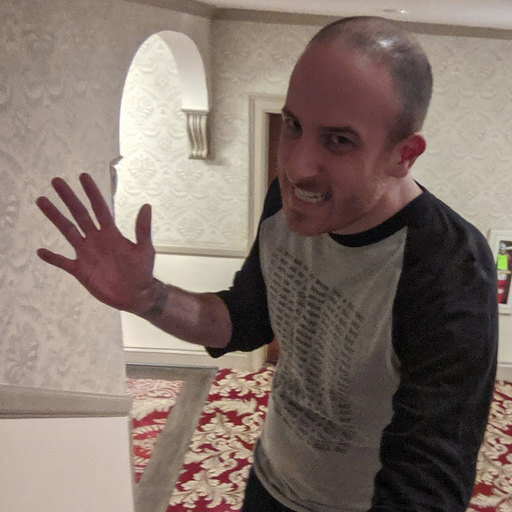 Assistant Managing Editor
NJ native who calls LA home and lives in a Dreamatorium. A decade-plus CinemaBlend veteran who is endlessly enthusiastic about the career he's dreamt of since seventh grade.