5 Doctor Strange Characters The MCU Needs To Introduce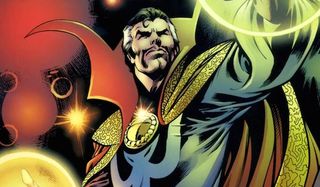 Doctor Strange's principal cast has been known for the better part of the year: Benedict Cumberbatch as the eponymous protagonist, Chiwetel Ejiofor as Baron Mordo, and Tilda Swinton as The Ancient One. Rachel McAdams was then added a few months ago, and last week brought us two new pieces of character information: Boardwalk Empire star Michael Stuhlbarg reportedly playing Dr. Nicodemus West and Baron Mordo's minion from the comics Kaecilius possibly playing a role in the opening minutes of the movie. These are certainly good additions, but there's plenty of room for other big characters from Doctor Strange's supporting cast.
Now that the movie has begun production, we'll be hearing more character announcements in the coming months, and like the other Marvel movies, most (if not all) will be pre-existing characters from the comics. Among the players who are often seen in Doctor Strange's adventures, we've selected the five most important people that the Marvel Cinematic Universe needs to introduce, be they ally or enemy. Granted, we're not expecting all of these individuals to appear in the first movie, but each of them is too good not to be used at some point in the Sorcerer Supreme's film series.
Wong
Doctor Strange is the master of the mystic arts, but even he can't protect the world on his own. Fortunately, he has his manservant Wong to help him out. After Stephen Strange completed his training with The Ancient One, the elderly master sent Wong to serve as Strange's servant in the United States. In addition to being a skilled martial artist, Wong has accumulated a deep knowledge of magic while being with Strange, though he isn't actually able to harness it. Beyond simply helping Strange around the Sanctum Sanctorum, Wong has become one of Doctor Strange's closest allies by helping him in several key battles. If fans are lucky, Doctor Strange will have Wong play an important role as well, though perhaps his relationship with the Sorcerer Supreme will be on more equal footing in live action. Strange can handle the magic side of things, Wong can handle taking out any non-magical bad guys that happen to come their way.
Agamotto
Agamotto is one of the Vishanti, a trio of mystical, god-like beings who keep an eye on humanity. The Sorcerer Supreme's primary connection to the entity is through the Eye of Agamotto, the amulet that allows Strange to see through illusions, and the Orb of the same name, which can detect magic anywhere in the world. Beyond these artifacts, however, Agamotto has been a useful ally to Strange in the comics, and he can be that again in the movie. It stands to reason Strange is going to encounter malevolent beings from other realms, so having a benevolent one to directly help out or provide advice during these battles. While it would be great to see the other two Vishanti appear on the big screen, at minimum, Agamotto needs to make an appearance, but perhaps his presence can set up Oshtur and Hoggoth for the sequel.
Dormammu
Doctor Strange has battled many mystical entities over the decades, but Dormammu continues to be the one that gives him the most trouble. As the ruler of the Dark Dimension, Dormammu is on a never-ending quest to conquer every corner of existence. His powers weaken when he enters our realm of existence, but he's still enough of a powerhouse that Strange has barely defeated him on a few occasions. It's been reported that Doctor Strange will open with a group of zealots opening a portal to another dimension, and it wouldn't be at all surprising if Dormammu came out from the other side and murdered all of them. Many fans believe that Mads Mikkelsen is playing Dormammu in Doctor Strange, and if that ends up being the case, then it's a good bet that we'll be seeing more of him in a sequel or two. Honestly, he's one of the few beings that's worthy of succeeding Thanos as an overarching villain in the MCU.
Clea
Doctor Strange's most well known love interest from the comics is arguably Clea, a powerful sorceress in her own right. Clea is the daughter of Umar, Dormammu's sister, but unlike her mother and uncle, Clea is a force for good. Strange met her during one of his trips into the Dark Dimension, and with each battle, they grew closer to each other. Although they eventually married, Clea opted to stay in the Dark Dimension to keep Dormammu and other threats at bay while Strange continued his duties on Earth. It was originally speculated that Rachel McAdams might play Clea in Doctor Strange, but now multiple reports indicate she's playing an iteration of Night Nurse. We don't know yet whether McAdams' character will appear in sequels or if she'll meet her demise in the first movie, but whatever happens, Clea needs to appear in the series. It won't be the same without her and Strange in love, and she's too good of a character not to adapt.
Brother Voodoo
We all know that Doctor Strange is going to remain the Sorcerer Supreme in the MCU for a while, but that doesn't mean one of his successors from the comics can't serve as an ally in this world. After 12 years away from home and becoming a psychologist in the United States, Jericho Drum returned to Haiti to become a master of voodoo sorcery by request of his brother Daniel on his death bed. Yep, you don't have to travel to the East and find The Ancient One just to become skilled in magic. After defeating the priest who killed his brother, Voodoo devoted his magical powers to protect the innocent. Well, there was that time he was possessed by the serpent god Damballah and turned evil, but he was freed from this control by Doctor Strange. It's doubtful that Voodoo will appear in the first Doctor Strange movie, but he could be set up in a sequel as a colleague/friend rival of the good Doctor, who assists him in whatever climactic battle the upcoming adventure delivers.
Your Daily Blend of Entertainment News
Connoisseur of Marvel, DC, Star Wars, John Wick, MonsterVerse and Doctor Who lore. He's aware he looks like Harry Potter and Clark Kent.
Your Daily Blend of Entertainment News
Thank you for signing up to CinemaBlend. You will receive a verification email shortly.
There was a problem. Please refresh the page and try again.