5 Genres The Rock Needs To Conquer Next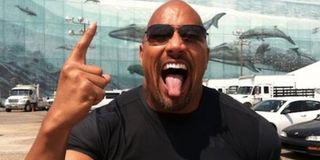 Earlier, we learned that Dwayne "The Rock" Johnson -- spotting a sliver of free time on his professional work schedule – signed on to lead San Andreas, an earthquake-set thriller that will cast the hulking action star as a helicopter pilot plunging into the devastation to save his daughter. Brad Peyton will direct the film, which just received a June 5, 2014 release date … a prime slice of summer-movie real estate.
The Rock in an earthquake movie? Of course. No one would bat an eye at the concept. In fact Hollywood seems hellbent on getting the charismatic (and bankable) Rock into as many different genres as possible. Studio execs want The Rock in everything.
So we figured we'd help. We cooked up five high-concept blockbusters taking advantage of the Rock's charm, his versatility … and the fact hat we simply want to see the former wrestler in space. Greenlight any of these five fake (but hopefully possible) movies, Hollywood. Program them on your schedule from now until 2020. We'll show up and buy the tickets. I promise.
1. The Rock In Space
Premise: NASA astronauts repairing a busted satellite end up being our planet's first line of defense when sinister aliens invade our stratosphere. Luckily for the astronauts – and for our planet, in general – a low-level engineer assigned to the mission at the last minute (played by The Rock) has military training … and no patience for alien invaders.
Potential Director: James Cameron. And as a win-win, it would pull him out of Avatar land, because really, who wants to see two more Avatar films?
2. The Rock In A Musical
Premise: A bank security guard (The Rock, of course) gets a good look at the faces of the three thugs who knock over his facility. Fearing repercussions, the guard goes into hiding … with a traveling Broadway production of Fiddler on the Roof! To the surprise of everyone, he can sing … impressing his director (Sacha Baron Cohen) and charming his ice-queen of a leading lady (Idina Menzel).
Potential Director: Adam Shankman, who helmed Hairspray! and Rock of Ages, and also worked with Rock's co-star, Vin Diesel, on The Pacifier. A match made in musical heaven.
3. The Rock In Oscar Bait
Premise: An award-winning playwright (Peter O'Toole) who hasn't tasted success in decades has a new script he needs to see published before he dies. Of cancer. Oscar Bait movies love cancer. O'Toole hands the script to the thug (Rock) outside his NYC penthouse who's always offering him scalped tickets. Then dies. Rock's character takes it upon himself to get the play produced, pitching to a massive Broadway star (Meryl Streep, natch) that the script contains the "role of a lifetime."
Potential Director: Woody Allen. He knows New York City. He knows outstanding ensembles. And as he has shown in the past, he doesn't mind stunt casting, putting Andrew "Dice" Clay and Louis C.K. in Blue Jasmine. Let Allen work with The Rock. It will be our dream come true!
4. The Rock Underwater
Premise: Basically, we're running out of elements and environments The Rock can conquer. For this one, I' m envisioning a futuristic sci-fi drama where humanity lives under the ocean's surface in a Bio-Shock-inspired universe. But when a tremor creates a crack in the dome that protects this aquatic world, our hero (The Rock) must find a way to the surface to see if it is habitable.
Potential Director: Steven Spielberg, who is sick and tired of hearing all of the stories about how difficult it was to shoot Jaws on the open seas. He returns to the waters, with The Rock in tow, and delivers the 20,000 Leagues-type of movie David Fincher wants to make. Box-office records are decimated.
5. The Rock In A Drag Comedy
Premise: Specifically, we want to see The Rock take the Tom Hanks role in a reboot of the hit TV sitcom Bosom Buddies. Think how many birds Hollywood can kill with this stone. The industry adores television remakes. We can see the Rock stretch his comedy muscles in a drag effort. This could be The Birdcage for a new generation.
Potential Director: Tom Hanks. So easy. He knows the material better than anyone. He needs to redeem himself after the misfire that was Larry Crowne. And putting the names "Hanks" and "Rock" at the top of a Bosom Buddies poster ensures $200 million in domestic ticket sales. You're welcome, Hollywood.
Looking to fantasize about The Rock in some more hypothetical movies? Check out 5 franchises we'd love to see him in.
Your Daily Blend of Entertainment News
Staff writer at CinemaBlend.